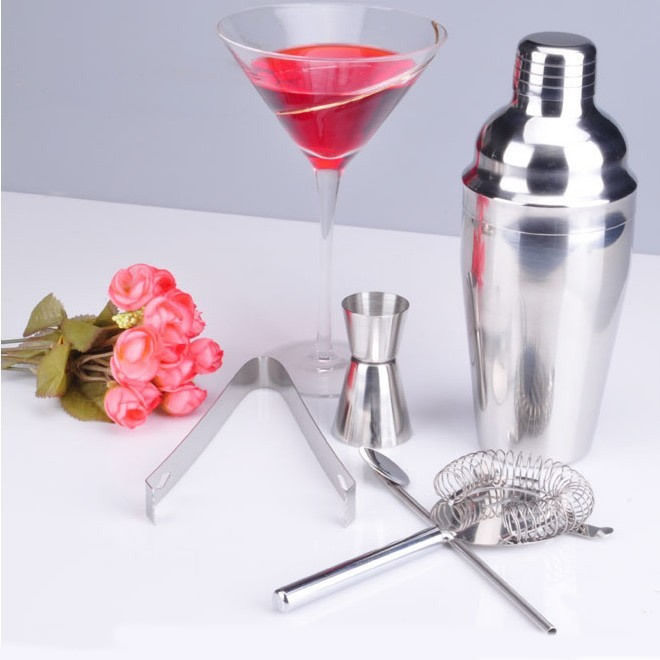 A cocktail shaker is compact a device used to mix various ingredients, normally alcoholic ones, in a cocktail, by shaking, rather than stirring. Making cocktails at home can be fun; there are dozens of good, easy to follow recipes available, and with the basic equipment plus a few accessories, it is possible to create drinks for any occasion.
About Cocktail Shakers
The first version of a cocktail shaker was a jar gourd, which was a closed vessel used in about 7000 BC in South America. By 3500 BC, Egyptians were adding spices to their drinks made from fermented grain before serving them, in order to make them more palatable. In the early part of the 16th century, Hernan Cortes, who led the Spanish conquest of the Aztec empire, wrote to King Charles V of Spain about a drink he had discovered made from cacao, which was served frothy and foaming from a golden cylinder, very likely an Aztec style of cocktail.
By the end of the 19th century, the cocktail shaker as we know it today was in widespread use. It is said to have been invented by an innkeeper who, while pouring drinks back and forth between two containers, noticed that one container's opening was smaller than the other's so he placed the two together and shook them around dramatically for a few seconds, probably in order to create interest.
Types of Cocktail Shakers
There are several well-known varieties of cocktail shakers, the Boston, the Cobbler, the French, and the Manhattan. Most cocktail shakers are made from stainless steel and glass.
The Boston Shaker
This is a two-piece shaker; it has a metal container at the bottom and a mixing glass made from plastic or glass. The mixing container and bottom are inserted into each other for shaking, or they can be used separately for stirring. A separate strainer is required for this type of shaker if crushed ice is used, and a Julep or Hawthorn strainer is often selected. Where no strainer is available, some bar staff may place the two parts together so as to create a small gap between top and bottom and then use this gap to filter the drink.
The French Shaker
Another two-piece shaker, the French shaker also has a metal bottom and comes with a metal cap. Again, a separate strainer is always required for this type of shaker, barring the use of the separation method above.
The Cobbler Shaker
The Cobbler cocktail shaker is a three-piece shaker that tapers at the ends and the top. It has a built-in strainer and a cap, which is often used as a measure for liqueurs, spirits, or other liquids.
The Manhattan Shaker
Another three-piece shaker, similar to the Boston shaker, the Manhattan is an improvement on the original design as it has a built in strainer for ease of use.
How to Make Cocktails
In order to make a shaken cocktail, the desired ingredients are first added to the cocktail shaker. Typically, these are spirits and/or liqueurs, syrups and fruit juices in specific measures, and ice cubes, which are added to allow for a faster cooling of the drink before it is to be served. Then the concoction is shaken vigorously for around five to ten seconds, depending upon the mixing properties of the ingredients and the preferred temperature of the drink. Sometimes a muddler is used to combine ingredients before shaking - this is a short, wooden stick used for stirring drinks.
Favourite UK Cocktails
According to aficionados, the top three cocktails in the UK are Cosmopolitan, Sex, and Mojito. The 'Cosmopolitan' contains vodka, Cointreau, cranberry juice, lime juice and the rind of a lime. 'Sex' is equal parts Kahlua, a coffee liqueur, Grand Marnier, and orange flavoured brandy liqueur. A 'Mojito' is rum-based, with added lime juice, muddled mint leaves, ice cubes, soda water, and sugar or simple syrup; garnish with a slice of lime.
Individual Cocktail Shakers
Individual cocktail shakers may be comprised of two or three pieces, depending on the type chosen. If buying a two-piece Cobbler or French cocktail shaker, it makes sense also to add an extra bar strainer. Cocktails are often considered party drinks, and the eBay selection includes a category for Celebrations & Occasions, including novelty shakers that light up or flash, which are appropriate for Christmas or other celebrations, and those that are themed for occasions such as Halloween.
Cocktail Shaker Sets
When looking for cocktail shaker sets, most products will contain a shaker plus a number of cocktail accessories and bar tools; sometimes cocktail glasses are also included. Useful accessories include muddlers (stirrers), an ice cube tray, and ice bucket. Others are jiggers or measuring cups, twisted bar spoons, and, of course, strainers. Cocktail recipe books and even miniature bottles of spirits are sometimes included. If shopping for a novice cocktail maker, consider choosing a set that includes a recipe book, a couple of glasses, or both. More experienced tipplers may enjoy sets that provide extra strainers, jiggers, and muddlers, plus miniature paper parasols for decoration.
Vintage and Retro Cocktail Shakers
Vintage cocktail shakers often date from the 1930s, and may be silver plated, stainless steel, aluminium, or chrome. Some Art Deco styles have tinted glass and gilt finishes. Retro items might be 30 to 50 years old, and some have measures for a number of popular recipes of the day, engraved or etched on the glass or plastic receptacle, such as a Manhattan, Martini, Bronx, or Alexander. There are also novelty items available in amusing shapes, such as lighthouses or fire extinguishers, and shakers in animal patterns, French and Italian themes, so finding a suitable gift among this selection is really easy.
Buying a Cocktail Shaker on eBay
Anyone looking for cocktail shakers on eBay can enter a specific search term into the box at the top. Simply type in the name of the desired item, such as 'cocktail shaker' or 'cocktail shaker set', and eBay will provide a listing of all relevant items available for sale. Alternatively, use the Categories drop down next to the search box. To search by category, click on the Categories drop down and select Home, Furniture & DIY. From here, click on Cookware, Dining & Bar on the left hand pane. Once the page has populated, select Bar & Wine Accessories then click on the Cocktail Shakers & Sets link for a complete list of available auctions. It's possible to further refine the search by using the filters next to the product listings.
Conclusion
With such a wide choice available on eBay, before making a purchase, it pays to do a little research by browsing the site. There are contemporary options, useful for any kitchen, as well as a huge number of vintage and novelty items. Finding the right cocktail shaker does not have to be a difficult process; use the guide above to get a good idea of some of the options available. After taking all the pertinent factors into consideration, it is really easy to filter the selection of cocktail shakers available on eBay to reflect whether the shaker is to be used in the kitchen or dining room on a regular basis, or whether as a gift. The menus on the left hand side of the relevant pages are invaluable for selecting products according to the appropriate criteria. These might include some or all of materials, price, or era, for example.
Cocktail shakers are used to make fun drinks, so it follows that the process of buying them should also be fun. Take a little time to decide which products fit the bill, scrutinise the listings pages and the seller's details, then simply make a purchase or a bid.