Why do you have to pay £26.00 upwards for a good quality nursing bra when you can buy 3 for £18.99 B to DD cups and £20.99 for E and F Cups 34 to 44 bust..Even though cost prices have increased by 33% due to the exchange rate of the pound and the dollar $2.01 down to $1.46 to the UK Pound and the Euro has devalued to the £1.00 by 35% WE WILL HOLD OUR PRICES FOR THE Forseeable future at 2008 levels .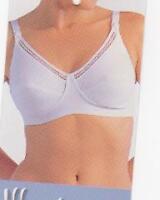 We are committed to offering QUALITY PRODUCTS AT AFFORDABLE PRICES.
These are 100% cotton excluding attatchments with a slight stretch in the cup to accomodate your change of size. They are available in White and Black in packs of 3.
NOTE WE ALSO SELL MATERNITY TIGHTS 40Denier BLACK 36-44 Hip at £1.00 per pair NORMAL RETAIL £3.00 per pair.
Remember you should not wear a wired bra whilst pregnant or whilst feeding baby as your breasts change shape and size both during and after pregnancy and wire can affect your milk ducts, thus causing problems.
Available in White and Black see ebay shop www.shops.ebay.co.uk/Three-Sisters-Lingerie
They have a 99.5% feedback rating.