If you wish to buy Peridot Rings, Peridot Earrings, Peridot Pendants and all other Peridot Jewellery, then this guide put together by Nuttalls of Chester may be of some help.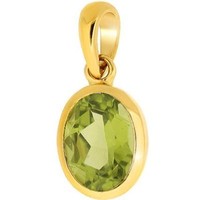 Introduction
Giving a piece of jewellery containing a Birthstone gem will offer the wearer good luck and protection. Monthly Birthstones symbolize the month of birth according to the Gregorian Calender.
If you're not an expert, buying Peridot Jewellery can be a very daunting task. To help you out, Nuttalls of Chester have put together this little guide, which will hopefully help you make the right choice for your needs. When buying your Peridot or Peridot Jewellery you should first consider the combination of the Peridot colour, clarity, weight and cut. As with any gems, there are trade-offs that have to be made, and once you choose the type and quality of Peridot, it usually comes down to simply choosing a colour of Peridot that you find attractive and that meets your budget.
All our Peridot items of jewellery are purchased from our suppliers under the provision that they were sourced under ethical conditions.
Buying Your Peridot Jewellery
When purchasing Peridot there are several factors you need to consider - these are the 4 C's - Colour, Clarity, Carat Weight and Cut.
Colour
Peridot is ideochromatic, being coloured by the ferrous iron that is basic to its composition. The ideal colour is a rich grass-green, but some Peridot is yellowish green, greenish yellow or brown. The best colours of peridot generally contain about 10–15% of iron.
Peridot belongs to the forsterite-fayalite mineral series, which is part of the olivine group. It is one of the "idiochromatic" gems, meaning its colour comes from the basic chemical composition of the mineral itself, not from minor impurities, and therefore will only be found in shades of green. As a matter of fact Peridot is one of the few gemstones found in only one colour.
Hue refers to the Peridot's basic colour.
Saturation (also called colour purity and intensity) is the extent to which the hue is masked by other colours.
Tone refers to the amount of colour in the Peridot ranging from very light to very dark.
Clarity
Since Peridot is not a particularly expensive stone, eye-clean clarity is the standard. Burmese gems are often marred by small platelet inclusions, which may give some stones a sleepy appearance. The strong birefringence (0.036) of Peridot can also give stones a slightly sleepy look. This is most pronounced in large stones (10 cts. plus).
The clarity, as with all other gemstones, is officially classified as ranging from the best VVS (very, very, slightly included), to VS (very, slightly included), SI-S2 (slightly included), and down to I1,I2,13 (included).
Cut
Only imagination limits the cuts and shapes applied to Peridot, with everything from stunning fantasy cuts to tumbled beads being seen. Again, because it is not terribly expensive, cutters can focus on beauty more than weight retention. This means that good cutting, proportions and symmetry are to be expected. Stay away from misshapen native cut gems, unless they are cheap enough to recut to good proportions.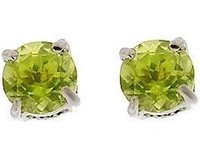 Prices
Peridot ranges in price from about $50–80/ct. for well-cut gems in the 1–2 ct. size, up to as much as $400–450 ct. for large fine gems of top colour.
Stone Sizes
Peridot is common in sizes ranging from melee to faceted stones of 10 cts. or more. Fine faceted stones of greater than 300 carats are known, but quite rare.
Sources
Gem Peridot has been found in a handful of places around the world. In large sizes (10 cts. plus), Pyaung Gaung in Burma's Mogok Stone Tract is most important. Faceted gems of hundreds of carats are known from this deposit. In the 1990s, a new deposit from Pakistan's Suppatt region was discovered, and this material is every bit the equal of that from Burma.
In the US, the San Carlos Apache Indian Reservation supplies good material, but this rarely cuts gems above 10 cts. Peridot is also mined in China, Brazil, Australia and Norway, among other places. The historic deposit of Zabargad has not produced at all in decades.
Enhancements
Peridot is not typically enhanced.
Imitations
Peridot has never been synthesized, but a number of imitations exist, including natural stones such as tourmaline, and man-made imitations such as glass. Green glass is the most common imitation, and can be easily separated by its single refraction.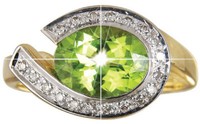 Our Last Word...,
No matter where you purchase your Peridot Jewellery from, it is obviously better to use reputable suppliers, whether internet or high street based.
We strongly suggest you buy your Peridot Jewellery carefully. Expect to pay more for larger size gems and remember; at the end of the day, "beauty is in the eye of the beholder'". So choose the stones you want, not what you are led to believe you want! Whichever colour, size or shape of Ru you choose, be sure to wear it and ENJOY IT!
Here at Nuttalls of Chester Ltd we want you to be able to purchase all your jewellery in a hassle free and enjoyable environment, and really enjoy your shopping experience with us. We truly understand the need for our customers to feel absolutely at ease, and totally confident in all our products and trading practices, and understand that we have to work hard to provide this, both now and in the future. We want you to feel relaxed and confident right from the start and hopefully use us again.
If you wish to give us feedback on this article or any other aspect of shopping with us, or indeed have thoughts on how we can improve our service to you, please contact us so we can use the information provided. We will always respond when necessary.
View our vast range of Quality Peridot Jewellery, including; Peridot Rings, Peridot Earrings, Peridot Pendants, Peridot Necklace, Peridot Bangles and Peridot Bracelets.
Thank you for reading this article - We sincerely hope it helps in some way.