Using vibrant designs and quality construction, the Zone Leotard company manufactures a wide array of leotards for training and performance in gymnastics. Their nylon leotards in particular are popular items for young gymnasts, thanks to their fit and durability. Getting to know this brand and its offerings can help consumers in the market for a leotard make a more informed choice.
Zone Nylon/Lycra Classic Gymnastics Leotards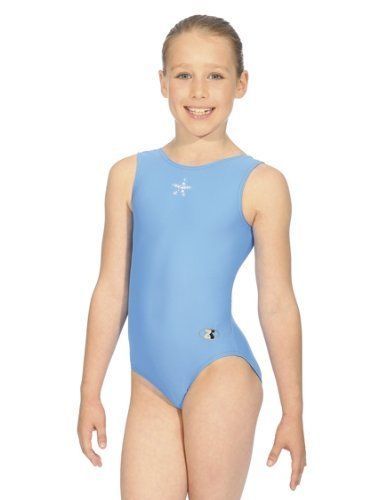 For those who like to keep things traditional and simple, Zone manufactures a range of classic gymnastics leotards in a nylon-lycra blend. These options are great for those starting out in gymnastics and focus on basic, monochromatic designs that can work in any gymnastics class. The range includes a long-sleeved, round-necked option, the Rhapsody, and a sleeveless, round-necked option, the Cadence. Both leotards are available in an array of colours, including kingfisher, red, black, navy, purple, and raspberry.
Zone Nylon/Lycra Print Leotards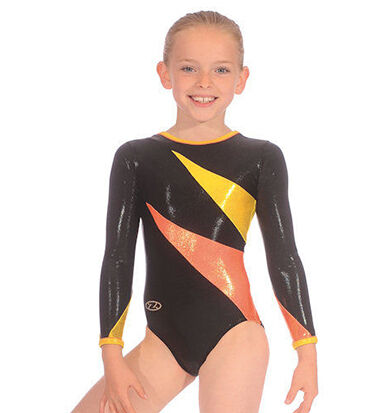 For competition and performance or just training with some pizzazz, Zone offers a range of boldly printed leotards for girls in nylon and lycra. These leotards come in two sleeve styles: long and sleeveless. Neck designs include square necks, scoop necks, and V-necks. Backs may have a low V design, a scoop, or a keyhole detail. These girls' leotards also come in a range of unique prints and patterns, each with its own appeal features.
Nylon Lycra Print Leotard Pattern

Description

Reflex
Diagonal, contrasting sleeve detail on right arm.
Metal stud detailing and high shine.
Available in red, royal, gold, silver, plum.
Charisma
Diagonal contrasting sleeve detail on right arm in sequin foil.
Available in black and grape.
Crackle
Combines nylon and velour panels.
High-shine foil print and hologram panel in silver.
Available in black and grape.
Ritzy
Refined, geometric design.
Three colour combinations, including black-hot coral-lime, black-sugar plum-lime, and black-royal-lime.
Melody
Faux sweetheart neckline created with contrasting binding.
Crystal detailing.
These are just a few of the many designs from Zone Leotard. Zone also offers a range of nylon leotards that can serve as club kits for gymnastics groups and performing troupes.
Zone Nylon Leotard Accessories
Zone also manufactures an array of accessories for their nylon leotards. The most popular is the Zone Scrunchie. Zone produces one of these decorative
hair accessories for girls
for every leotard collection so that gymnasts can get a perfect match. The company also manufactures a range of
tracksuits
for wearing over leotards to and from the gym. These comfortable, microfibre sets include a jacket and pants, contrast piping, and the Zone "Zed" logo.