Im would like to point out that there are dozens of sellers selling these molded babies which are laying on their tummy, which are being churned out of a mold and will never ever be worth anything.
They pull them out of a mold,and then stick a few decorations on them, feathers ,beads,halos,making them look like ladybirds,teddys etc etc...its approx 2.5" long and comes from this mold;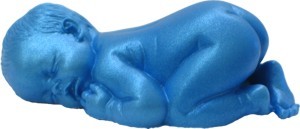 this is NOT OOAK ,and it is damaging the integrity of true OOAK SCULPTURES and quite literally isnt worth the clay wasted on it.
Ebay needs to stop this now, in the U.K there are trading standards which are law.
You cannot make a baby from a mold,add a few decorations and call it OOAK.