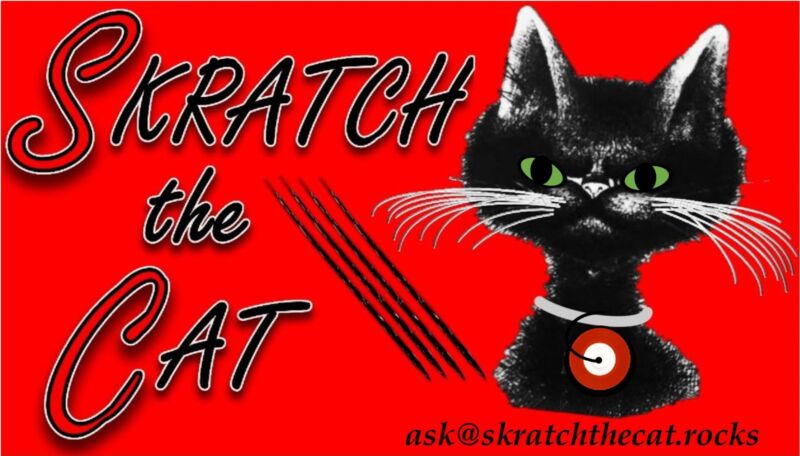 Welcome to Skratch The Cat
VINYL - CD'S - PICTURE DISCS - PROMOS - LTD EDITIONS - MEMORABILIA - ETC
WHO WE ARE
We are a very experienced small enterprise with three music mad individuals covering all genres of music spanning from the 60's to the present day. We have been buying/selling/playing music for more than 35 years.

· 'Smitten Kitten' looks after the admin, sales, cataloguing and customer liaison. She is also mad about Trance / Old Skool Dance, House, Garage and Ibiza music.

· 'Aging Rocker' is a real specialist on all types of rock from the 60's- present day. He is a collector of Bruce Springsteen, Mink Deville and Cadburys Chocolates Oranges.

· 'Goth Guy' is fanatical about all thinks alternative, new-wave and Indie. He loves Joy Division, Siouxsie, Cure, Sisters and spikey hair; his favourite colour is…. Black!
OUR COMMITMENT
We pride ourselves on quality, fair deals and honesty therefore we are meticulous about grading. We give as much information as possible for every listing and we are always willing to provide further details on request so please don't hesitate to contact us.…

We check the following;
COVER INFO - COVER CONDITION - COVER FORMAT - ITEM INFORMATION - ITEM CONDITION - ITEM FORMAT - NO. OF TRACKS - TRACKLISTING - CAT. NO. - BARCODE - LABEL - ORIGIN - AND MUCH MORE

EVERY item is independently checked at the time of stocking and again when shipping to double check every single detail; Items are packed in high quality protective mailers and additional bubble wrap as required.

We combine orders to reduce P&P costs and every order is sent by Royal Mail/Parcel Force using the tracked & signed for facility. There is a guide to Postal charges at the bottom; we do not charge you for the packaging, mailer, stiffeners, etc you only pay for what you buy.
NOTES
· We separately grade Vinyl Covers and CD Inlays/Booklets as well as the actual vinyl/CD.
· All vinyl is supplied in a new heavy gauge protective PVC cover.
· All CD's are packed in individual protective sealed PVC bags after grading.
CD jewel cases in reasonable condition are considered acceptable therefore a tiny crack in the case or scuffing is ok, but any physical defects such as a broken hinge is not. Inner cases are checked to ensure they are undamaged and hold the CD securely.

ANY broken case is replaced. Damaged cases with important or relevant stickers are sent with the purchases.
GRADING VINYL AND CD'S
Our professional grading system is based upon the rules / recommendations set out by the Record Collector and Gold Standard guidelines.

RECORDS/CD's
MINT+ New and sealed
MINT- As new but opened
EXCELLENT + As New, been played but no surface marking at all.
EXCELLENT - The item has been played, there is very minor indication of being handled/played, but no deterioration in sound quality.
VERY GOOD + Played numerous times, no major deterioration in sound quality; Light surface marking / hairline scratches that have not damaged / spoiled item
VERY GOOD- Well played, numerous light surface markings, mild scratches, with minor deterioration to sound quality. Item plays fine; Surface noise on Vinyl.
GOOD+ Heavily played. substantial surface marking/scratches. Appreciable deterioration to sound quality, however the item will play; Surface noise/sound of scratches on vinyl.

COVERS/INLAYS
MINT + New and Sealed item
MINT – Opened but in 'as new' condition
EXCELLENT+ Slight wear or creasing normally to edges.
EXCELLENT – Slight wear or creasing possible, minor surface marking, acceptable defect
VERY GOOD+ Noticeable wear & tear, small tear / split to cover edges, visible marking.
VERY GOOD- Significant wear 'n' tear, has acceptable surface damage / label marks. etc
GOOD+ Poor handling, cover heavily marked, has tears / significant damage
Anything below GOOD+ not stocked unless it's an exceptional or collectible item
PICTURE DISCS
All picture discs are subjected to the same visual grading as normal vinyl but it is accepted that the sound quality of any picture disc is likely to be inferior due to the nature of the product. In general Picture Discs are collected for their artwork and limited editions and therefore this is were the value lies.
The same applies in general for coloured vinyl.
NOTES ON GRADING VINYL
We carefully inspect vinyl under the best natural light and then also under the brightest internal source (approx. 200w LED white light bar) to get the best genuine and honest appraisal.
This visual inspection has always proven very accurate and acceptable for most albums. However if the item is very collectable / valuable we can have the vinyl independently checked by playing on a 'top end' specialist vinyl playback system.
We do not believe it is physically possible or viable to independently play very single track of every single album to check/note every individual/background noise, clicks, light scratch, or identify sounds that may even be in the recording not in the product.
The reality is that if you allowed a minimum of two hours to physically play every entire average album and another hour to check all the accessory information (+time taken to pause and make notes) it would take up a couple of year to get through 1,000 albums. That's of course if you really had the time, patience and endurance to play through every item.
Of course if extremely valuable items are being sold then it is an expectation to have the playback double checked. But in day to day business we have never found any complaint from customers in our visual grading system and the tens of thousands of titles sold over the years.