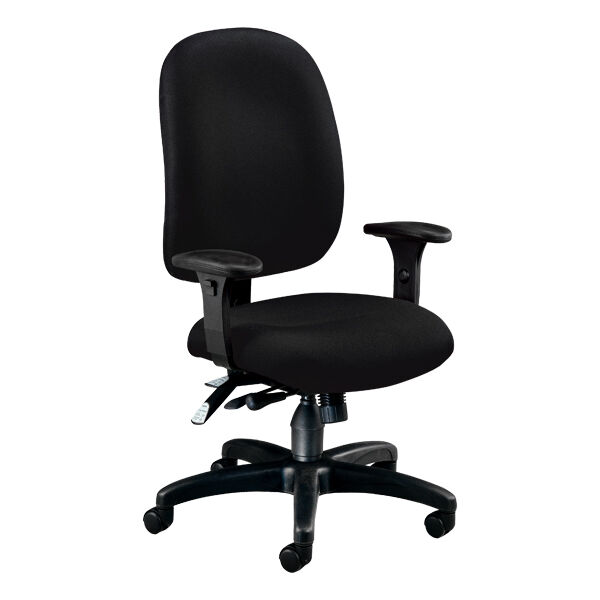 Most people view office furniture as utilitarian. It is plain, simple, and functional at best. However, more and more people have jobs that require them to sit for long periods of time with detrimental effects such as backache, neck ache, and other discomfort. Understanding how furniture, particularly office chairs, affects employees' comfort is essential for understanding office productivity. Studies show that ergonomic workspaces, which are those designed to make work easier, can increase staff efficiency. To appreciate how this is possible, it is necessary to understand the definition of ergonomics and the various features that make up the design of an ergonomic office chair.
Business owners, office managers, and others who want to invest in good quality office chairs to improve efficiency can shop on eBay, where they can find a large array of business and industrial equipment. Shopping online has the benefits of convenience, great pricing, and a large selection of products.
An Introduction to Ergonomics
Ergonomics, also called human factors, is most commonly defined as design that improves efficiency. Ergonomics is necessary wherever products and systems are present to allow people to work more comfortably, efficiently, and safely. Ergonomic design should take into account human limitations and strengths, minimising the former and building on the latter.
Why Ergonomics Matter
Ergonomics improves safety and comfort, as well as efficiency. Studies show that employees who have ergonomic office furniture and are trained to use it can increase their productivity significantly. Ergonomics can even decrease absenteeism, especially when related to illness and minimise the occurrence of repetitive strain injuries and carpal tunnel syndrome. Health benefits include improved breathing patterns and circulation, less occurrence of backache and neck strain, and reduced eye strain.
Ergonomics increases productivity because employees do not continually feel the need to stop in order to move around and stretch. The lower number of interruptions equates to more work being done. Also, maximising employee comfort reinforces the belief that the company has the workers' best interests at heart, which leads to greater employee loyalty and job satisfaction.
Key Features to Look for in an Office Chair
Ergonomics relates to many aspects of a workspace, including the lighting, desk height, and angle of the computer screen. The chair is, of course, a major consideration. Traditional office chairs do not consider the reality of human posture and biology, namely, the best alignment for the human spine, which naturally curves inward at the lower back. Chairs with a straight, vertical back do not provide the support to maintain this curve, which results in slouching and all of the associated discomfort. An office chair also affects comfort in the knees, hips, arms, wrists, and feet.
Identifying the essential features to look when buying an office chair can save time and money. The most important features are adjustability, lumbar support, armrests, and seat width and depth.
Adjustability of Office Chairs
Adjustability encompasses several features, including the seat height, backrest height, and the angle of the seat. When seated at a desk, a person's feet should rest flat on the ground. The hips should be slightly above the knees, allowing the knees to rest at an angle slightly greater than 90 degrees. The knees should never rise above the hips. Typically, office chairs have a range of 40 to 60 cm, which is suitable for most people. If a chair is too tall, then a footrest may be helpful. Keeping the chair at the correct height reduces stress on the legs, particularly the knees.
The height of the seat back is also important because it should conform to the curve of the person's spine, which varies based on height. Both perching and slouching can increase discomfort over time, so having a seat back that adjusts its angle is important. The seat should be able to move from a reclining position to a straight one as needed without leaving a gap between the seat and the person's back.
Lumbar Support for Office Chairs
The human spine curves inwards at the lower back, referred to as the lumbar, which means that from the neck down to the tailbone is an S-shape. In addition to finding an adjustable seat back, look for one that has built-in lumbar support. This means that the lower part of the back can curve to align the lumbar correctly. Lumbar support prevents slouching, which forces the spine out of its proper alignment. Even if an office chair does not have built-in lumbar support, it is possible to purchase separate support systems that attach to a chair and can be moved to other chairs as necessary.
Armrests for Office Chairs
The seat height is important because placing feet flat on the floor decreases pressure and strain, therefore increasing comfort. However, it is also important for another reason: to work comfortably, the chair should line a person's arms up with the desk, so that the arms are parallel with the floor and desk surface. Having armrests built into the chair minimises pressure on the shoulders by giving a person a comfortable way to support the arms and decreases pressure on the spine. The armrests should leave a person's arms at a slight angle rather than falling straight from the shoulder. Adjustable armrests are beneficial because they can be tailored to the individual.
Seat Width and Depth for Office Chairs
A final key factor to consider is the width and depth of the chair's seat. A suitable width for most people is 43 to 51 cm. Larger people may need a wider seat for comfort. In addition, the seat should be deep enough to provide some clearance between the edge of the seat and the backs of a person's knees. A good distance is 5 to 10 cm.
Practical Considerations when Buying Office Chairs
An office chair should be able to fit underneath a desk neatly for storage and it should be equipped with wheels that allow it to roll smoothly. A rolling chair makes it easier for a person to reach other equipment in a workspace without having to strain. A swivel function is also important because it allows a person to turn without having to get up or shift the chair's position.
If the office is carpeted, look for chairs that roll easily over the flooring, or invest in a mat to cover the floor of the workspace. If the desk is multi-tiered, such as those with a keyboard tray, the chair should be adjusted so that the seated person's arms are aligned with the working surface. The chair should have plenty of padding to make it comfortable. The padding should be covered with a breathable material. Some chairs now have a mesh covering, but there are always cloth and leather options.
How to Buy Office Chairs on eBay
When considering how to improve staff-efficiency, buying the right office chairs is a wise step. Shopping for business and industrial supplies, including office furniture, is easy when you choose eBay. The online marketplace is made up of a network of independent sellers with a large array of products, so you can always find what you are looking for. To locate products, you only need to enter keywords, such as "ergonomic office chair", in the search box on any page on the site. eBay automatically locates any product that matches the keyword description.
Tips for Shopping on eBay
Depending on what you search for, eBay may have thousands of listings or just a few. To locate an item more effectively, apply the filters. You can use the filters on the results pages to specify a preferred item condition or a price range. Always check an eBay seller's feedback history to see how past buyers have rated the seller and to see specific comments about the buying experience. You may also review the seller's policies. If you have any questions about a product, you can contact the seller directly by using eBay's "Ask a question" feature. Good sellers are more than willing to help in order to promote a positive customer experience.
Conclusion
Something as simple as an office chair can have a dramatic impact on staff efficiency. Businesses that wish to maximise productivity should consider investing in ergonomic chairs, which are designed to optimise comfort by reducing the aches and pains that can result from poor posture. Ergonomic chairs are designed with flexibility in mind, so they can accommodate comfortably people of different heights and sizes without requiring each person to have a customised chair.
The primary features of an ergonomic chair are adjustability in terms of seat height, backrest height, and backrest angle, as well as lumbar support, adjustable armrests, and an appropriate seat width and depth. Finally, other factors to look for when purchasing office chairs are whether they have wheels and the ability to swivel, and the padding and material used to cover the chair. Whatever kind of design or style of office chair you need, eBay is a great place to shop with a large selection and great deals.