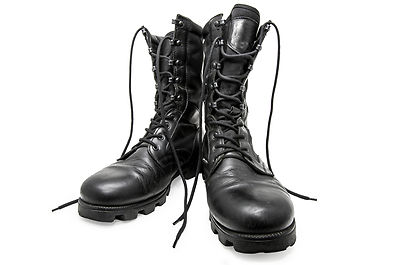 Affordable, hardwearing and weatherproof, combat boots are possibly the most practical shoes you can buy. But unlike most sensible shoes, they also make a powerful style statement.
---
Combat boots
like Dr Martens were originally thought of as solid, working man's shoes – the sort of thing worn by postmen and factory workers.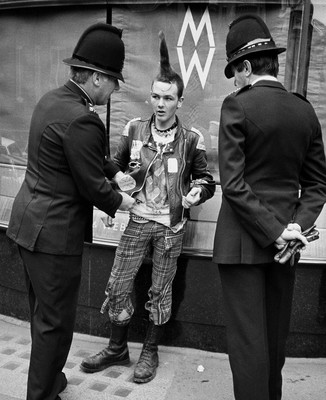 But in the early 70s skinheads started wearing them as a reaction to the hippie movement. From that moment on the boots came to symbolise rebellion and anarchy.
By the early 80s all kinds of subcultures, from goths to punks, had adopted combat boots as their own.
But it wasn't until the 90s, with the arrival of the grunge and indie scenes, that combat boots firmly entered the mainstream and everyone started wearing them, from suburban schoolgirls to the cast of Friends.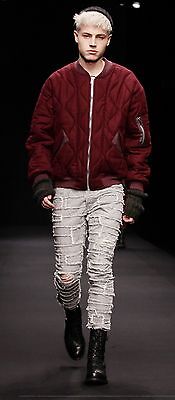 With their army heritage, combat boots are traditionally a very male boot. And because of this, it's men who'll find the best choice.
Although they're generally seen as casual, weekend wear, combat boots are nothing if not versatile. Designer versions, like Maison Martin Margiela boots would be perfectly acceptable at the office, or even at a smart event, like a wedding.
And at the other end of the scale you've got vintage pairs from an Army surplus store, which are both affordable
and authentic. Many pairs will give you change from £50.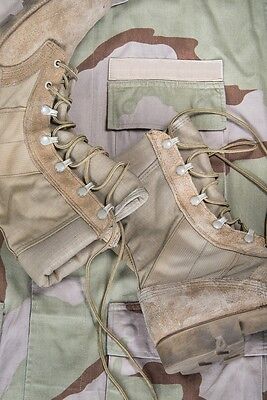 There are plenty of variations on the classic combat boot, too, such as these sand-coloured desert boots, which are Army issue.
You can also choose between British, German and US Army boots, or go for another variation, like police riot boots.
Alternatively, the high street offers plenty of options, too, with brands like All Saints, Dune and Diesel all producing their own versions.
---
Combat boots for women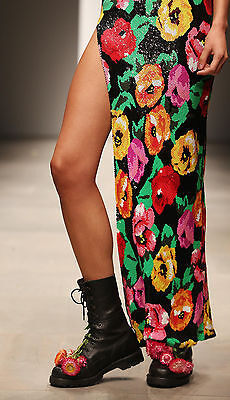 It was only in the 90s that large numbers of women started to wear combat boots. Comfier than heels and way more subversive, girls found that combat boots looked as good with floral tea dresses as they did jeans. From then on, there was no looking back.
These days they're a fashion perennial. High-end designers like Jimmy Choo and Burberry make their own versions, while Yves Saint Laurent has a pair called the Patti, named for rock icon Patti Smith.
Again, there's a pair for all budgets. While a designer pair can cost upwards of £800, it's also easy to find a pair for under a tenner.
Combat boots for women are often quirkier than those made for men – you'll find heeled or patent versions, as well as boots in bright colours like purple and pink. Dr Martens' flowery boots, meanwhile, are becoming a classic in their own right.
---
Dr Martens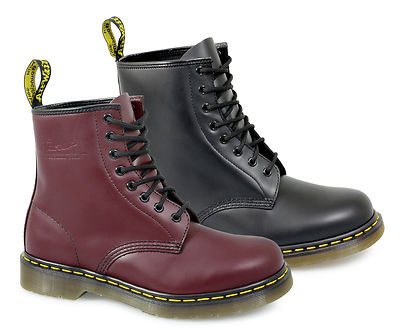 The first
Dr Martens
boots rolled off the production line in 1960. What was unique about them then was the air-
cushioned sole, which was much more comfortable than the one you found on standard-issue Army boots.
These days everyone recognises the signature black or cherry-red boots, which either come with 8, 10 or 14 holes. This Nottingham-based brand inspires the kind of loyalty most shoe manufacturers can only dream of.
Either you're a Dr Martens person or you aren't, but if you are, you'll likely love them forever.
Ben Sherman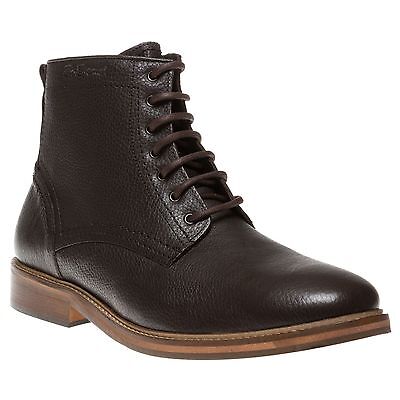 Ben Sherman
is another British brand with ties to the skinhead movement – Ben Sherman shirts and braces were de rigueur for 80s skinheads.
The company also makes its own versions of combat boots – check out the Deon short boot – which are smarter and more office-friendly than the ones you'll find at your local Army surplus store.
All Saints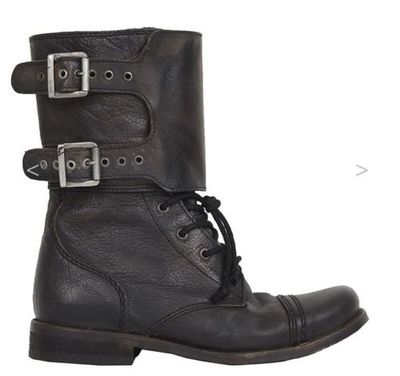 A punky, unconventional aesthetic makes
All Saints
another good place to source a pair of combat boots.
Women can opt for the Vespers boot, a tough pair made for spring/summer 14 that'll see you right through the winter, too.
And for men there's the Hiroto boot, crafted from waxed leather and treated for vintage look.
---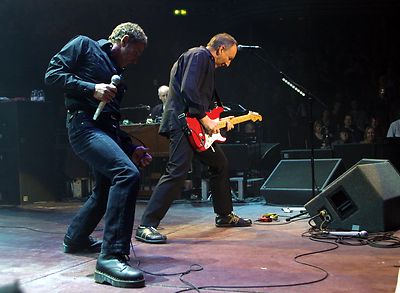 The Who's Pete Townshend (left) was one of the first celebrities to embrace Dr Martens, famously saying that on tour he used to go to bed with 'a cognac bottle and a Dr Martens boot'. More recently the boots have made the leap to the Hollywood mainstream, with Kristen Stewart, Drew Barrymore and Robert Pattinson all sporting theirs with pride.

The boots still retail their rock'n'roll credentials though, thanks to people like Kurt Cobain, Sid Vicious and Joey Ramone, who rarely wore anything else.

Even children look great in them. Harper Beckham is regularly spotted in her Docs, and owns both black and floral pairs.
---
Don't worry if your combat boots aren't immediately comfortable – tough footwear like this can often take a couple of weeks to break in. If you're between sizes, it can be an idea to go a size down, as once worn in, they can give a bit.

If you buy genuine Army issue boots, the sizing can be different, so you may need to actually measure your feet with a blank sheet of paper and a ruler.