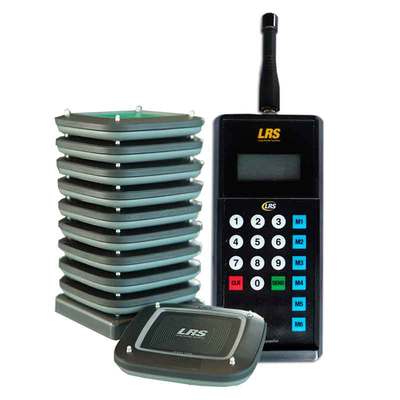 Customer Paging Systems
These type of customer recall solutions tend only to work on-site and are not intended for long range paging solutions. They typically comprise of a 'coaster' style pager, a charger and a transmitter.

Of course these solutions can be used for other tasks, for example a patient recall paging system and there is little difference in the operation overall between customers or patients - they both need to be called back when needed.
Be careful of buying illegal frequency equipment
In the United kingdom all customer or other paging systems have to comply with frequency allocations given out by OFCOM. Buying equipment that is not on the allocated frequency will undoubtedly result in the customer paging system operating outside of the law and could result in dire consequences.
The correct frequency will cause no harm, but an incorrect frequency could cause things like a pacemaker or other communications equipment to malfunction or even interfere with fire police of ambulance communications so it is necessary to ensure you do not break the law.
There are a number of allocated frequencies that customer or other pagers work on in the UK one notably 459.100Mhz but often when you buy equipment from outside the UK that equipment will typically have a USA frequency or other non UK operational frequency.
Main customer pager features
eBay has listed an incredible range of customer pagers, some look like a coaster, while others look rather like a cell phone. But most customer or guest pagers work similarly. Give the customer a pager, note the pager number, allow the customer to roam and when its time to recall them simply press a button on the transmitter corresponding to the customers pager number and they will return.
Typical customer pagers are battery driven and the batteries are usually non removable but rechargeable. Some pagers need a large charging unit which can take up valuable space while others use an incredibly small space as shown in the above image.
Customer pagers when notifying customers often flash, buzz or beep (or all three) depending on how they are setup by the seller so if you do buy, then ensure that the customer pagers are set up for your needs - many are not.
When it comes to reliability, the casing of the customer pager is critical - as is a bumper bar around the pager to protect it if it gets dropped.
Often the biggest cost is not the customer pager, but the cost to repair them later if that is possible so check on the repair costs before you buy.
Customer Pager Transmitter
Exactly the same as the customer pager, the transmitter used has to comply with the same frequencies by law for the UK. However, also important is the output power that the transmitter emits - currently for customer paging systems it is a maximum of 2 watts. But what does that mean?

Simply put, assume that a 1 watt pager transmitter will cover 1 mile (1.66 Km) in open air. But that range reduces once you are in a building... assume around 250 metres with a 1/2 watt transmitter indoors.

Features available are from almost none on the low cost transmitters, to auto paging, anti-theft and a host of other useful features that could be effective for your business. Some customer pager transmitters can even send an SMS text to customers that do not want to be burdened with carrying the customer pager around with them and that allows customers to go 'off-site'.
What to look for with warranty
Firstly if you are buying a customer paging system from outside the United Kingdom then you will probably have costs to ship it back if the system fails in some way. Many sellers (even in the UK) offer a 1 year warranty which is extended by some companies and the longest I know of is three years on this type of customer paging system. Warranty does matter and you will be glad of that extra security later on, but remember that warranties tend not to include losses or pager damage.