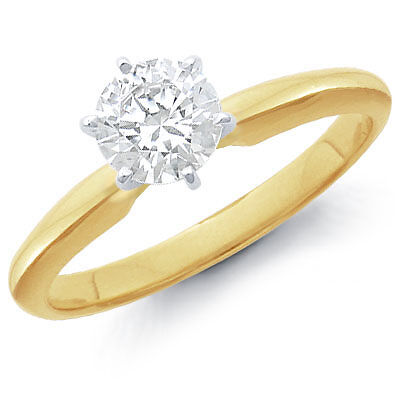 For a consumer who is purchasing a diamond ring, there are several factors that go into the decision-making process. However, the most significant factor when a buyer is choosing a diamond ring is the carat weight. The carat amount is the actual weight and size of the diamond, and a one-carat diamond is a fairly nice-sized stone. Actually, a one-carat diamond is considered a premium and sometimes rare size for a diamond, with the average carat weight of diamonds sold being a half carat or a quarter carat.
A one-carat diamond ring is a special ring that, if cut properly, reflects light and makes a one of a kind statement, whether it is an engagement ring or simply for accessorising a woman's look. A large diamond does not necessarily mean it is a quality stone, however. The buyer needs to pay special attention to the other qualities of the diamond, including colour, flaws, and the style of the setting to determine if it is the right ring. A shopper should select a one-carat diamond ring based on price, shape of stone, and style of ring, among other considerations.
Types of One-Carat Diamond Rings
When it comes to styles of one-carat diamond rings, there are several common ones which the buyer sees when shopping for the right one-carat diamond ring. Rings range from dainty and small to elaborate and elegant. A buyer may prefer the look of a diamond band, and he or she may want added gemstones surrounding the diamond or forming a cluster of sparkling stones. Coloured diamonds add a touch of visual interest to a diamond ring and look quite unique for an individual who wishes to purchase a less traditional diamond ring.
A one-carat diamond ring is sometimes made with many stones, and the buyer needs to consider that the weight of all of the diamonds equals one or more carats. Other stones in the ring are oftentimes different carat weights, depending on the types of stones. The metal varies, and yellow gold is also measured in carats according to the purity of the gold, with the higher numbers signifying gold that is purer. Platinum and sterling silver are common metals, as well.
Diamond Solitaire Rings
One-carat diamond solitaire rings have a stone in the centre of the rings. The setting and cut of the rings may vary, and the metal is yellow gold, white gold, platinum, or sterling silver. The most popular shapes for one-carat diamond solitaire rings are round, oval, and princess, or square cut, diamonds.
Some solitaire diamond rings have smaller stones on the bands or surrounding the larger diamonds. These are sometimes called pave settings and have very small diamond chips on the bands or around the diamond solitaires. They vary in carat sizes. Many diamond solitaires have diamonds on either side or some type of embellishment on the bands to distinguish them, and bands are either quite thin and delicate or thicker types of bands. Solitaire bands are either simple and understated, or they are very dramatic depending on the type of bands and how many stones are on the rings themselves.
Diamond Bands
A diamond studded band is also called a diamond eternity ring. The band may have small diamonds all around it, or it may be a thicker band which has larger diamonds. The diamonds range in size and number, but the total diamond weight is one carat. Diamond bands vary in style and sometimes include coloured diamonds, twisted or engraved bands, or other types of designs.
A one-carat diamond band has diamonds all around it, or it may just have a few diamonds on the band for a simpler design. A diamond band may be comprised of several bands of diamonds, which is sometimes called an anniversary band or ring. An anniversary band complements an existing wedding ring or band and is worn alongside it to commemorate a special wedding anniversary.
Diamond and Gemstone Settings
One-carat diamond rings sometimes include other types of gemstones, such as sapphires, rubies, emeralds, or coloured diamonds like black diamonds, yellow diamonds, or pink diamonds. If the diamond is the central stone, it may have gemstones on either side, or the ring may have a large gemstone with one-carat diamonds on the band and surrounding the stone for a vintage look.
A diamond band may also have gemstones alternating with diamonds or small diamonds surrounding a gemstone band. There are a wide variety of options for a buyer who wants to add a little colour to the one-carat diamond ring with either precious gemstones or coloured diamonds. A diamond cocktail ring may have a larger setting and many types of stones. This style of diamond gemstone ring is meant to be a bit more dramatic.
Coloured Diamonds
Black diamond rings are becoming more popular, and rings made with black and white diamonds are visually appealing. Other popular colours of one-carat diamonds which a buyer may come across might be yellow diamonds, pink diamonds, champagne coloured diamonds, or blue diamonds. Sometimes these coloured diamonds are set with clear diamonds to provide a pretty setting for a one-carat diamond ring. These are real diamonds which are more rare, but are found in nature, and not lab created unless specified in the seller's listing.
A solitaire ring made with a coloured diamond such as a black diamond is an interesting choice for a unique buyer. Other coloured diamonds that make lovely solitaires are red or yellow stones. Celebrities often choose coloured diamonds for their engagement rings, so it is a fashionable choice as well as a different one.
Selecting the Perfect One-Carat Diamond Ring
When selecting the right one-carat diamond ring, there are some factors to consider. These factors are called "The Four C's". "The Four C's" are a set of guidelines which a buyer refers to when looking for the perfect diamond ring. By checking the colour, clarity, carats, and cut of the diamond, the buyer ensures that he or she is purchasing a ring that is a quality diamond and the setting he or she desires.
Carats

Colour

Cut

Clarity

A one-carat diamond ring is between one and two carats

One carats may be the weight of one single diamond or the combined weight of all the diamonds which make up the ring

Colour of the diamond varies

Diamonds range from colourless to yellow and champagne or vivid colours, such as blue or pink; black diamonds are a popular trend

Cut is also known as the shape of the diamond; how the diamond is cut determines its brilliance

Popular cuts are round, oval, princess, and pear cuts

Clarity tells the consumer how flawed the diamond is

A flawless diamond is rated FL and is quite rare; most diamonds are VS1, which means slightly flawed, or VVS, very slightly flawed
A buyer should refer to "The Four C's" to determine what the quality of the ring is before purchasing. Though completely flawless diamonds are quite rare and expensive, it is easy to find a slightly flawed diamond which is affordable and does not show flaws to the naked eye.
How to Buy a One-Carat Diamond Ring on eBay
Purchase a high-quality, one-carat diamond ring for an affordable price on eBay. Search various cuts, settings, and types of one-carat diamond rings by looking up "diamond rings", then narrow your search terms based on other factors such as by size, metal type, or gemstones. You can see diamond rings alongside other stones, diamond eternity bands, and diamond solitaire rings, so inspect the sellers' descriptions of rings to ensure you are getting the exact ring you like. See if the sellers discuss any of "The Four C's", and if you have questions, click the "Ask the Question" links from the sellers' listings to directly communicate with any of the sellers about the diamond rings before you make a purchase.
Once you have found a few types of diamond rings you like, compare the rings in a variety of ways before you make your final purchase. Look at the prices, the shapes of the stones and settings, the condition of the rings, and any other considerations you might have for the perfect one-carat diamond ring. Ask if sellers are offering jewellery boxes or bags for the rings. Make sure you only buy a diamond ring from a merchant who is a Top-rated seller on eBay. Leave positive feedback on the seller's page after you receive your ring to help future buyers know how the seller does business, because this lets the seller know how you felt about the purchasing process.
Conclusion
A one-carat diamond ring is a breathtaking addition to any woman's jewellery collection, whether it is an engagement ring or a ring used to commemorate an anniversary, birthday, or other special occasion, or whether it is simply a special piece of sparkling jewellery. One carat is generally the preferred size for a diamond ring and still makes a statement without being overwhelming. One-carat diamond rings come in a wide variety of styles, shapes, cuts, and settings to please every buyer.
Whether it is a one-carat solitaire or many small diamonds which make up the stone, a one-carat diamond ring is a brilliant addition to any woman's jewellery box. Diamonds look great when they are set with other stones such as rubies, sapphires, or emeralds, and there are also a large variety of coloured diamonds available that are trendy nowadays. Find a unique one-carat diamond ring on eBay which complements a woman's taste, style, and personality.