As an established eBay seller specialising in wedding and special occasion stationery, we frequently get asked a range of questions regarding the ordering of wedding stationery online. How many of each item to order? How far in advance of the big day to place an order? Which items are most important, and which not so? We have therefore compiled this quick guide to answer some of the most frequently asked questions...
The starting point for stationery will invariably be:
The Invitations
We always advise considering the style of your invitations carefully, as these set the tone (and often the theme and colour) for the rest of your stationery, and even the day itself. Do your research, and contact the seller directly with specific queries. Obtain samples if possible - there are a large number of sellers out there using inferior quality card, and it is difficult to judge the true quality of print and workmanship (particularly of handmade invitations) on a computer screen. We would always advise steering clear of sellers who are reluctant to supply samples of their work.
When you have chosen your supplier and settled on the perfect design, consideration should be given to the ordering process. Invitations should be sent approximately 6-8 weeks before the big day, so ideally it would make sense to order these around 10-12 weeks in advance of the wedding date. This is particularly true of handmade stationery, which requires each item to be individually produced.
Remember that invitations are not always required for each and every guest, as a large proportion will be sent to couples/families. Therefore if you have a total of 75 potential guests it is unlikely that you will need 75 separate invitations (sounds obvious, however easy to overlook in the midst of wedding planning!)
Also think about the types of invitation required - will every guest be attending both the ceremony and reception/evening celebration? If not, a split between wedding (day) invitations, and evening invitations will be required. It is often useful to order a few extra copies to account for any additional guests, or last-minute adjustments to your guest list!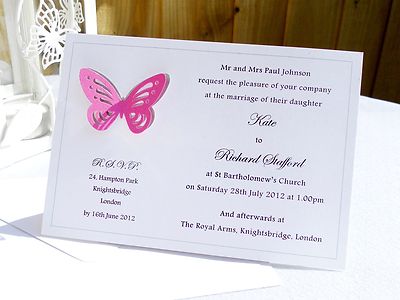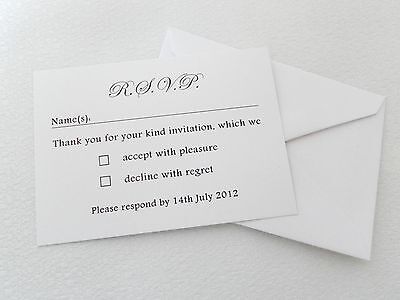 Reply (RSVP) cards are also useful to ensure prompt responses, however it is becoming increasingly popular to encourage email replies instead by supplying your preferred email address on the invitation.
"On the Day" Stationery
The next stage to consider will be the stationery required on the day itself.
Order of Service / Day Cards:
If you are getting married in a church or other religious establishment, it is usually necessary to provide a printed Order of Service to your guests, detailing the programme of the ceremony (usually over 3-4 inside pages). It is advisable to allow one copy per guest, with a few extra available for the officiant, choir (if applicable) and unexpected members of the congregation. These should be ordered at least 4 weeks in advance if possible, when you have finalised the service details (including hymns/songs of praise and music) with your officiant. Remember that whilst most hymns do not require permission to be printed, some more recent hymns do, so please check with your officiant first to avoid any copyright infringement.
Whilst it is not necessary to provide an Order of Service for a civil ceremony, you may choose to consider an Order of Day instead. This usually provides details of the ceremony, and can also include timings for the photographs and the reception/party if applicable). We often get requests from couples for a note of thanks to the guests to be printed at the end of the Order of Day, which serves as a nice momento of your wedding.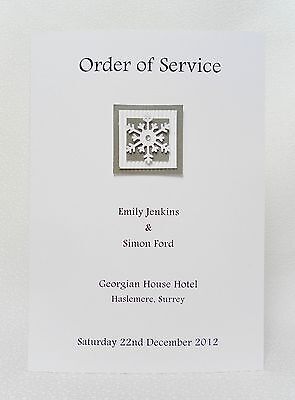 Table Plans, Table Numbers and Place Cards:
Providing clear signage in your reception venue is the easiest (and quickest) way of seating your guests. Table plans are usually situated by the reception venue entrance, either on a stand (often provided by the venue), or on a hall table etc. The size of your table plan will largely depend on the number of tables you have at your reception venue, and are usually supplied in A1 (largest), A2, or A3 (smallest) size. This can only usually be ordered once you have finalised guest numbers; most good suppliers will be aware of this and be able to turn these around fairly quickly, however it is always best to check in advance.
Table numbers (or table names) should be provided on each table for ease of reference, and (if required) individual place cards by each place setting. Place cards can be purchased blank to write on at home prior to the big day, or can even be printed by your stationer with each guest's name for ultimate convenience.
Where possible, table plans and relevant table signage should be ordered at least 2-3 weeks in advance.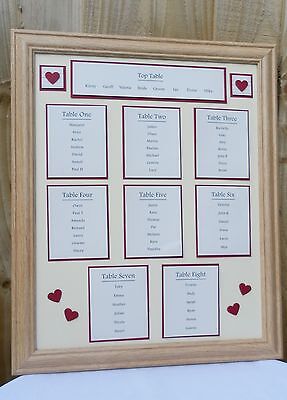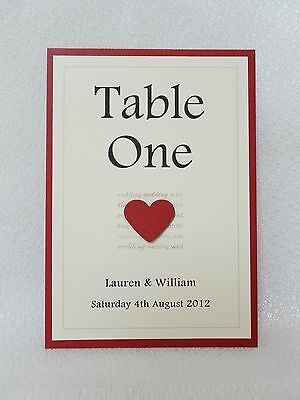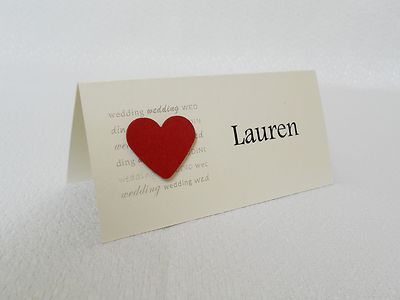 Menus & Favours:
Personalised menu cards are not strictly necessary (particularly for smaller, less formal receptions), however can assist in continuing your wedding theme through to your tables, and provide a nice finishing touch. The quantity required is largely a matter of personal choice; you may choose to provide one per table, or you may prefer to provide one per guest at their individual table setting. Remember to include the Top Table!
Equally, favours are not strictly essential, but do provide a nice touch and make your guests feel especially valued! Favours are essentially small containers (usually boxes in pretty or unusual designs), containing sugared almonds or other sweets, for example chocolate dragees. These were traditionally given only to female guests, however over recent years are being provided for male and female guests alike. Modern favours are supplied in all shapes and sizes - the possibilities are endless! However for understated and classic style, try incorporating your favours with your chosen stationery.
Menu cards and favours should ideally be ordered along with the table signage, approximately 2-3 weeks before the wedding.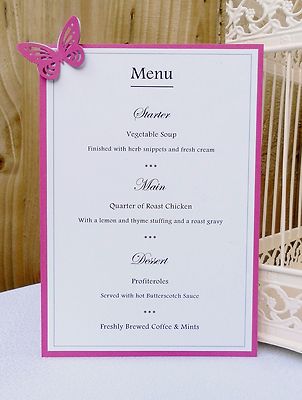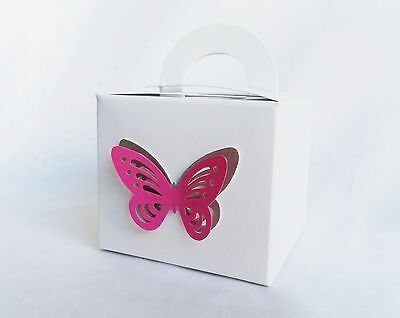 Post Box / Wishing Well Card:
With more and more couples living together prior to marriage and therefore opting for monetary gifts / honeymoon vouchers, this stand-alone item is becoming increasingly popular. Designed to be attached to a post box or wishing well (there are many good-quality card construction styles around), this card not only signposts a secure place in which gifts can be left, but also serves as a note of thanks to your guests.
Stand-alone items can usually be made fairly quickly, however should still be ordered at least one week prior to the big day (please check dispatch times with your supplier, particularly in peak season).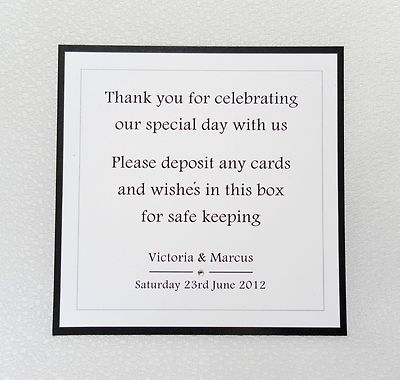 Thank You Cards
Not to be forgotten, Thank You cards are a good way to thank your guests for their gifts and for sharing your special day, and can be tied in to co-ordinate with your wedding stationery. Thank You cards are typically sent 2-3 weeks after the wedding, and should therefore be ordered as soon as possible after your wedding (although these can be ordered in advance with your "on the day" stationery to alleviate stress after the wedding itself).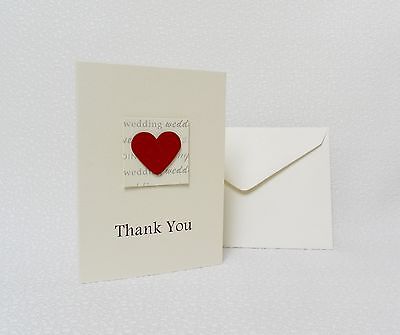 We hope this guide will provide a useful starting point, however if you have any specific queries or concerns which you would like to discuss with us, please contact us and we will be happy to assist.
Like this guide? Please click the "yes" button below if you found this helpful!