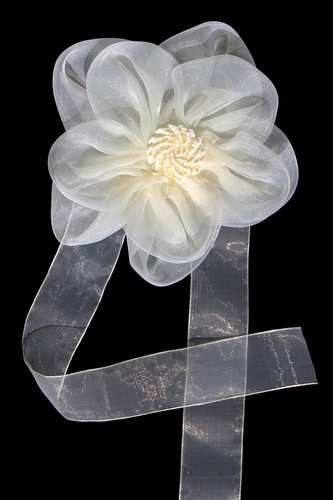 Organza is a strong and durable material that can be used in a variety of applications. Its light weight and natural sheen makes it a popular choice for ribbons, which is why it is frequently used for wrapping gifts with bows. It can also be an attractive addition to wedding or party decorations, or used as a clothing accessory.
Organza ribbon can be purchased in several different widths and lengths. There are dozens of colours to choose from, and buyers can select combinations of organza varieties to create unique decorations. Organza ribbon is sold as either single- or double-sided. Double-sided ribbon is designed with a sheen on both sides, making it a suitable choice for bows and other decoration in which both sides of the ribbon can be seen. Some types of organza ribbon contain wires in the edges, which allow them to hold their shape.
Organza ribbon can be purchased from hobby and craft stores, as well as online shopping sites. Many websites specialise in ribbons and other crafts, and marketplaces like eBay have several categories devoted to them. Shop around to find the full selection of organza ribbons, and choose products that can provide attractive and durable decoration for any occasion.
About Organza
Organza is a lightweight and semi-transparent material used to make a variety of products, including wedding dresses, curtains, and ribbons. Although a thin fabric, it is notably resilient and stiff. It can be easily dyed, and holds vibrant colours well over time.
Choosing Organza Ribbon
Organza ribbon is available in a wide selection of widths, lengths, and colours. Begin by deciding on materials, and refine options by one- and two-sided ribbons, wired edges, ribbon size, and colour. There are also several types of patterns and decorations that can be found on organza ribbon. Look for patterns and decorative touches to find the most suitable products.
Materials
Organza is a type of sheer ribbon that can be made from one of two primary materials: silk or polyester. The two materials are sometimes combined, and other fabrics may be incorporated, as well. Learn more about each type of material to choose the best products.
Silk
Silk organza ribbon is high quality, and has a soft and luxurious feel. It is also flexible and easy to work with. However, silk products are more expensive than polyester ones, and can be harder to find in a broad selection.
Polyester
Polyester organza ribbon is an inexpensive and widely available alternative to silk products. It retains much of the same visual qualities as silk, though it can feel a little stiffer or rougher to the touch. Polyester also appears more uniform than silk, and its sheen is highly consistent when held to the light.
Blends
In many cases, ribbons are not made entirely from silk or polyester. They are often mixed with other fabrics like cotton, and they may even be blended together. Check the packaging or labelling to be clear on the specific materials included in the product.
Single-Sided vs. Double-Sided
Organza ribbon can be either single- or double-sided, which refers to the sheen that appears on its surface. Single-sided products are suitable for bows and wrapping, though the matte finish on the other side can be noticeable if the ribbon is used for extravagant decorations. For a complete lustre on both sides of the ribbon, choose double-sided products.
Wired Edges
Some organza ribbons are sold with wired edges. This allows the material to be manipulated and shaped into a much wider variety of forms, making it an excellent choice for crafts projects. Ribbons with wired edges are more expensive than standard ribbons.
Width
Organza ribbon is created in a range of widths, usually from six millimetres to around 24. Decide on the type of project to be created before purchasing an appropriate width. Wide ribbons can be more difficult to tie into bows or create other ornate decorations with, but are more visible.
Length
Organza ribbon is sold in several different lengths, and rolls of the material are measured in metres. Buyers can shop for products that are as short as one or two metres, or over 50. Keep in mind that the length of ribbon is cut by machines, and may not be exact. In some cases, especially on longer rolls, the ribbon may be three of four metres above or below the listed number. Also, it is not unusual for long rolls to be cut into sections, usually around 20 or 30 metres in length.
Colour
Organza ribbon is created in nearly every colour imaginable. It comes in bright and vivid colours for a flashy look, or subdued hues for a more refined and elegant approach. In some cases, packages of multiple colours are sold together.
Patterns and Designs
In addition to the vast number of colour choices available, buyers can also shop for organza ribbon with patterns and designs. These may be standard patterns like polka dots or animal prints such as leopard and zebra. There are also products with ornate designs; gold or silver stitching. Organza ribbon with various patterns and designs are ideal for special occasions such as weddings or anniversaries, and can bring a touch of elegance to an event.
Buying in Bulk
Buyers who use a large amount of organza ribbon can consider purchasing products in bulk. Packages containing between one and 50 rolls are common, and larger bundles can be considerably less expensive than buying rolls individually. Serious buyers can sometimes find entire lots of organza ribbon for sale at a significantly lowered cost per roll.
Uses For Organza Ribbons
Organza ribbons can be used for a variety of applications, including art projects, home decoration, clothing accessories, and more. Look for books and information online to learn about some of the many opportunities to use organza ribbons in daily life and for special occasions. Several blogs and websites offer techniques for creating attractive items from varying types of organza ribbons, and entire books are devoted to uses for ribbons and the many products available. Consider mixing organza with other types of ribbon for a variety of textures within a project.
How to Buy Organza Ribbon on eBay
All types of organza ribbon can be purchased from the sellers on eBay. To find these items, head to the home page. Searches can be conducted by using keywords. For example, type "red organza ribbon" into the search field to see all items tagged with those keywords. You may introduce additional keywords on search results pages to refine options further. Alternately, look for links to categories on eBay. These can be used to begin a search from the home page as well, and are particularly useful for narrowing search results. For example, from the listings for red ribbons, look for category links to browse by width, length, price, and other options.
Click on individual items in search results to see their full listings. Check the price of the item, as well as any shipping charges that apply. Determine the seller's accepted forms of payment to be sure you can pay promptly for your purchase. You may also wish to check the seller's location and the shipping methods used. If you have any questions about a listing, contact the seller.
Research sellers on eBay to feel confident in your purchase. Check item listings to find the seller's positive feedback rating. This indicates the percentage of buyers in the past 12 months who were happy with their transactions. You may also check the number of transactions the seller has completed. Users with a high positive feedback rating and many completed transactions are experienced and reliable eBay sellers.
Conclusion
Organza ribbon is a lightweight and durable product that can be used for clothing accessories, home decorating, and a variety of crafts projects. Begin shopping by deciding between silk, polyester, and blended products. Silk is softer to the touch, but is also more expensive. Polyester is stiffer than silk, but has a uniform weave. It is more widely available than silk, as well. Often, one can find organza ribbon in a blend or with added cotton and other materials.
Organza ribbon is noted for its attractive sheen. This can appear on one side of the ribbon, or both. Double-sided ribbon is suitable for any project in which both sides of the material can be easily seen. To help users shape and prepare ribbon, many products have wires built into their edges. This is particularly useful for creating crafts and other delicate projects. Decide on the width and length of the ribbon, as well as the number of rolls included in a package. Buyers who use a large amount of ribbon can find bundles of multiple rolls that are significantly less expensive per roll. There is also a wide range of colours and designs available, including patterns and items with decorative stitching.
Organza ribbon can be purchased from hobby and craft stores, as well as online retailers. Specialty craft websites sell a variety of ribbons, while marketplaces like eBay can be used to shop from many different sellers. Consider all options to find the best organza ribbons for any event.