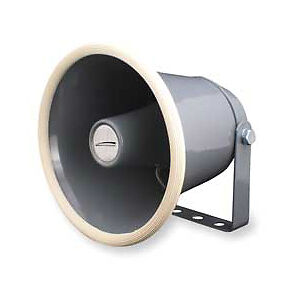 When planning an outdoor event, it is always important to have PA speakers suitable for outdoor use. Apart from the advantages of being water resistant, the purpose and type of venue are main considerations. Speakers and PA systems that are not specifically designed for outdoor use can also be used so long as suitable protection is set up or if the speakers are very portable. While simple PA speakers can be found for events that involve only speaking, it is often advisable to opt for a system and speakers that can handle either live or recorded music as well. While large speakers are obviously suitable for large events, many of the modern smaller models are capable of excellent power and quality of output. Essentially, the larger the outdoor area that needs to be covered the more wattage will be needed.
Types of Outdoor PA Speakers

Some outdoor PA speakers are designed to be attached to a PA system that is set up indoors. Active speakers are designed as integrated units that are intended to provide a balanced audio system. These speaker units are also usually very portable and often come with battery back-up for situations where power is not available. Passive speakers require more configuration than active speakers but also offer the advantage of being part of a flexible system that can be adjusted for the venue and event. Column speakers are often available in either pairs or in fours and are well suited for providing balanced music in outdoor settings. Horn type public address speakers are suitable for many outdoor events where the user needs to move around, or come as mountable speakers suitable for speaking and background music. Some speakers come with mounting brackets, while others may come complete with stands or stands can be purchased separately.
Complete PA System Single Speakers

Single speaker PA systems may be either active or passive. While not all are designed specifically for outdoor use, they do tend to be easy to move which makes many models suitable for venues that provide at least some shelter. Most single-speaker set-ups are ideal for speech or singing events. Models that weigh under 22 pounds, or 10 kilograms, are fairly easy to move around making them a good choice for buskers.
| | |
| --- | --- |
| Passive unpowered | Vary in weight, wattage, and frequency range. Can generally be combined with other systems to create a fully integrated system for performances. |
| Passive self-powered | Similar features to an unpowered speaker but offers the advantage of being self powered. |
| Active powered | Wattage, frequency, and weight vary. Various brands and models will offer a variety of features such as separate volume controls on line inputs and weatherproof housing. Active speakers are a good option for those who are unused to dealing with audio gear or who simply wish to be assured that they have a good balanced system. |
| 2 way single speaker designed for background music. | Models specifically designed for outdoors are readily available. A good choice for garden or pool parties where the music is not necessarily the main focus. |
| Single speaker systems complete with microphones and pull out handle | Often come with a battery. These speaker systems are usually lightweight with a focus on portability. A good choice for buskers or anyone who needs a reliable but portable system. Sometimes offer a variety of output settings that add to flexibility of use. Some models may offer the ability to switch between different wattages. |
| Bass speaker | Dedicated single speaker for bass. Suitable for serious bands. Look for weather resistant housing along with other features. |
Dual or 4-Speaker Systems

Single speakers are appropriate for some occasions, but when it comes to providing music, or if there is a larger crowd, two or more speakers can add a more balanced approach. When using more than one speaker it certainly makes sense to use matching speakers to avoid difficulties in balancing inputs and outputs. Speaker sets for outdoor use are often mounted, but may also stand alone on a stage. While quality of sound is always the most important aspect, portability, and flexibility in set-up are also factors to be considered. Some speakers can be mounted or set on a stage either horizontally or vertically which can be an advantage when being used for multiple events.
| | |
| --- | --- |
| Packages with full amplifier control | Excellent choice for entry level outdoor sound. |
| Sets of two or four speakers | May be designed for singing, live music, or background music. Most speakers are simple to hook up to a compatible PA system. Wattages vary. |
| Karaoke speakers for outdoors | Usually come complete with microphones. Although these speaker sets can be used outdoors, they're not recommended in rainy weather unless cover is provided. |
| Outdoor speakers with indoor controls | Mountable speakers that are controlled by an indoor PA system. Suitable for background music at garden and pool events. |
| Bluetooth speaker set | May or may not come with stands. Streaming audio signals from Bluetooth enabled devices can be used. |
| Mini Speaker starter sets | Generally have a low wattage but are suitable for general outdoor parties. Usually affordable for home entertaining. |
| Matching column speakers | Often suitable for prestige events as they are unobtrusive and attractive. |
| DJ/Disco PA and speaker sets | Various wattages and styles available. Designed to offer quality playback of recorded music. |
| Speaker stands | Offer flexibility for different stages and venues. When purchasing separately, it is important to check that the stand will fit the intended speaker. |
Horn PA Speakers

Horn type speakers generally come in two types which serve a different purpose. The first are the hand-held bull horns intended for simple voice activation. The second are mountable speakers used for both voice and music playback. A set of speakers can be set up to deliver sound to very large outdoor areas.
| | |
| --- | --- |
| Hand held megaphone | Suitable for sporting events or other events where the speaker needs to move around. A variety of sizes and colours are available. Most have a simple on/off switch. Some models can be adjusted for volume and may even have the ability to record and replay short excerpts. This replay option can be useful for repeating announcements from place to place without putting strain on the user's voice. |
| Vehicle mounted horn speakers | Useful for announcements or music playback from a moving vehicle. Most come with a variety of controls set up inside the vehicle, or the PA system may be purchased separately. |
| Single horn speakers | A useful option for small outdoor areas, or to add to an existing set. Wattage and quality will vary. A variety of colours and shapes are available. Weatherproof housing and mounting handles are the standard. Can be easily installed and removed, or left in place permanently. |
| Horn speaker sets | Available in a variety of shapes and colours. Sizes and output vary. Sets of either two or four are the most usual, and some sets can be purchased as part of a full PA system. As with single horn speakers, sets are designed to be easy to mount. |
Finding Outdoor PA Speakers on eBay

PA speakers are usually listed in the Pro Audio Equipment category. From the Home Page, select the All Categories tab and then Musical Instruments. Here, the Pro Audio Equipment option is listed below percussion. Even when looking specifically for outdoor speakers, it is advisable to use the advanced search bar for more general speakers or PA systems as many speakers that are suitable for outdoor use will be listed according to some of their other attributes. If all required specifications or features on a speaker or system of interest are not available it is worth asking the seller a question for further information. Considerable savings can also be made on local shipping and some sellers may even offer free shipping.
Conclusion

Quality PA speakers can undoubtedly make a difference to the success of any outdoor event. The choices available can be both exciting and a little daunting for the inexperienced. If the requirements for a speaker are clear, then it is relatively simple to aim for a speaker or PA system dedicated to that purpose. If the purpose for the speaker is likely to change from event to event then speakers and systems that offer more flexibility are likely to provide more user satisfaction over time. Purpose, price, power, and durability are probably the most important considerations to keep in mind when making a choice.