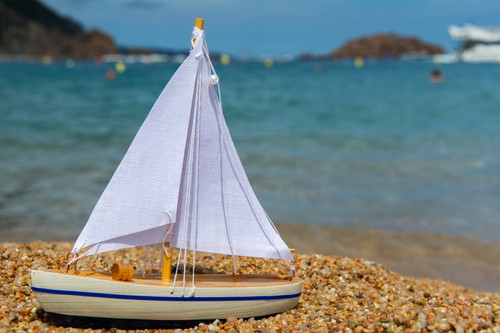 Wood has been used by humans to construct our comforts for thousands of years. From the roofs over our heads to the toys with which we encourage our children, the brilliant properties and startling variance in varieties of wood have kept humans busy imagining new uses for the versatile material.
There's nothing like the great outdoors; wide open spaces, fresh air and the abundance of nature all around. Few things are as invigorating for the imagination. Encouraging children to open up and discover the enjoyment the outdoors can offer can be doubly rewarding when paired with the right toy.
A massive range of outdoor wooden toys, from brand new to well loved, antique to affordable, are available through eBay. This guide is a good starting point on some things to consider when shopping for outdoor wooden toys.
Wood you Fancy That?
There are precious few things at once as familiar and comforting than the beauty of well crafted wood. Unlike many space robots, electronic pets and affectionately named builders that spring to mind, wooden toys have never gone out of fashion. And fans of these classic toys appear to be onto something. Numerous advantages exist when comparing wooden toys with toys of other types.
Excelling Environmentally
For anyone environmentally minded, buying wood can be a great choice. Of course, just because something is made from wood doesn't mean the process that has produced it has been great for the environment. Various certifications such as the Rainforest Alliance Certification help to mark out wooden toys made from responsibly sourced timber whose production has helped, not hindered the natural environment it was produced in.
If the wood has been sourced sustainably, using it as a material has a number of advantages few other materials can boast.
Firstly, wood is biodegradable. Left alone it will rot into biomass and renter the natural food chain of plants. This means, unlike plastics made from the hydrocarbons of fossil fuels, wooden toys don't pose a landfill headache.
Secondly, wooden toys are highly durable. Parts that break can usually be replaced easily and maintenance can help a toy last decades, if not centuries. A long lasting toy is great for both the wallet and the environment, as having to replace badly made broken toys creates waste, which is avoided when purchasing durable toys that can be repaired even if they break.
Stimulating the Imagination
That less can be more is a nugget of wisdom that has been passed down over centuries. With toys, this sage advice is as applicable as ever. Modern toys are almost innumerable in their functionality, though this is not always a good thing.
Toys to help a child's development should encourage interaction, test their abilities and allow play to take place in a number of ways. The more complex a toy, the more often it dictates the way in which it should be played with thus:
limiting the role of imagination
dampening the development of skills learnt through play
Wooden toys are often seemingly simple objects, which can be of great advantage in encouraging children to imagine and deploy them in near infinite scenarios.
Designed for the Great Outdoors
Staying outside in the wind, rain and sun requires strength. Not every wooden toy is suited to be used outdoors; there are a number of design and maintenance considerations that the great outdoors require a wooden toy to take into account.
The two key considerations are the type of wood the toy is made from and the finish that is applied to it.
Wood is available is a huge number of different varieties. Typically these are classified into hardwoods and softwoods. The rarity and demand for a certain wood determine its price - and certain varieties have properties that make them excellent choices from which to make outdoor toys.
The key property to consider is how absorbent the wood is. Most woods when untreated will soak up water to some degree. This causes the wood to swell in size and often warp, which becomes a problem for toys made from multiple parts assembled tightly together. Certain woods, most notably white oak, are naturally resilient to water, and thus are used in a number of outdoor scenarios.
At the opposite end of the scale, wood can also be susceptible to drying out when not protected from strong sunlight. If wood dries out, it not only becomes bleached, but often causes the wood to crack and splinter - hardly ideal if children will be playing with it.
Apart from choice of wood, the shape of the toy should be designed with the outdoors in mind if it is to sit for a long time in that environment. If the toy has dimples or divots, sitting water can quickly erode protective surfaces and become a catalyst for deterioration. Outdoor toys that will be in rainy environments should therefore be designed so that water will run off them.
There are numerous types of finishes that can be applied to the wood to help protect the toy from the elements. Indoor toys often take stains and oils, but paints and varnish are often more heavy duty and suitable for protecting the wood.
Whatever finish is coating the toy is its protection against decay, so make sure the coating is still intact. Small nicks in the coverage left alone can begin to let water in and create problems. Don't be afraid to touch up the varnishing or painting yourself, though research the chemicals suitability beforehand.
Of course, buying second-hand outdoor wooden toys is often more affordable. This is great for those of us who don't need everything to be brand new.
If the toy is looking a little past its best, it's great to realise wood is relatively easy to restore.
Chipped paint or varnish can be sanded off and a new coat applied to make the toy look and feel brand new.
If you're not the handiest with a little DIY, no doubt a local craftsperson could be easily found to help you restore the toy.
Safety First
The most important consideration when buying any toy that will be played with by a child should be safety. Outdoor toys are no exception. The key three things to look out for when assessing a toys safety or suitability for youngsters are:
Toxicity
Children chew toys. When they do it's important to check that the item they're gnawing on isn't covered in any chemicals that might be harmful to them. This is especially important with older toys that may have been manufactured before our modern safety standards.
Small Parts
Similarly, small parts pose a risk if a child decides to teeth on a toy. Anything that may come loose from the toy poses a choking risk if a child attempts to swallow it.
Sharp Edges
All wooden toys should be sanded smooth across their surfaces and edges. Any protruding parts may be dangerous for young children not completely in command of their balance. Checking the item for protruding parts is an essential part of a safety check.
It's important to use care and informed judgement when making sure a toy is safe for a child.
How to Buy Wooden Toys on eBay
Now that you've worked out which wooden toys you want, find them quickly on eBay. To start shopping, go to the Toys & Games category. Click the Wooden Toys portal.
Categories: The Categories list on the left side of each page will help you narrow down your listings by item type. You'll find links to shop for Kids or Collectors & Hobbyists, and the ability to refine your search by Brands including Brio, Early Learning Centre ,Chad Valley, Fisher Price, Mothercare and Marks & Spencer. As you refine your search you'll be able to narrow down your choice by subcategory.
Product Finder: Use the Wooden Toys Finder to quickly narrow down item listings by type of Sub-Type, Brand, Character Family, Age Level, Gender, Condition, Price and Item Location.
If you can't find exactly what you want, try browsing eBay Stores or tell the eBay Community what you're looking for by creating a post on Want It Now, or save a search on My eBay and eBay will email you when a matching item becomes available.
Buy Wooden Toys with Confidence
Make sure that you know exactly what you're buying and understand how eBay and PayPal protect you.
Know Your Item
Read the details in the item listing carefully.
Remember to add delivery costs to your final price. If you're buying a high value item, check that the seller will insure it until it is delivered to you.
If you want more information, click the "Ask seller a question" button on the seller's profile or the "Ask a question" link at the bottom of the item listing page.
Always complete your transaction on eBay (with a bid, Buy it Now or Best Offer) otherwise you will not be covered by eBay Buyer Protection.
Never pay for your eBay item using an instant cash wire transfer service like Western Union or MoneyGram. These are not safe ways of paying someone you do not know.
Know Your Seller
Research your seller so that you feel safe and positive about every transaction.
What is the seller's Feedback rating?
How many transactions have they completed?
How many positive responses do they have?
What do buyers say in their Feedback?
Are they positive about the seller?
Most top eBay sellers operate like retail shops and have a returns policy.
Do they offer a money-back guarantee?
What are their terms and conditions?
Buyer Protection
In the very unlikely event that you do not receive your item or it is not as described, eBay Buyer Protection covers your purchase price plus original delivery cost.