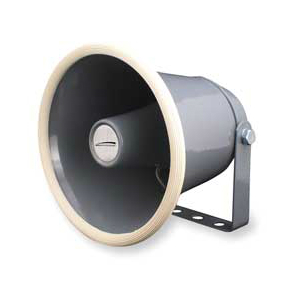 Public Audience / Public Address (PA) speakers are used by a wide cross-section of the community. For musicians performing at live venues, loudspeakers are essential for them to be heard by their audience. Organisers of village fetes, or clubs and associations holding event days, may need to make public announcements to attendees and participants. Any organised public gathering will need to communicate with people in what are often noisy and distracting environments. A good PA system and speakers can be essential equipment for such occasions.
About PA Speakers

In its simplest model, a sound system comprises a microphone hooked/plugged into a loudspeaker. Complex sound systems can involve numerous microphones, audio mixers, signal processors, speakers, amplifiers, woofers, and tweeters. PA speakers are an essential component in getting the right sound volume level and quality out of these systems. Key supporting pieces of equipment for PA speakers are cables, connectors, and speaker stands.
Types of PA Speakers

PA speakers are either powered (also known as active), or unpowered. Both types of speaker have their pros and cons.
Powered (active) PA Speakers

Pros

Powered speakers are great for inexperienced users, as they come with amplifiers, drivers and power cabling already configured and built into a portable cabinet. All the user needs to do is buy the right type of speaker cable and connector, and the speaker can be quickly connected to the sound system. Powered speakers also have the advantage of being more convenient to carry around and install than unpowered speakers.

Cons

If an amp blows, or drivers or cabling fail, the whole speaker is unusable until it is repaired. Powered speakers also require access to more power outlets than do unpowered ones

Unpowered PA Speakers

Pros

As unpowered speakers do not come pre-built, if an amp blows or other equipment fails, they can be quickly fixed on. For experienced sound engineers, the unpowered speaker provides a great deal of versatility in getting different sound effects and qualities from sound systems. They also require access to a smaller number of electric power points than do the powered units.

Cons

Unpowered speakers require the user to have a good understanding of how sound equipment components work together, particularly amplifiers, tweeters, and woofers. Before unpowered PA speakers can produce sound, they have to be paired with an amplifier and connected with cables into a sound system. They can be unwieldy to lug around and install.

Choosing a PA Speaker

There are several factors to consider when buying PA Speakers. These include; intended purpose, compatibility with existing sound systems, portability and sound quality.
| | |
| --- | --- |
| Intended Purpose | Deciding upon the right PA speaker depends upon its intended purpose. For example, are the speakers to be part of a home entertainment system or used for a karaoke party? Maybe the speakers are required for a musical group, and if so, will they be right for the type of instruments played? Different music genres are better suited to certain types of PA speakers and amplifiers than others are. Purpose will dictate the functions required of the speakers and help decide the right brand and model. |
| Compatibility | One of the main considerations is whether the PA speakers are required to interface with an existing sound system. If this is the case, the choice of speaker will be immediately limited to one that is fully compatible, or will require only minor upgrades to equipment to be usable. |
| Portability | Another decision point is the portability of the PA speakers. If they are going to be used at regular events, is it important that they are lightweight and in a size convenient for transporting? Check if they can be easily and quickly set up and installed. Size, shape, and weight are important dimensions to consider. Just as with sound quality, the number of PA speakers required is dependent upon purpose, including venue and audience size. Physical characteristics of the venue may dictate whether speakers should be placed on floors, walls, or on stands. |
Sound Performance and Quality

Sound Performance is the number one requirement when buying PA speakers. The volume output capacity and sound quality must be able to meet the requirements of the intended venue and audience size. In addition, different types of live music and outdoor events will require very different sound qualities to be achieved by the PA speakers. For example, a heavy metal band has a very different sound to an acoustic folk music group, and, therefore, has different demands to make of the speakers and sound system.
| | |
| --- | --- |
| Speaker Drivers | Speaker drivers are responsible for producing different sound frequencies. Woofers are for low-frequency sound, and Tweeters are for high-frequency sound. In between are mid-range drivers, and at the lowest frequency end, subwoofers. |
| Subwoofers | Subwoofers may be necessary for bands using low frequency instruments such as drums and bass guitars. Powered PA speakers do not usually have subwoofers, so these may have to be purchased as a separate unit. |
| Power Output | Occasions like speaking engagements, soloist performances, or acoustic instrument group acts, will not require the as much power as a pop or rock concert would. Small sized venues will usually be well served by PA speakers with an output around the 300 to 500 watts level. Medium to large sized venues and outdoor entertainment will require PA speakers with output around 500 watts and up. The larger the venue, audience sizes and number of instruments, the higher the power output range of the sound system will be. Music groups and performance events that use a wide range of musical instruments and/or incorporate complex sound effects will need larger sound systems. These will need to deliver across most sound frequencies. The expertise of a sound engineer is invaluable in gauging what types of PA speakers and sound components are best in these situations. |
Accessories

Key supporting pieces of equipment for PA speakers are cables, connectors, speaker stands, and protective covers.
| | |
| --- | --- |
| Cables and Connectors | Good-quality cables and connectors are important in getting and maintaining high sound quality across the sound system. Shorter length cables obtain better sound quality than long cables. Similarly, thicker wire in cables provides a better signal quality than do thin wires. |
| Speaker Stands | Speaker stands come in a variety of shapes, sizes, and materials. Stands are necessary for speakers that cannot be floor mounted. Well-constructed stands enable even very heavy speakers to be held securely off the ground, and set to specified heights. PA speaker stands also need to be light enough to be easily moved around and have flexible designs that allow for easy storage. Popular designs include columns and tripod shapes. |
| Bags, Cases, and Covers | Padded and waterproof covers help to extend the life of PA speakers. A variety of bags and cases provide additional protection and portability for sound equipment components. They reduce damage to equipment during transportation to and from venues, and in storage. |
Finding a PA Speaker on eBay

A large range of PA speaker brands and models are available for sale on eBay. Tracking down the most suitable speaker for buyers unique requirements can be easily done through following sub-category menus in the Sound and Vision category.
Start from the Home Page and select the Categories link in the top left-hand corner. From the All Categories page, find the Sound and Vision category. Select the More link to display all the sub-categories under this category heading. There are three relevant sub-categories to find a range of PA speakers - Home Audio & HiFi Separates, Performance & DJ Equipment, and Other Sound & Vision.
Under Performance & DJ Equipment, PA speakers are listed under the Speakers and Monitors sub-category. Accessories such as Cases, Bags and Racks can be found under this category, as can Stands & Supports. Another sub-category worth having a look at is DJ & PA Packages, where PA speakers, related equipment and accessories are bundled into some interesting deals.
Buyers who know the brand of PA speaker they are after can select the Brands sub-category on the Sound & Vision page. They can then filter by brands and models to find the best speaker.
Using the search term 'PA Speakers' in the search text box at the top of each eBay page will also return a list of speakers. Search results can be filtered by condition, price, seller and location, and a few other options.
Summary

Finding the right set of PA speakers is dependent on the intended purpose, including venue and audience size. Different speakers are suited to different types of events. Deciding upon the right speaker involves weighing the characteristics of power, size, cost, portability and design against each other.