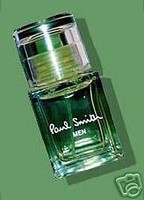 As I'm often asked to describe fragrances, I thought I'd compile some guides to assist when considering purchasing a particular fragrance. Choosing a fragrance is a matter of personal choice and preference but I hope these guides are useful.
PAUL SMITH FOR MEN
DESIGN HOUSE - PAUL SMITH
YEAR INTRODUCED - 2000
FRAGRANCE NOTES - CRISP CIITRUS, SWEET SPICE, WITH NOTES OF BERGAMOTA,
ORANGE, LAVENDER, ALBAHACA, CARDAMOMO & HIGO
VERDE. AN AROMATIC AND MASCULINE SCENT
RECOMMENDED USE - CASUAL
The London based designers signature fragrance, reflects his creativity and love of life. This fragrance is inspired by Pauls own use of aromatherapy oils and energising tonics.