Buying a Primary School PE Bag
There is lots to think about when your child is starting at school or nursery. Getting changed for PE is quite a challenge for primary school aged children so make it as easy as possible for them to get their things out of their bag and then put them away again at the end.
A good PE bag needs to be easily identifiable in a crowded cloakroom area so your child can pick it out easily.
Think about:
* Go for a bright colour or a design that no one else will have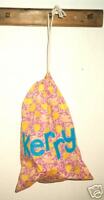 * Go for a personalised bag so if the bag gets put on the wrong peg it can quickly be returned

* Choose large lettering to make it easier for your child to read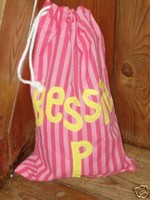 * Choose sewn on lettering rather than transfers which can rub off / wear off / wash off
* Choose lettering with a capital letter at the beginning but the rest of the name in lower case as this is how your child will be writing their name at school.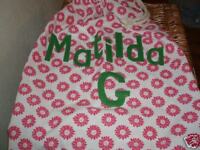 * The name needs to be in a contrasting colour to make sure it stands out and is easy to read.
* Your child needs to be able to open and close the bag easily by themself so go for a drawstring running through a simple channel at the top as this is easy for little hands to manipulate.
Little things can upset children and knock their confidence. The right PE bag will make life easier for your child.
Try looking in my shop: