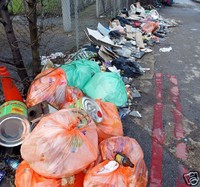 Just a brief note to remind E-Bayers to try and do their bit for the envoirenment.
This idea is useful to both buyers and sellers on E-Bay and will save you money too.
Wether buying or selling try and re-use packaging whenever possible.
How many times has a customer requested a quick delivery of a fragile item, leaving you to hunt around or go shopping for suitable materials.
This applies especially to bubblewrap and polystyrene plus other forms of parcel filler.
POLYSTYRENE IS NOT BIO-DEGRADABLE
IT HAS TO GO TO LANDFILL
Remember to store packing materials in a clean dry area and be careful not to create a fire hazard.
The same can be said for cardboard boxes. Supermarkets will gladly oblige.
Fold them flat for storage and build back up when required.
For professianal E-Bayers there is a good source of large quantities of new packaging, labels, sellotape, pens, card etc.
all at discount prices to be found in the E-Bay Shop: MEGABROKERS
follow the link below and 'stay lucky'