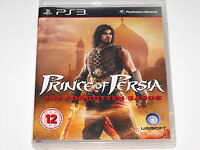 PS3 Game Review: Prince of Persia:The Forgotten Sands

First of all I need to apologise as this was meant to appear in the Reviews Section but has appeared in the Guides Section instead!
This is the latest offering in the Prince of Persia series on the Playstation 3.
The previous Prince of Persia was cell shaded and luckily the game designers haven't done this to The Forgotten Sands.
The graphics are visually stunning and the music and background effects are brilliant.
I have completed the game and I have enjoyed every minute of it.
Not the longest of games and you will complete it in under 12 hours.
The series has taken a step back to how Prince of Persia: The sands of time was on the PS2 which I think is a good thing.
The traps are back along with some sometimes frustrating puzzles sections!
Luckily you can rewind time if you do make a mistake and die but only a limited amount of times.
Collecting Blue spheres though increases the amount of 'rewinds' and 'power attacks' that you can do.
Red spheres are health and you will need to collect these if you are going to make it through the game!
Killing monsters and collecting yellow spheres allows you to upgrade your abilites and powers.
A new feature is the power to freeze water!
This allows you to freeze and climb waterfalls and swing off horizontal spouts of water coming out of the walls to reach other areas.
Other powers are: Ice Blast,Whirlwind,Stone Armour and Trail of Flame and upgrading these increases their range and damage caused.
I have found that the best powers are Whirlwind which knocks down all nearby enemies and Stone Armour which protects you from enemy sword attacks for a short time.
Prince of Persia: The Forgotton Sands is such an engrossing game and so stunning to look at.
It is best to play through the game the first time on the 'easy' difficulty setting.
Once the game has been completed it unlocks the Challenge Mode.
Playing through 'Enemy Tides' in the Challenge Mode (which is 8 waves of enemies) and collect yellow spheres to max out your powers and abilities.
Then when you play through the game again on the 'normal' difficulty setting all your powers and abilities will be at maximum which is quite handy!
If you loved the Prince of Persia: The Sands of Time on the PS2 then you are going to love this game!
I hope that you have found this guide useful and please don't forget to vote as it is free to do so and only takes a moment.
The more votes I receive the more inclined I am to spend my valuable free time writing more eBay Guides and Reviews for you.
Many thanks.
If you have less than 5 feedback unfortunately you won't be able to vote (Sorry eBay rules and not mine!)