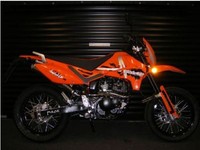 AT PRESENT...

I no longer own my Shineray 125 as I have upgraded to a Pulse Adrenaline. First impressions are:
A lot less vibration that the Shineray
About 5-6 inches higher ride height
Better gearing and brakes.
Fuel economy seems about same even though the Pulse is about 30kg (ish) heavier. 100+/gallon easy!
Steering lock works off the clocks not tucked under the frame.
Much better tyres and road holding than Shineray.
Indicators can be canceled with push of indicator button (not on Shineray).
Mirrors work (just). I am about 15 half stone and my shoulders are pretty much out of the mirrors (most of the time).
Much stabler handling on roundabouts and corners and breaking etc etc...
Very good front light (almost as good as my Mrs car (Clio).
Locking petrol cap (not on Shineray). Lock that is.
Parts are much easier to get for this bike. Llexeter, breakers etc.
Excellent gearing on hills; before I would change up to 3rd and the engine was screaming to change and then it would die back down until I ended back in 2nd...repeat cycle! Sigh...
I will climb a hill in 3rd that Shineray would slowly want to go back to 2nd in and on times even go up into 4th on same hill I was having aforementioned up/down scenario on.

NOW THE NOT SO GOOD!!! CUE SERIOUS MUSIC...

At first service whole loom had to be replaced as there had been some burning on wires.
Rear led's partialy burnt out; only 2 lit when lights are on and all of them light when braking, less than 50% of leds lighting is an mot failure (don't need mot for next 2.5 years) Found leds on ebay cheap, but would have cost about £30 new from Llexeter. If I had been deperate with an mot pending could have got them new for ths amount, but again this is very cheap for new parts.Had lots of rust in my tank which was not helping matters (bought new tank); good point here is you can get a brand new tank from Llexeter for around £55, go mine from someone breaking one on Ebay.
Had to be recovered by breakdown recovery people about 10 miles from home on the sameday bike eventually had it's first service, brokedown after it's service; is that annoying or what? (with new loom, bought from Llexeter for £55)
Another good point coming...I get up to 5 recoveries in 12 months for only £35 (national coverage), this is arranged through Rampdale Insurance (who I insured the bike with).

SUMMARY:

Absolutely excellent chinese bike; the best in my opinion. Don't take my word for it as I have only ridden 2 Chinese bikes (see my other review). The guys at MCN gave it 4 out of 5 stars in a review few years back; and these journalists get to ride just about everything. I shall agree with them "all the fun of a Supermoto at the fraction of the price".
Had to pay out very early on in my ownership of bike, but then again...that's life. However, the parts are dirt cheap compared to Jap prices.
The price of a full exhaust (BRAND NEW) for the Shineray was under £40, the same exhaust for Pulse in not far off £90...so it's all swings and roundabout. It's not to hard to find second hand but like new tank on ebay for around £60; which is where I got mine from.

HOPE THIS INFO HELPS, WILL DO FOLLOW UP ARTICLE SOON.
Remember "bike safe" and have fun.

PS, if you find this article helpful pls VOTE for it.