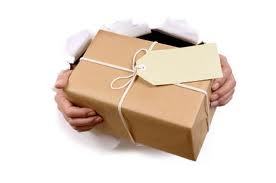 Creating the right Impression
So you have sold something..thats the end of the hard work right??
Wrong, the next steps..packaging & Quick postage are very important if you wish to bring buyers back to your store or website in the future.
Sending the item in recycled packaging, old carrier bags, or newspaper, is not the sort of impression a business owner wants to give their customers.
There are exceptions of course; craft sellers may want to wrap theirs in newspaper, because its part of what they do or ties in with their look.
My packaging Experiences;
1. I Purchased a Top (Used) From an online Ebay seller it came in a Pink Bag Then inside it was Very Neatly Folded in a Plastic Clear bag with a Pretty compliments slip. My first thought was how lovely it looked and I had to go and leave her a glowing feedback as it was sooo nicely presented....I had not even looked at my Item Yet!!
2. Same again I bought some girls tops for my daughters and they came in a re-used grey mailing bag. Scrunched up and then wrapped tightly with loads of sellotape.
Now I didnt think "oh my god the packaging is awful" but what I did do was get the tops out and closely inspected the item.
You see in case 1 I had already in my mind decided that I loved the item before I opened it because it was nicely presented, but in Case 2 my immediate thought was Oh no I hope these are ok.
Two of my favorite online Retailers have to be Mini Boden & Joules.
When the packages come I tend to not want to open them as they look so nice...to me it says QUALITY, CARE, BRILLIANT ITEMS before I have opened them.
Now im not saying go spend a fortune on Fabulous Packaging, but do make an effort, it really does make a difference.
I have even purchased Items from my competitors just to see how they package their Items.
So What Should I Use?
Of course the answer to this depends on what you sell. I sell clothing and I use;
Clear bags and enclose a compliments slip inside, then put into a pink mailing bag if its for a female and a blue one if its for a male, or turn the pink bag inside out.
If I sell a designer or vintage item over £20 I usually send in an unused box where possible with tissue paper. (if you can only find a used box, just tape the tissue paper to the inside, so it looks nice and clean when your buyer opens it)
I also print a sticker with my logo and attach to the front of my Package.
The one thing I will do when my business can afford to is buy some professionally printed stickers as mine look a bit cheap, but they do the job.
When you are starting out you may just want to buy 1 size of bags and use them for everything`... that's fine but here's what I usually have in my
packaging box;
12 x 16" Pink & Blue Mailing Bags - I can get most things in these
9 x 12" Pink & Blue Mailing Bags - I use these for small items such as vest tops
TIP: If you offer free postage on smaller items, the smaller package you can get them in (without ruining your presentation of course) The Less packing will cost. Most Times I can post a vest top as a Large Letter
17 x 22" Pink & Blue Mailing Bags - For Larger Items These are big enough to put a large Padded coat in
Brown Paper - Always useful for packaging anything in a box
Sticky Tape
Tissue Paper in both Blue & Pink
Return address stickers
Clear Food Bags 12 x 18"
Right Im ready to pack my item now what??
Again I sell clothing so I will base this on that but the principles are the same for anything you sell that needs packaging
Make sure your item hasn't got damaged or dirty whilst in storage
I use a lint roller to make sure there are no hairs on my garments.
Fold Nicely..do a google search if you struggle to fold anything neatly.
Put in a compliments Slip - I use a printed one, you may want to put a handwritten one in, or some people put swing tags in.
Wrap in tissue Paper (optional) I only do this for dresses/designer Items
Pack in a clear bag - I think it looks better for the customer when they rip open the back their garment doesnt just fall out
Pack in Mailing bag and seal - if there are any loose flaps I always use a little tape to seal it
Finally add mailing address & add a return address on the back. Here I will also add my business logo sticker but thats not essential of course.
My Top Tips
If you are selling Clothing/Apparel DO NOT Use Grey Mailing Bags if you are a business. Not only have I read that they can leave items with a smoky Smell (Not sure how true this is), they also In my opinion look Awful. I know that they are cheaper but just add the few pence extra onto your postage costs to cover it.
If you use facebook, twitter or other social networking site for your business, include the link/details on your compliments slip
The more bags you buy in one purchase the less they cost- I always purchase mine from Amazon or Ebay
If you have an Epson Printer you can pick up a set of Inks for a couple of pounds
Buy address labels to print out your labels - I use Avery online templates to print them out
Always print return address labels out and place one on the back of your packages - I have received several undelivered items back because I did this
RESEARCH - Look at what your close competitors do, google it - for instance ' How to pack a funny shape parcel' or ' How to pack and fold a shirt like a pro. There are so many guides available now. Use them or use ideas from them
I hope this has helped, if it has please click Vote :D