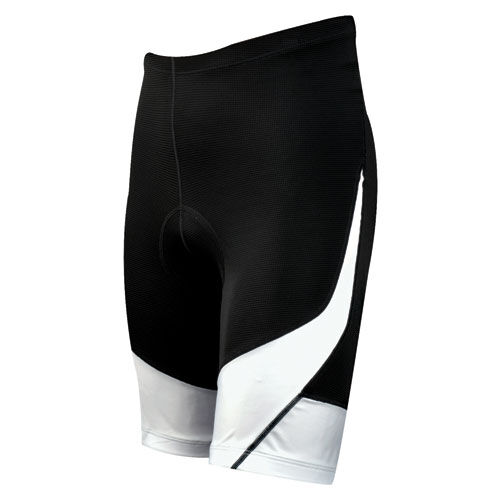 Among exercise & fitness enthusiasts and everyday people looking to get active, cycling is an extremely popular pastime that is enjoyed by millions across the country.
To have a comfortable and worthwhile cycling experience, a number of things must be right with the bike to ensure a cyclist's ride is as smooth as possible.
Shorts come in all shapes and sizes, with new technology being implemented all the time to improve the quality of a cyclist's ride.
This buying guide will focus on padded cycling shorts, the characteristics that mark them out, and the best way to buy a pair both safely and securely using eBay's auction platform.
Why Padded Cycling Shorts?
Cyclists have been wearing some sort of riding shorts for decades, so to guarantee that little chafing and discomfort takes place during a ride. These have been primarily skin-tight ones.
Padding was first introduced to make a ride that little bit more comfortable, and as such has evolved massively over the years.
Early models simply featured a type of chamois leather and nothing else, which helped to wick moisture away from the skin.
Still known as a chamois by many riders, the padding is now extremely intricate and manufactured using a number of materials – something that will be explained later in the guide.
The gender of the user also has a bearing on the style and type of shorts.
Padded Shorts Types
Cyclists wear padded shorts in order to make for a more comfortable ride, and the shorts come in two main forms.
The table below explains the three types in some more detail:
Type of Short

Description

Standard Shorts

Pair of shorts that have no additional attachments.
Will vary in length depending on the size bought.
Come in both male and female varieties.

Skort Shorts

Made specifically for female riders.
Consists of a skirt that covers the shorts themselves.
More fashionable than standard shorts and chosen for this reason by some riders.
Extra material is involved though and this can flap around in the wind, which can be an annoyance.

Bib Shorts

Pair of shorts that come with an upper body attachment.
This is known as a bib and is similar to a vest in appearance.
The whole fit of the bib shorts is more akin to a leotard than a pair of shorts.
Advantage is that it provides a guard against chafing for the entire body.
Come in different varieties for both male and female purchasers.
The Components of Cycling Shorts
Shorts are constructed from a variety of different panels that are sewn together, thus making a number of seams in the product.
The amount of panels and style of seams has a bearing on the cost and how comfortable they are over long distances.
Panels
The table below outlines the different panels, the comfort level they provide, and the cyclists they are most appropriate for:
Panels

Cost

Attributes

4

Cheapest

Ideal for cyclists that are in an upright position and for those that work out in a gym.
Not as comfortable or supportive on longer journeys, and don't come recommended for advanced cyclists.

6

Mid-range

Affordable pair of shorts that are for upright cyclists that sometimes migrate into more advanced types of cycling.

8-10

High-end

For cyclists that spend most of their time in a bent position when cycling.
Conform to your body noticeably better than 4 or 6 panel models.

12

Most expensive

Will fit to an individual's body shape better than any other pair of shorts.
Recommended for regular and experienced cyclists that spend a lot of time on their bike.
Seams
The panels that make up a pair of padded cycling shorts are held together by seams that do more for the feel of the shorts than anything else.
Shorts that are most comfortable for the person wearing them while riding are made with welded seams that create perfectly flat seams.
Any other type of seam can cause irritation when riding and the type of seam should be discussed with the seller before purchase.
The Chamois (Padded Insert)
A pair of padded shorts is nothing without the padded insert that was originally known as a chamois, because of the material that the original ones were constructed from.
Padding is generally made from foam with a choice having to be made by the rider as to how thin or thick they want it to be.
The top layer of the chamois, as it sits against the skin, will be made from a technical fabric that draws moisture away from the skin and prevents bacteria forming.
Care should be taken to make sure the material isn't one that the cyclist is allergic to.
When it comes to deciding between thick and thin, it's very much a matter of personal preference.
Size
Buying a pair of padded cycling shorts to wear whilst riding a bike will mean considering sizing requirements before completing a purchase.
Shorts are sized according to the size of the waist and length of the leg.
Length
This is the same whether it's male or female padded shorts, and the different lengths have been plotted in the table below.
It's important to note that not all shorts come with a length measurement, and to find out the individual length of a pair a buyer should ask the seller before making a bid
Condition
Buying a pair of padded cycling shorts means checking the condition of the item before committing to a purchase.
There are a number of different types of condition that eBay lists padded cycling shorts by, and the list below explains some more about each one:
New With Tags – Item will be completely new and won't have been used in the past at all. Expect it to be in original packaging and new with tags attached.
New Without Tags – Item will be brand new, but the product tags will no longer be attached or aren't there at all. Check with the seller whether it was on display in a retail location or not.
New With Defects – Item is brand new but has some kind of defect that means it'll be available at a cheaper price than normal. Display models may be classed in this category.
Used – Item has had prior owners and has been used in the past. Ask the seller how many owners it has had and how old the item is.
How to Buy Padded Cycling Shorts Using eBay
Buying correct cycling equipment is imperative when riding over long distances and it's not all down to having a well-maintained mountain bike or road racing bike.
Other protective equipment should be up there with having a correct bicycle, and as important as a correctly fitting helmet is, Making sure you're riding with a pair of shorts that ensures the utmost comfort during a ride is just as crucial.
eBay is home to thousands of different pairs of cycling shorts with padded ones among the most popular of all. The site's experienced band of knowledgeable sellers will be on hand to help with item sales and any other questions that buyers may have – which can be submitted via the site's 'ask the seller' feature.
To find padded cycling shorts, first migrate to the Sporting Goods category from the site's main page.
From there, scroll down until you get to Cycling and click on it to be taken to eBay's extensive cycling section.
Next, click on the Cycling Clothing section on the left hand side of the site's main page.
After that, navigate to the left hand side again and click on Shorts.
To see all of the padded shorts on offer either go through all of the listings looking at the items as each comes up, or type 'padded' into the bar at the top and click search next to it.
Narrowing the selection down is easy and can be done by selecting from the options on the left hand side, which include 'Condition', 'Price', 'Format', 'Item' 'Location' and others.
If the buyer has a good idea of exactly what they want to buy, eBay's extensive search feature makes finding items easy. Simply type the terms into the box at the head of any eBay page and hit enter, with the list to the right of the bar available to narrow things down a little more.
When happy with an item either make a 'Bid', place your 'Best Offer' or choose to 'Buy It Now'.
Conclusion
Cycling is a sport that is a popular pastime by people looking to stay fit and those that use it simply as a leisure activity.
Staying comfortable while riding is one of the keys to getting the most out of it and a well-fitting pair of padded cycling shorts, as well as a safe helmet, is the best way to achieve this.
eBay is one of the best platforms on which to search and buy padded cycling shorts online. Combine its group of sellers and the above buying guide, and finding items is extremely simple.
Once ready to complete a purchase, remember to use PayPal to make sure it goes through as safely and securely as possible.