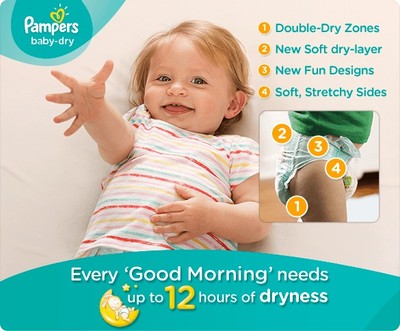 Pampers are one of the best selling brands of nappies in the world and it's no wonder when you look at the attention to detail pampers put into there ranges to ensure your little ones are always dry and comfortable , did you know that skin is not just a baby's biggest sense organ but in the early days of your newborn it's also their most important one? That's why every touch means so much to your little one and it is vital that their skin is protected.
pampers believe ,
All your baby needs for every morning to be a good morning is your love and a dry night's sleep.
Pampers Baby-Dry have Double Dry-Zones: a new soft absorbing layer, and a core which locks in wetness better than next leading nappy for up to 12 hours of dryness.
So your baby stays dry and comfortable throughout the night, every night.
This Product also features a unique wetness indicator, putting an end to unnecessary nappy changes.
Pampers wetness indicators are on every size up to size 3.
from then on baby changes its design slightly but dosent change the quality it's previous sizes offered.