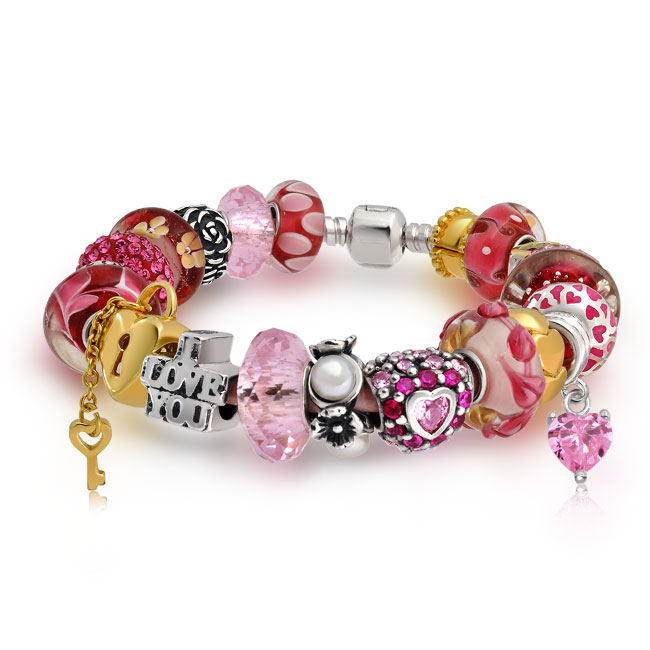 Pandora charm bracelets are a sophisticated upgrade to traditional charm bracelets, making them a popular option in wristwear. Instead of dangling charms, Pandora and other European charm bracelets have beads threaded onto a silver, gold, or leather chain. Pandora bracelets are available in an array of sizes: from 15 to 36 centimetres. Leather bracelets can be triple wrap to increase the number of charms it can hold.
Pandora charms can be bought as a gift or by the wearer for a myriad of reasons. Many women like to colour coordinate their charms. Thousands of charms can be purchased as a memento of favourite things. Similarly, Pandora charms can be purchased to commemorate special occasions, such as weddings and birthdays. Equally as important as choosing a sentimental charm is buying only authentic charms. There are a few key factors that can verify it is a true Pandora. Whether shopping for a special occasion charm or one to match the rest, Pandora charms an elegant piece of jewellery to modify and personalise.
About Pandora Charms
Pandora charm bracelets are a specific brand of European charm bracelets. Charms are highly prized and collected among wearers since they are handmade from only the finest materials. Charms are made from silver, gold, and glass, and often adorned with precious gemstones and enamel. Many women like to match their charms and bracelet materials. Fortunately, women who want to mix metals can choose from many authentic charms.
In addition to charms, Pandora also has spacers, which are smaller and not typically threaded. These spacers are like mini-charms, each unique with their own designs and colours. Non-Pandora charms can usually fit on Pandora bracelets, but many wearers prefer to stick with the name brand. Pandora bracelets are unique since their customisation ensures no two are alike. Women can have more charms that can fit on a bracelet and change them out whenever the outfit or occasion calls for it.
Selecting Pandora Charms
Pandora charms are fun to buy, whether purchased as a gift or personal use. When selecting the perfect charm, shoppers have several variables to account for. The first is colour. Pandora charms do not have to match since charms can be changed out at any, but there are a few colour rules to consider when shopping.
If buying for a friend or family member, people can get creative by choosing a charm with symbolic meaning. The bracelet and charm materials are also contributing factors. Some women prefer to keep similar metals together, while others have no problem mixing. Special occasions like the birth of a baby or graduation can be commemorated with Pandora charms. The sections below offer tips for choosing the right Pandora charm.
Pandora Charms Colour
Pandora charms can be made of precious metals or glass. While some metals can be coloured with gemstones or enamel, Murano glass beads are an excellent choice for adding a dash of bold. Many shoppers base their decision for Pandora charms on colour although there are a myriad of motivations behind choosing a certain colour. Buyers might simply choose a favourite colour, but birthstones are popular choices as well.
If the charm is to celebrate the arrival of a new baby, a pink charm might be in order for a girl and blue for a boy. Women often have an assortment of Pandora charms, and not all can be worn at once; therefore, many wearers change out beads to match certain outfits.
Pandora Charms Symbolism
Charms are also a great gift to women who already have the Pandora bracelet. Pandora charms can be selected based on the significance of a certain symbol. For example, if the wearer of the bracelet is a musician, then a simple music note might be a good buy. Shoppers might want to find an instrument specific charm. The list below has a few common charm themes and who might want each.
| Symbol | Perfect for |
| --- | --- |
| | Animal lovers; Pandora has an array of animal charms to choose from |
| | Expecting mothers or even grandmothers; birthstone and baby themed charms are popular |
| | The blessed; many Pandora charms dangle from the bead |
| | Loved ones; celebrate Valentine's day, anniversaries, or just because |
| | Music lovers and artists; generic styles or instrument specific Pandora charms available |
| | The athlete or the proud parent of one; from basketball to ice skating, Pandora has a large selection |
| | Those with wanderlust; pick a plane or Eiffel Tower, for example, to commemorate a trip to Paris |
Common meanings behind charms are designed to generate ideas. Buyers and wearers can attach a personal meaning to any charm. Shoppers are encouraged to create their own sentimental meanings for Pandora charms.
Pandora Charms Materials
The material the Pandora charm is made of often influences the purchaser's decision. Many buyers try to match the charm to the bracelet. Silver bracelets with silver clasps are generally paired with silver charms. Pandora also has solid gold chains available, but they are less common. Pandora is offering more gold charms than past years.
There are also silver bracelets with gold clasps for wearers who want both. Precious gemstones, such as diamonds and emeralds, accent gold and silver. These charms can cost significantly more than others. Glass charms come in an assortment of hues and patterns. Whether searching for a solid coloured charm, floral, striped, or other pattern, Pandora Murano glass beads are a beautiful addition to any bracelet.
Occasion
Pandora charms are an excellent gift for special occasions. The bracelet is no longer a piece of jewellery but a precious memento signifying milestones and memories. Birthdays are a perfect occasion to give a Pandora charm, and anniversaries are another Pandora-worthy occasion. The charm's theme does not even have to be birthday related, just something the person receiving it likes. Special occasions such a graduation, weddings, or baby's birth can all be commemorated with a Pandora charm.
Authenticating a Pandora Charm
While authorised retailers are a great source for authentic Pandora charms, the company updates its catalogue each time they add and retire new charms. Customers who are looking for charm from season's past should check online retailers and auctions for specific models. Pandora charms do not have a corner on the European charm bracelet market. Troll and Chamilia are two competitor brands.
Additionally, many vendors sell cheap imitation and knock offs, so shoppers in the market for Pandora only charms must know how to tell a real one from a competitor. Sellers can examine the markings and quality of the Pandora charm to assess its authenticity.
Threading
One of the easiest ways to spot an immediate fake Pandora charm is the lack of threading on the inside of the bead. Authentic Pandora charms are threaded onto the bracelet and screwed into place. If the inside of the bead is smooth, it is a fake. Imitation charms can also have the threading. The one exception to authentic Pandora accessories without threading is spacers. They fit between charms and are smaller than charms.
Markings
Authentic Pandora charms have several marking that should all be present. All Pandora charms have "ALE" engraved on it. ALE stands for Algot Enevoldsen, the initials of the father of the company's founder. The ALE marking is typically close to another signature marking. If the charm is silver, then it should have a "925" marking, signifying the charm is at least 92.5 percent silver. Charms produced after 2011 have a "925s" marking. Fourteen karat gold Pandora charms have a "585" stamp for a 58.5 per cent gold content. Lack of one of these marking is a sign that the charm is a fake.
Swarovski Crystals
Swarovski crystals are not used in Pandora charms. Any charm advertised as a Pandora with Swarovski crystals is not real.
Quality
Shoppers should evaluate the quality of the Pandora charm before purchasing it. If buying in person, it is easy to determine if the charm is real based on craftsmanship and weight. A real Pandora charm has a decent weight. Note that lightweight charms are often made from cheap materials. The handiwork is also an important indicator. Pandora charms are all handmade and have a reputation for clean, crisp, detailed beads. If artwork looks blown out or soldering is uneven, the charm is a fake.
Price
The price of Pandora charms is rarely discounted. Even buying an authentic used charm can be sold for original price. Rare or limited edition charms can fetch a high price tag. If the charm has an unusually low price, the chances are greater it is a knock-off.
Buying Pandora Charms on eBay
eBay has thousands of Pandora charms to choose from, and finding the right one is a cinch. There are several ways to go about finding the perfect Pandora charm. such as using keywords in your searches, such as "silver Pandora charm" or "Pandora heart charm". Including the colour, theme, or material in with your search optimises results. The other method is to refine your search of Pandora charms by selecting factors such as the type, main stone, metal purity, and more.
Get to Know the Seller
Since authentic Pandora charms are highly coveted items on eBay, it is important to find out more about the seller before doing business. Take a few minutes to check the approval rating and feedback comments to determine if you want to buy from a seller. A high rating and comments mentioning the quality of the charm is a good indication you are buying a real Pandora charm. For a superior buying experience on eBay, choose a top-rated seller. Look for the designating icon next to the seller's username to determine if they are top-rated or not.
Conclusion
Buying a Pandora charm for a special someone is just as fun as receiving one as a gift. With so many materials, colours, and themes to choose from, filling up an entire bracelet is an enjoyable pastime. Charm bracelets are a great way to document a lifetime of milestones and happy memories. Gold and silver charms are elegant and beautiful, and Murano glass beads can add a bold splash of colour. Precious stones are elegant accents for Pandora charms. Enamel painted charms are an inexpensive alternative to diamonds and rubies.
When buying a Pandora charm, it is important to choose a reputable seller to avoid buying a fake. From the bead's threading to signature stamps, shoppers who familiarise themselves with the tell-tale signs of an authentic Pandora charm are less inclined to buy imitations. Pandora has thousands of charms to choose from and can be purchased from licensed retailers, pawn shops, and online websites such as eBay.