Yu-gi-oh trading card game is a game that is loved by both young children and big kids (parents) alike. With championships worldwide its far more then just a playground game. With cards worth quite abit of money.
There are many ways to start a collection from starter decks, Structure decks, booster packets and collectors tins. It can be hard to know where to begin. Then you have things like common, rare, ultra rare and even ultimate rare cards where should you start to look at beginning a deck or adding to the deck that you or your children have.
Here is a a few ways to help you find out what cards to buy.
Your kids may be after one card that might help there deck which is a great help but when you look the price is £5-£10 which you may think abit to much for one card. This may be because the card is listed as a ultimate card which means that the writing is in gold with a holographic picture and the stars on the monster are also holographic. And is more for collectors who want to keep them of show and not to play. A example of this is a card called Silla, Warlord of dark world (ultimate) This card may be £10 but you can also get this card in ultra rare which mean its the same card but it has gold writing and a holographic picture. But it is still the same card except the ultra rare card will only cost about half the price now that's a big difference for a card your just going to play with and is slowly going to get damage.

Guide to telling common, rare, super rare, ultra rare, secret rare and ultimate rare cards. I have added pictures under each description to help you see the difference.

COMMON - This card has plain writing and a normal picture on it.
SHORT PRINT COMMON - - These are the same as normal common cards but have been printed in shorter supply

RARE - This card will have silver writing on it.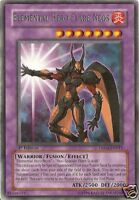 SUPER RARE - This card has a holographic picture on it.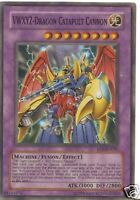 ULTRA RARE - This card will have gold writing and a holographic picture.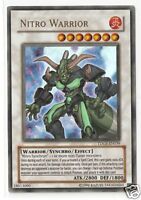 SECRET RARE - This card has a holo writing and a polarized holographic picture on it.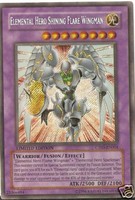 ULTIMATE RARE - This card will have gold writing with a different kind of holographic picture and shiny stars (monster cards only) it also has a shiny spell, trap or fire earth etc symbol on the top right-hand side of the card. These cards look great.
I have scanned two of my NITRO WARRIOR cards to show you the difference between an ultimate rare card and an a ultra rare card. The card on the left is an ULTRA RARE version, and the card on the right is an ULTIMATE RARE version.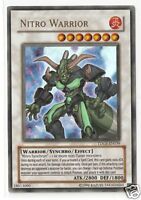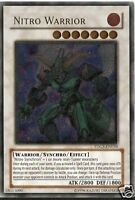 GOLD RARE -
Gold rare cards have gold lettering and a holographic foil image like an Ultra Rare, but also has a holographic gold image border. The Stars on the monster cards are embossed in gold foil, similar to what is found on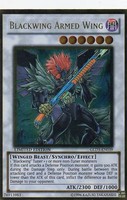 GHOST RARE -
Ghost rare cards appear to have a very shiny silver lettering, much like a Secret Rare, with some colours removed from the picture, and the entire picture appears to be holographic. The overall look of the picture is a Ghost like appearance.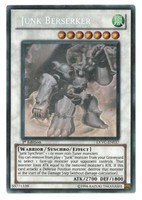 Starter decks are a good way to start a collection off. These have everything you need from the cards (which you need at least 40 to start playing) a playing mat and a rule book. You can pick one up from anywhere from Tesco's to here on e-Bay. there are about 5 different starter decks.
Structure decks are another good way of starting a deck or adding stronger monster, spell and trap cards to your deck. Structure decks come with 40 cards of a set theme like Spellcasters or Rock monsters a rule book and game mat. Which are great if you building a deck of just 1 or 2 themes. There are loads of structure decks from spellcasters to winged-beast.
Booster packets are a good way to add to you deck most packs have 9 cards in 8 common and 1 rare-ultimate in them each booster pack has different cards from the Blue eyes booster pack - Strike of Neos booster pack.
Single cards can be bought here on ebay but the price can be different from one item to the next. There is a website called yugico.com this site gives you an up to date value of all the yugioh cards so you can see how much each card will cost.

Yugioh collectors tins are also a great way of adding to a collection these come with 5 booster packs plus a bonus limited edition card. This is a great way to add to your collection plus you got a great tin to keep your yugioh cards safe.

I also have a guide to telling fake cards which might be useful. Because the last thing any parent wants is to give there children a card and they say "mum/dad this is a fake card" its the worst feeling in the world.
I hope this will help parents out there. This is all the information i have and it helped me to understand and enjoy playing yugioh with my children. JARNI26