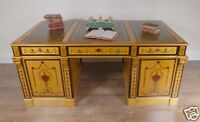 English Regency Sheraton partners desk
A partners desk is a large desk with drawers and cupboards on both sides of the pedestal so that two people could use the desk sitting on either side. The term partners desk is actually thought to have come from the fact that these desks were popular in the offices of lawyers - where partners in the firm could sit facing each other. Partners desks are a great business desk perfect for executive offices.
There are various styles of partners desks, the Georgian partners desk is popular as is the Victorian. The Sheraton inlay partners desk is another popular model. Perhaps the most famous partners desk of all is the American resolute Presidents desk - as found in the Oval Office.

Martin Worster