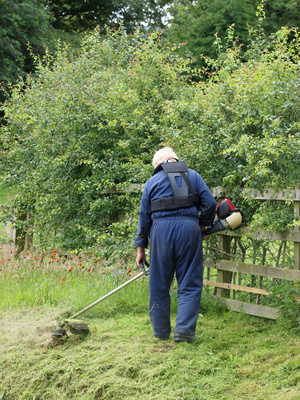 Petrol strimmers are used to cut grass and other plants, especially in awkward areas such as the edges of lawns and around trees and other objects. They are designed to be lightweight, maneuverable, and operated from an upright position so that they can be used with ease. There are several brands on the market offering high-quality and robust machines to provide effective and long use.
About Petrol Strimmers
Strimmers were originally developed in the 1970s by George Ballas, a businessman from Texas. He was inspired by the rotating nylon brushes used at car washes, and experimented with using nylon fishing line laced through holes in a tin can and attached to his rotary lawn edger. After some modifications and following consultations with experts in the field, he created the Weed Eater strimmer, which went on to have enormous sales. Petrol strimmers were developed later in response to the requirement for strimmers with greater power to tackle especially tough and overgrown areas. They are ideal for large areas of long grass and course weeds. Another key advantage is their mobility, as they do not have the requirement of an electric cable and can be used away from the home. However, they are generally heavier and noisier, with higher vibration levels, than electric strimmers, and the cost of fuel should also be factored into operating costs. At the top of the shaft, petrol strimmers usually have a two stroke engine; an internal combustion engine that has a high power to weight ratio due to its simple, lightweight design, which takes two strokes of the piston to complete a power cycle. The power this engine gives the strimmer means that larger diameter nylon lines can be used. Higher end petrol strimmers use multiple nylon lines or metal blades, for use on especially rough or woody materials. At the bottom of the shaft is the head with rotating reel, driven by the engine, and cutting line. The centripetal force exerted by the rotating reel makes the line turn fast making it an effective cutting tool. The line needs to be wound onto the reel before work is started. The line can be replaced by different mechanisms as it breaks. Speed can be controlled by a trigger.
Choosing a Petrol Strimmer
Finding the right petrol strimmer for certain needs comes down to a number of factors. These include weight and maneuverability, cutting path, power requirement, fuel efficiency, and expense. Choosing the right model is often a question of finding the right balance between these criteria.
Petrol Strimmer Weight and Maneuverability
One of the most important criteria to consider is ease of use. This includes weight and maneuverability. Because petrol strimmers are generally heavier than electric strimmers, this is especially important. The right strimmer also needs to be comfortable to use, especially if it is to be used for long periods of time. How comfortable it is will depend on factors such as shaft design, handle design, and whether the strimmer can be adjusted to suit height. The following table examines these in more detail.
| | |
| --- | --- |
| Weight | Petrol strimmers are heavier to use due to design and requirement for fuel. However, there is quite a variation, with weight extending from approximately 3.5 kg to 8 kg. Heavier models may come with harnesses or other adaptations to allow for extended use. Bear in mind that different attachments may make a difference to the operating weight, for example, line trimmers could weigh 1 kg less than using a hedge trimmer. The seller should state whether the weight is dry weight (without fuel) or not and whether it is the complete weight with attachment(s) or not. |
| Shaft Design | There are three basic shaft designs: curved, straight, and split shaft. Curved shafts offer a comfortable position when covering large areas at ground level, but are not so practical for strimming under bushes. Straight shafts are not usually as comfortable as curved shafts, but do allow for a greater reach for use in awkward areas and generally allow for greater power. Split shafts are popular designs as different attachments can be used, giving the machine a range of uses such as brush cutting, hedge trimming, edging, and pruning. |
| Handles | Handle design is often a matter of personal preference. Strimmers frequently come with loop handles, which are designed for ease of use and can be operated with one hand. The other popular handle design is cow horn handles or bike handles. These require two hands to operate. They have been noted to transmit less vibration to the operator, though some loop handles are also described as anti-vibration due to innovations in design. Look out for additional features such as soft grip handles. |
| Extra features | Look out for features such as adjustable length shafts to suit height. Larger models designed for prolonged use often come with harnesses. A centrifugal clutch allows for safety and easier starting. |
Cutting Path
The cutting path is the actual width that the strimmer will cut. Strimmers with a larger diameter will be able to cover a larger area in less time and are a useful indication as to whether the strimmer is appropriate for light, medium, or heavy work.
| Cutting Path (or Width) | Type of Work |
| --- | --- |
| < 23 cm | Very light work |
| 23 - 35 cm | Light/medium work |
| 36 - 40 cm | Medium/heavy work |
| > 41 cm | Heavy work |
Strimmer Lines
The diameter of line also gives information about the type of work the strimmer is generally used for. Because of their greater power output, petrol strimmers can accommodate a larger diameter line than electric strimmers, which are limited to around 2.5 mm diameter.
| Line Diameter | Type of Work |
| --- | --- |
| < 2 mm | Light/medium work |
| 1 – 2.8 mm | Medium/heavy work |
| > 2.8 mm | Heavy work |
Most strimmer lines are still made from nylon, and this is ideal for grass and weeds. The shape of line can vary from the traditional round shape, and now includes square, triangular, star shaped and twisted lines. These shapes are designed to have a sharper edge with increased cutting power as well as reduce the possibility of catching and snagging. Some models have multiple nylon lines for tough work. Other materials are also sometimes used, including metal blades. These may be more durable and appropriate for very tough work. Tooth blades have a circular disc with teeth and are appropriate for lighter brush, while brush blades can be used for woodier materials.
Power
Petrol strimmers are capable of significantly higher powers than electric or other types of strimmer. They come in a range of engine sizes, with larger cc engines able to cope with tougher work such as patches of long grass and coarse weeds. The smaller 21 cc engines can easily handle 2 mm lines, while larger 32 cc engines are required for 2.75 mm or above lines, or for metal blades.
Line Feed
The line is replaced by three main mechanisms: bump feed, automatic feed and fixed head feed. The bump feed mechanism is quick, efficient and reliable, and is incorporated into many models. As the operator is working, they bump the base against the ground causing springs to release a small amount of line. In automatic feeds, the line is passed automatically through without the need to bump, but this mechanism requires excellent design to operate as efficiently and reliably as the bump feed mechanism. Both bump and automatic feeds require spooling beforehand. Fixed head feeds require new lines to be loaded when the old ones break. This requires work to be interrupted, so it is used more in larger machines using tougher lines that require less frequent changing.
Find Petrol Strimmers on eBay
To find petrol strimmers on eBay, begin from the eBay homepage. From the tabs to the left side, select Home & Garden. Scroll down to Garden and select Power Tools & Equipment. Under Categories select Strimmers and under Power Source select Petrol. Results can be further refined by brand, power, condition, price, blade length, type, and engine size, as well as by criteria such as seller and buying format.
Conclusion
A petrol strimmer is a useful tool for manicuring lawns and clearing areas of grass and weeds, as well as tackling awkward areas such as under bushes and around trees. Because of their high power, they are able to deal with tougher jobs that other strimmers may not be appropriate for. Their mobility makes them useful for areas away from the home where an electric cable would not be able to reach. Disadvantages include noise, vibration, and expense when compared to other strimmers. Research manufacturers to find a brand and model that is appropriate for the needs and shop around to find sellers offering models at the best value. A petrol strimmer is an investment for a well-cared for garden and landscape, and with the proper maintenance and operation, should provide long-lasting service.