Phoenixx Rising Directions Hair Dye Guide!
As requested by our buyers, here is a guide to choosing and using Directions Hair Dye. We love selling this dye on the
Phoenixx Rising eBay Shop
as the results are fantastic and bright, and the whole Directions range is free from animal testing and vegan friendly - guilt free tools for looking good! La Riche Directions was established in 1981, so you can trust that you are in good hands with their products.
Before you start
When using any of the following products, always carry out a skin sensitivity & hair strand test even if you have used the product on previous occasions, full details on how to carry out tests are provided in the instruction booklets. Please read instructions throughly before use and keep out of reach of children.
As with all semi permanent dyes, Directions dye will always work best on pre-lightened or bleached hair. For best results on virgin or untreated hair, pre-softening the hair will often allow the colour to penetrate better. The swatch colours shown are for results on pre-lightened or bleached hair, and Directions developed two different bleach kits to aid optimal results. Directions Hair Lightening Kits have been specially formulated to condition and help protect your hair while you lighten, both of these kits are available for sale in our eBay shop
click here to see our Bleaching Kits
.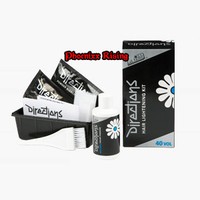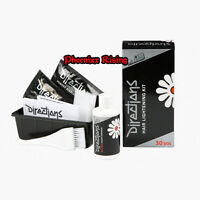 Full instructions for application are provided with these kits. If you have very thick or longer than shoulder length hair you may require more than one kit for full application. They can be used on but may not be suitable for very dark brown/black hair – always complete a strand test to determine results.
If your hair has been previously bleached, lightened, spray lightened, or coloured using metallic salt based products or henna - do NOT use this product. Furthermore if you have bleached, tinted or permed your hair recently this product may not be suitable for further lightening.
Colouring the hair
Remember to stick on an old tshirt and wear rubber or plastic gloves when applying the hair colour. To avoid staining of the forehead, use vaseline, petroleum jelly or baby oil around the hairline. As with all hair colours, we advise a swatch test first to determine end results.
We love choosing a new colour, and Directions have dozens to choose from,
click here to see the full range of colours available
. Don't forget a tint brush! One 88ml tub will usually cover shoulder length hair. All Directions colours can be mixed to allow the you to create your own limitless shades and designs to suit your individual desires.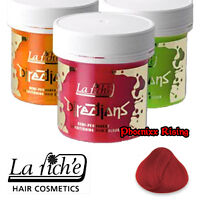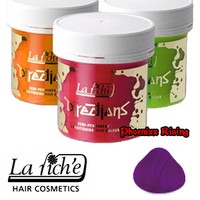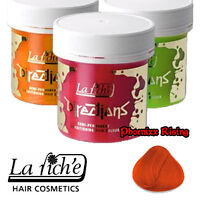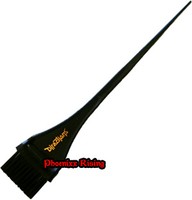 Next, you need to shampoo and towel dry your hair ready for dye application. we would recommend shampooing the hair with a good PH balancing shampoo, this will give the hair the correct acid balance, allowing Directions hair colour to achieve the best results. We sell and recommend the
La Riche Directions Pre Colour Shampoo
.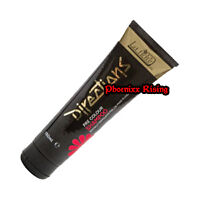 Directions dyes come ready mixed for direct application to the hair. Comb Directions into the hair until it emulsifies, i.e becomes frothy, the pigments will have penetrated in to the hair, lighter shades may require a little more combing.
Processing time is between 15 and 30 minutes, a plastic cap will contain the heat on the hair helping to achieve a better result. Directions will take faster and last longer on chemically treated hair e.g. permed or bleached. When processing time has elapsed, rinse the hair thoroughly away from the face with warm water until all the residue dye has been removed.
Aftercare
Remember to use a good colour care system for washing your hair to maintain your colour.
Directions Colour Protecting Shampoo and Conditioners
have been specifically formulated for coloured hair, enabling you to get the most out of your colour, and leaving hair soft and manageable with a great shine.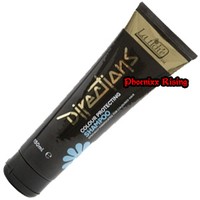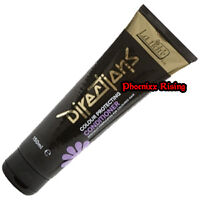 Removing dye
Where dye has come into contact with the skin, you can remove any staining by trying of of the following methods:
Face wipes (tea tree oil wipes work best), astringent, toner or skin cleanser, nail polish remover/alcohol/medical swabs (avoid eye area completely), bicarbonate of soda, lemon juice, milk on cotton wool pads, toothpaste & also shaving foam have been known to help remove some dye stains on skin.
Where dye has come into contact with bath, shower and other surfaces, you can prevent/remove any staining by trying of of the following methods:
Spray sink or shower surfaces with a spray cleaner prior to rinsing dye out of the hair to help prevent any dye staining. Where dye comes into contact with these surfaces, clean them as soon as possible, dye is easier to remove when wet. The best product for removing any staining is a general household cleaners - ensure to follow the manufacturer's instructions fully. Cream based cleaners are the ideal for removing stains. You can also use try glycerin soap, baby wipes or milk on cotton wool.
Wash any stained clothing/fabrics as soon as possible. Spray dye stains as soon as possible (immediately is best) with hair spray and launder as normal to prevent stains from setting. It is advisable to wash clothing with dye on separately from other washing though dye should not transfer to these.
As for stripping the colour out of the hair itself, shampooing the hair as much as possible can help. Rinsing the hair in hot water after shampooing leaves the hair cuticles open and will fade the colour faster. Using some anti-dandruff shampoos or clarifying shampoos will fade colour faster. Colour strippers can be used, though these are designed for use on permanent hair colours they will remove some semi permanent dye.