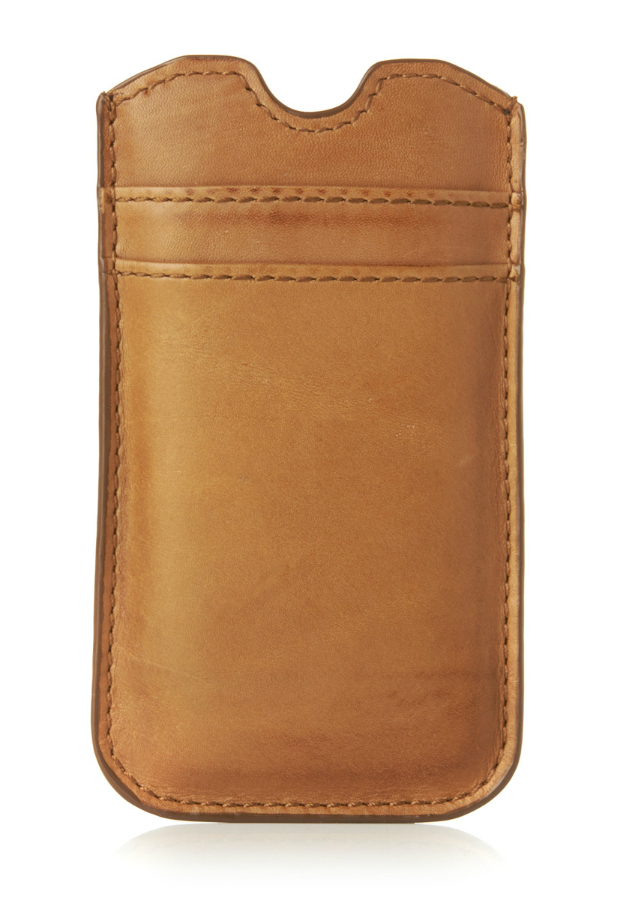 Customers nowadays have an almost endless choice when it comes to protecting and decorating their mobile phones. There are different types of case, different shapes and colours, and perhaps most importantly, they can be made out of an astonishingly wide range of different materials. This is an exhaustive guide to the options available, the pros and cons of each, and the types of user they may be best for.
Leather Covers
Leather – or materials with the appearance of leather - are classic choices for mobile phone covers.
Real Leather
Many of the most expensive, premium phone covers are made out of leather. There are also plenty of cheaper leather covers available, although be careful, as some sold as leather are in fact PU leather (see below). Real leather is one of the most versatile materials, and several types of case can be made out of it, including flipcases, wallets, pouches, and fitted cases. It is waterproof, a natural and sustainable material, and very hardwearing, particularly in comparison to synthetic leather. It tends to improve with age rather than wearing out. On the downside, some vegetarians, vegans, and others may have concerns about using animal skin in this way.
Synthetic Leather
Also known as pleather or artificial leather, this comes in a number of different subtypes, although they all have similar properties so will be discussed all together. The main advantages are that's it's cheaper than leather, vegetarian, and just as waterproof. Many people feel, however, that it has a much lower quality look to it, and it breaks or splits more easily.
PU Leather
This is also known as bicast leather, reconstituted leather, or split leather. The backing is made out of fragments of leather joined together, but the top surface is synthetic. Sometimes cheaper products sold as real leather in fact turn out to be PU leather. This is illegal in many countries, but not in the UK.
Knitted Covers
Mobile phone socks and pouches can be knitted in a wide variety of fibres: animal, vegetable, or mineral. They are a great inexpensive option, particularly for people who have a homey or cute style.
| | |
| --- | --- |
| Acrylic | Acrylic tends to be the cheapest kind of fibre, and it is also very easy to wash. However, it lacks the luxury feel of more expensive yarns and can 'bobble' when it begins to get old. |
| Wool | Wool is a natural fibre and very hardwearing. However, it may need to be handwashed. |
| Cotton | Cotton yarns and blends including cotton have a lovely smooth cool feel to them. Cotton fibres are less stretchy than animal fibres or synthetics, however, and can go baggy. |
| Luxury fibres (silk, cashmere, mohair etc.) | A mobile phone sock in one of these special fibres can be a great way to add a bit of everyday luxury to life. Some of them can be fragile and hard to care for, and it can also be difficult to find them readymade, although see below for other options. |
Readymade knitted phone socks are commonly available from market stalls and online selling and auction websites, particularly those catering for independent crafts folk. An alternative is to make one. There are numerous free patterns available on the internet, or intermediate or experienced knitters should find it easy to design their own. Finally, one of the cheapest options for protecting a phone is to use an actual sock.
Fabric Covers
A wide variety of non-knitted fabric covers are also available. One option is to use both a tight fitting 'skin' made from plastic, silicone or metal and a fabric pouch.
Canvas
Canvas is inexpensive, attractive, and water-resistant, although not waterproof. One drawback is that it can be difficult to clean.
Cotton
Woven cotton prints are a popular alternative to knitting when it comes to cute, feminine, retro and chintzy covers. They offer little water resistance, and stain easily, however.
Velvet
Most velvet phone pouches are made from synthetic fibres, though it's occasionally possible to find them in luxury fabrics like silk or cotton velvet, or crushed velvet for a 'gothic' look.
Neoprene
Neoprene is a kind of synthetic rubber: it's the material that divers' wetsuits are made out of, so it's a good choice when it comes to keeping phones safe from liquids. It has an attractive, smooth look and doesn't wear out easily. It's stretchy enough to fit snugly over the phone.
Acrylic or Other Hard Plastics
An inexpensive option, great for people who want a number of different cases in different colours or designs. One major drawback is the fact that acrylic can be quite brittle, so be prepared that breakage is a strong possibility. As well as necessitating a new cover, breakage can also compromise the protection the phone is getting.
Silicone
Silicone looks quite similar to acrylic, but has a few major differences. One is that it is both soft and flexible, which makes breakage much less likely. Another is its texture, which is less slippery, making it less likely to fall out of a hand, pocket, or handbag. Many people also prefer the feel of it in their hands, although others prefer the smoothness of acrylic.
Metal
Metal phone cases have a great reputation as high class products. They feel cool, smooth, and expensive. The most obvious downside is that they tend to be heavier than their counterparts made from other materials. However, there is also another, more significant reason why they might not be the best choice: they reflect the radio waves that make phones work. In other words, metal phone casings act as a Faraday cage, weakening the phone's signal.
Carbon Fibre
Carbon fibre is one of the most expensive options, but its fans think it's worth every penny. It's very light, very strong, and has a distinctive and sophisticated woven look that many people find extremely appealing. There is next to no chance of scratches and other damage getting through it, but at the same time it's very thin. There are also phone skins made to look like carbon fibre, but in fact composed of other materials, so read descriptions carefully, and buy from a reputable dealer who gives some kind of guarantee that what they sell is as described.
Other Materials
That's it for commonly found materials used in the manufacture of mobile phone cases and covers, but this wouldn't be an exhaustive guide without mentioning the more unusual options.
Wood
Wooden mobile phone covers can be really beautiful works of craftsmanship, and the disconnection between modern technology and one of the most traditional materials will make wood-enclosed phones stand out as a talking point.
Stone
Given its weight, stone is not the most practical choice of material for a mobile phone cover, but crystal studded models in both marble and granite are available for those willing to pay over the odds.
Conclusion
Mobile phone cases and covers vary hugely according to lots of factors; for example, shape, size, quality, colour, and, perhaps most importantly, material. Although some distinctions between materials are obvious (no-one would mistake leather for metal), there are also more subtle ones, for example between carbon fibre and fake carbon fibre, or between leather and PU leather, and these can be just as significant.