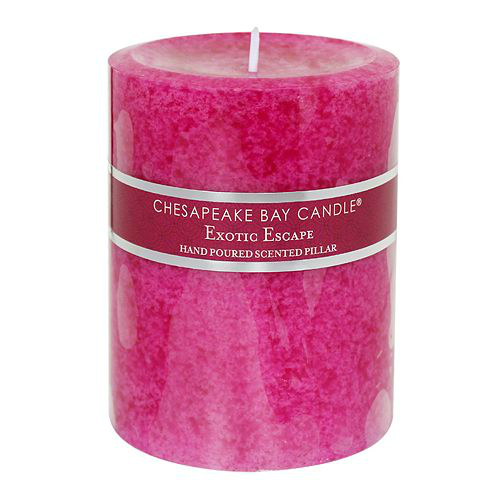 While pillar candles often bring the thought of church to mind, they have been around in China since well before the birth of Christ. Pillar candles certainly add a special touch to weddings, but they can also add character to any area of the home. Casting a calm glow, candles can be used to create a pleasant ambience for many occasions. Romantic candle-lit baths or classic dinners by candlelight are just the start. Outdoor family meals can also be enhanced by a few pillar candles on the table. Set off with a stylish pillar candle holder, or just a plain dish, even the simplest of pillar candles can be used to create a friendly, romantic, or calming atmosphere. Candles and weddings always belong together, but a pillar candle can also be a useful back up should the power go out. Scented candles offer a special delight, although adequate ventilation is advised if the scent is strong or if the candle is made from paraffin wax.
Types of Pillar Candle
A pillar candle is defined by being broad, as opposed to slim. Within this limitation, pillar candles come in all kinds of shapes, sizes, and colours. The classic white church pillar candle is the shape most people are familiar with. These pillar candles may also be adorned with prints or flocking. While the cylindrical shape is always fashionable, beautiful or funky candles are available in rectangles, squares, octagons, hexagons, obelisks, triangles, and free form shapes. Pillar candles may also come with more than one wick or no wick at all, as in the battery operated candles. Handmade candles often offer something a little different for the discerning buyer.
Classic Paraffin Wax Pillar Candles
Tips: If a large pillar candle runs out of wick, use a cheap tea light candle in the centre. Put out a candle by dipping the wick in a little of the melted wax using an inflammable object such as a knife. This prevents odour and also primes the wick.
| | |
| --- | --- |
| Plain white church candles. | Usually made from paraffin wax, but may use a soy wax blend. These candles are often purchased in packs of 6 or more with a choice of burn time offered. A classic, elegant choice for weddings. |
| Coloured church candles | Suitable for the home or for colour themed special occasions. Packs of 3 different sizes can provide added interest. |
| Metallic coated candles. | Ideal for Christmas or other special occasions. |
| Multi-layered coloured candles. | These can be found in a variety of shapes. Bright colours add a festive air while coordinated colours may be selected to match a particular scent or mood. |
| Chunky coloured pillars in various shapes. | Fun for everyday use. These candles often look interesting as they burn. |
| Printed pillar candles. | Christmas themes are readily available. Some sellers on eBay, online stores, or brick and mortar stores will print text or pictures of choice on a candle. Useful for weddings, birthdays, anniversaries, or confirmations. |
| Textured or flocked pillar candles | The addition of texture to a candle makes it an interesting piece even when unlit. Often the texture is enhanced by the candlelight itself. Suitable for anywhere in the home. |
Multi-wick Pillar Candles
Pillar candles with a large surface area can often benefit from having more than one wick as the candle will burn more efficiently and cleanly. Two wicks are common, while some multi-wick candles may have six wicks or more. While it is usual to enjoy the extra ambience of having more than one wick lit on a single candle, some interesting effects can form by allowing one wick to burn down lower than the other.
| | |
| --- | --- |
| Heart shaped multi-wick | Ideal for valentine's day or any romantic evening. |
| Cylinders with single or multi-colours | These candles are often scented and can make a statement in any room. |
| Rectangular shapes | Often suitable as a table centrepiece. |
| Embedded | Usually handmade. Emphasis is on the embedded materials. Seashells, flowers, and glass pebbles are just some of the possibilities to be found. Choose to suit environment and decor. |
Handmade Pillar Candles
Hand-poured or hand-crafted pillar candles can range from simple scented or unscented simplicity to works of art. Hand-carved candles are unique and can make a statement in any room. Handmade pillar candles come in all shapes and sizes. Sometimes a purchaser may be able to order a custom made candle.
| | |
| --- | --- |
| Pillar candles embellished with objects | These can be any shape. Items such as pebbles, amber, or gems are hand-moulded into and around the candle to create an aesthetically pleasing result. |
| Decoupage or flocked candles | Flocking and decoupage are both traditional crafts that can be used on candles. Sometimes a glass insert may be used so the artisan's embellishments can still be used when the inner wax has run out. |
| Mixed colours or waxes | A candle maker will sometimes mix different waxes or colours, along with scents, to produce a candle that offers something other than the standard. |
| Carved pillar candles | Unique candles produced by skilled artisans. These can be purchased singly or in complimenting sets. |
| Embedded objects | Shells, gems, feathers, and dried grasses are just some of the objects a candle maker may use in these candles. The wax is often pale to allow the natural beauty of the objects to shine through. |
| Fair Trade Candles | Available in a number of designs, colours, and scents. Fair Trade articles help those in often underprivileged countries to maintain employment for a reasonable wage. |
| Organic Wax Candles | Pillar candles made from an organic vegetable wax blend and usually handmade. |
Beeswax Pillar Candles
Beeswax has long been recognised as a natural and healthy product. It has a unique scent that is appreciated by many. Beeswax from candles has been shown to release negative ions into the atmosphere which helps to purify the air. Some candle makers may add additional scents to the natural beeswax candles in an attempt to create an increased sense of well being to this natural product.
| | |
| --- | --- |
| Rolled beeswax pillar candles, natural colour | These can be found as short or tall pillars. The natural beeswax sheets used seldom have any additives in them. |
| Coloured rolled beeswax candles | Colours such as cranberry, white, blue, and green are available. This allows for colour co-ordination in the home. |
| Melted and poured beeswax candles | Small to large pillar candles moulded with natural beeswax. Long-lasting with a pleasant aroma. Elegant and eco-friendly, without the waffled look of rolled beeswax. Occasionally multi-wick beeswax candles can be found on eBay. |
| Beeswax rolls | An option for those who wish to make their own beeswax pillar candles. Wick material can be purchased separately or with a kit. |
| Natural beeswax | Rather than rolling, this wax is melted down and then placed in a suitable mould. A small amount of research is required to ensure success. |
Flameless or Everlasting Pillar Candles
At the other end of the spectrum from natural beeswax are the flameless candles. These are battery operated candles. Their advantages are safety and longevity. High quality models mimic the look of natural candlelight. The safety factor may make them a good choice for families with small children.
| | |
| --- | --- |
| Real wax. | Exterior is made from real wax. The 'flame' flickers to create the illusion of a real candle. Available in a variety of pillar sizes. White, pink, red, and blue are the most common colours. Suitable for indoor use. |
| Remote controlled LED candles | These candles are available in many shapes, including a natural drip look. Colour can be changed to suit mood with the remote device. |
| Set and forget battery pillar candles | These models can be set to turn off after a certain time, usually five hours. Available in a number of sizes and colours, and sometimes textures. Suitable for weddings and other festive occasions or for everyday home use. |
Finding Pillar Candles on eBay
Browsing through the candle and candlesticks category of eBay is a starting point for those who are unsure what type of candle they prefer. Searches can then be narrowed down. Look for reasonable shipping rates. Bulk buying may also be possible for weddings and other large occasions.
Conclusion
Pillar candles are all about ambience and longevity. A mass of candles at a special event or a single strategically placed pillar candle can create something special. However they are used, pillar candles always make a statement. The enormous variety available on eBay ensures that anyone can find just the right candle or candles to match or create a special mood.