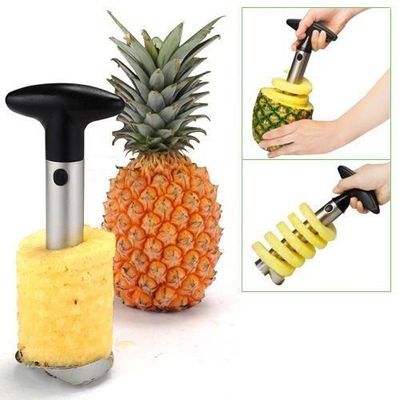 Cheap and cheerful and extremely useful...
I have a cupboard full of kitchen gadgets, many of which are gathering dust, unused, on top of the cupboards.
Not this beauty - it gets used every day.
With fresh, chopped pineapple selling for more than double the price of a whole pineapple in most supermarkets, it seems daft not to spend a couple of pounds on a gadget like this. http://www.ebay.co.uk/itm/Fruit-Pineapple-Corer-Slicer-Peeler-Cutter-Parer-Stainless-Kitchen-Easy-Tool-Kit/231414231286?_trksid=p2141725.c100204.m3164&_trkparms=aid%3D222007%26algo%3DSIC.MBE%26ao%3D1%26asc%3D20140407115239%26meid%3D3d7571f4fd5349b69f89270b316086cb%26pid%3D100204%26prg%3D20140407115239%26rk%3D7%26rkt%3D30%26sd%3D151310345359

Some people find chopping pineapple a chore, but this makes it so easy you can do it in seconds. Simply slice the top and bottom off the pineapple, push the corer in and twist - as if you were putting a corkscrew into a bottle. Screw it right down to the bottom and pull your pineapple out in one long piece. The core of the pineapple is in the centre of the gadget - just push it out with a wooden spoon.
There are plastic models out there, but I'd recommend these metal ones. I've had mine for a couple of years and it gets used almost every day and it's still as good as new.
It goes in the dishwasher no problem and will save you a fortune if, like me, you like your fresh pineapple.
For a couple of pounds, what have you got to lose? Try one, you'll thank me for it!