One of the Rarest and Most Valuable Colours of Diamond
All natural fancy coloured diamonds are very rare and expensive. Pink is one of the rarest and most desirable colours. The Darya-i-Nur diamond is the largest pink diamond in the world at about 185 carats.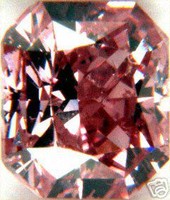 Natural or Enhanced?
Natural pink diamonds are so rare that most jewellers have never seen one, and will probably never own one. In recent years, treatment processes have been developed to alter the colour of some diamonds. Most of the pink diamonds we have bought are natural, although we also happy to offer enhanced or treated pink diamonds.
How Rare?
In our first twenty years of designing diamond rings, we had only owned 5 coloured diamonds, four of which were certificated as natural. Among the largest diamonds in the world only one out of the top 66 is pink, although there are a number of other famous pink diamonds. In recent years the Argyle mine in Australia has produced a relatively large number of fancy coloured diamonds including pink ones. Surprisingly, the increased availability of pink diamonds has increased the interest and demand for pink diamonds. Argyle now produces about 90% of the total world supply of pink diamonds.
How Expensive?
Quality for quality, fancy pink diamonds are more expensive than ordinary near-colourless ones. We have seen astronomical prices quoted for pink diamonds, but we manage to source small numbers at reasonable prices. We can also source large intensely coloured superstar pink diamonds. As an example, we own a near 3 carat faint pink heart shaped diamond, which we are offering at just over £10,000; we were asked about an intensely coloured one of a similar size and shape. We managed to source one, but it was over £4 million!
Most pink diamonds, even enhanced ones, are more expensive than white ones of similar quality. Natural pinks are more valuable than enhanced, deep intense colours are generally more expensive than pale pinks. There are obviously many different varieties of pink, the "nicest" pinks are the most desirable and most expensive.
How Many
We once heard a well-informed expert on British television state that the world production quoted as between 50 to 60 carats per annum. This surprised us as we owned at the time over 5,000 stones totalling over 120 carats, as it happens most of the parcels we had bought were of very small stones, but we probably still had more pink diamonds in stock than anybody else in the UK.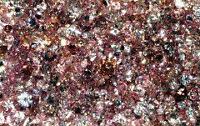 Caution
We see many people offering pink diamonds which are clearly not real diamonds, sometimes described as laboratory created. Do make sure you read the small print carefully. If the offer sounds too good to be true, then it probably is.
Was This Guide Useful?
If you found this guide interesting, informative or useful, please spare few seconds of your time to vote for it by clicking on the "Yes" button below, thanks.

Other Guides
You may be interested in viewing our other guides:-

How to Photograph Jewellery & Coins - Advice, hints, tips & more...

Ring Sizing Advice - What Finger Size? - General Advice

Buying Jewellery as an Investment
1780 Maria Theresa Silver Thaler Restrike Trade Coin

Krugerrand - One Ounce Investment Gold Coin

Buffalo - 9999 Fine Gold US Bullion Coin - 24 Karat Au

Gold Sovereigns - History Information & Specifications

Mints & Mintmarks on Gold Sovereigns - All Seven Mints
Sniping - Is it Good Strategy for Winning Auctions?

£2 Two Pound Coins Queen with Necklace Rumour & Facts
Winning Auctions - Or Spending Money?
CGT Capital Gains Tax Exemption on Gold Sovereigns Britannias UK Coins
Definition of Investment - VAT Exempt (Tax Free) in UK & EU
Spellings - Is Good Spelling Important - A Few Howlers
Second Chance Offers on eBay - Should You Use Them?
Gold Coins Which Are Not Gold - Including German & € Euros
Postage Packing Shipping Insurance Charges - Fair or Excessive?
The Difference Between Proof and Uncirculated Coins
London Gold Fixing Price

Gold Bullion Bars For Investment


Copyright
All text is copyright and taken from our "Pink Diamonds" website.