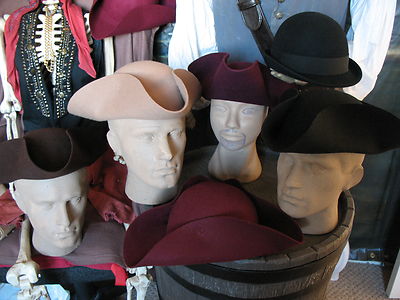 If your looking for a tricorn hat try and purchase a 100% wool hat. They last longer and keep their shape better than a hard felt version, they are softer to wear and mould themselves to the shape of your head. Wool hats cost a little more but last much longer and are more durable, you can them fold flat, roll them up, crush them into a suitcase and they will still pop back into shape and look good. Always buy a sightly larger size than you think you want if your not sure of your size, you can always wear a bandana underneath if the hat is slightly too big or put some tucks into the inner headband. If you already have a hat that is slightly on the tight size try lightly steaming the inside headband with a kettle, put a tea towel on your head then force the hat over it until it cools, this will stretch the wool to fit your head. Be careful not to get it too hot and burn your head. Another option is to find a child's ball slightly larger than your head and force it over that.
The correct way to measure your head. Put a cloth sewing tape around the head above the ears and eyebrows, then put one finger under the tape to get a comfortable fit.
Lantern Jack tricorns are hand made from 100% wool blanks blocked to various sizes from 21"up to 24". The larger 25" size for wearing over wigs are blocked out of house and are special order only.
There is another option. Jack does an adjustable versions of these hats that have a clever drawstring inside the inner headband. It gives a more flexable fit for theatre and film which allows the same hat to be adjusted to several players head sizes.
This version was developed specially for theatre and panto.
We hope this guide was helpful. All hats sold help subsidies Jacks writing of pirate novels. The crew at Lantern Jack hats.