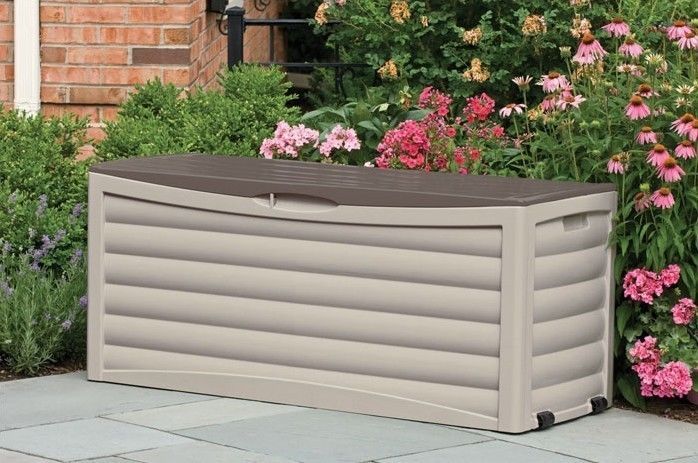 Do you love working outside in your garden but lack storage to keep your tools, watering cans, and other outdoor supplies? That is where a plastic garden storage box comes in. These lightweight but sturdy outside boxes are the perfect spot to store everything from gardening tools and your water hose to kids' outdoor toys and lawn chairs. Assess the various types and sizes of plastic garden storage boxes before you make your selection, and clean up the clutter in your yard today.
Storage Box Sizes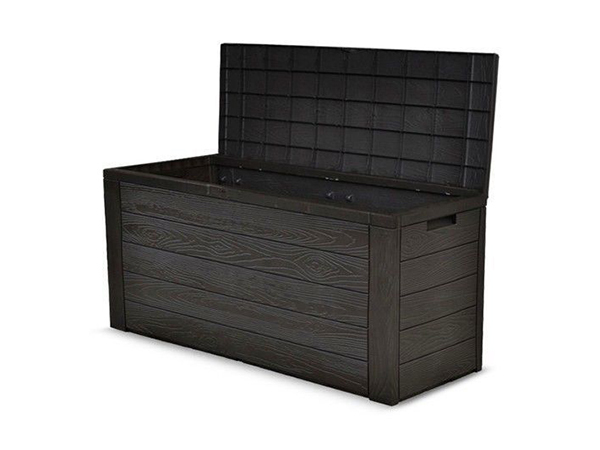 Garden storage boxes range in size from horizontal plastic chests that hold up to 500 litres, to plastic storage cabinets with two doors, to standing, vertical storage boxes which offer up to 152 cm of storage space. Choosing a plastic storage box depends on how much room you need. Some boxes have interior shelves to conveniently hold items. If you need room for large items like wheelie trash bins, a tall, double-door storage box is the perfect solution to your outdoor storage needs. A storage box is a space-saving option that replaces a traditional storage shed, if you do not have the room, so determine how much space you need and choose a storage box in the style and dimensions you require.
Storage Box Brands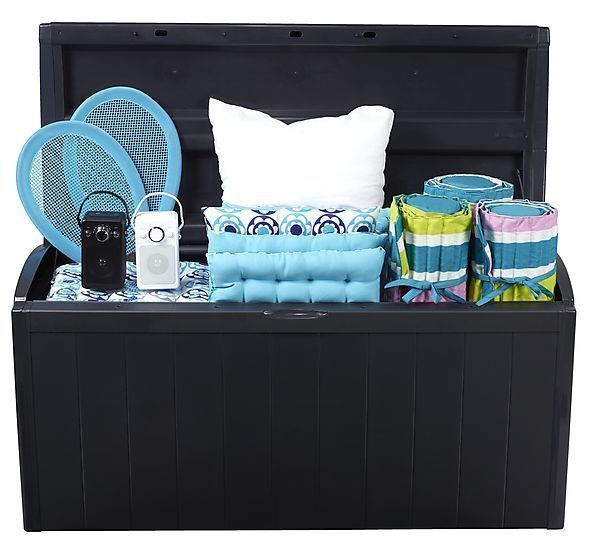 There are many garden storage box brands available, but one of the most reputable ones is Keter, which makes storage boxes in many sizes, colours, and styles. Other noteworthy brands include Palm Springs, Proteam, Homebase, Chaselink, and Suncast. Brands vary in price, design, and features, so pick a storage box brand within your budget that offers the benefits and size you need for storage. Each brand offers different box models, such as the Keter Eden, which resembles a bench with a storage box underneath. The Suncast rattan box is plastic but looks like rattan wicker material and fits into your garden décor.
Storage Box Features
Plastic garden storage boxes offer an array of features. Some of these include lockable doors to keep your valuable garden equipment safe, waterproof and watertight construction so your storage box resists water and reduces the risks of leakage, and UV-protected plastic that does not fade or peel in the sunlight. Some storage boxes have lids which double as sturdy garden benches, while others are on wheels for portability and ease of movement. Select a garden storage box that offers easy assembly or no-tools assembly so you can put it together without frustration. Pick a box with adjustable shelves you can move as your needs require to accommodate your items. If you need to load and unload heavy items, opt for a storage box with a safety hinge that stays open when you need it to, so you can use both your hands to grab or replace items. Some storage boxes offer automatic opening hinges to make using the boxes even simpler.