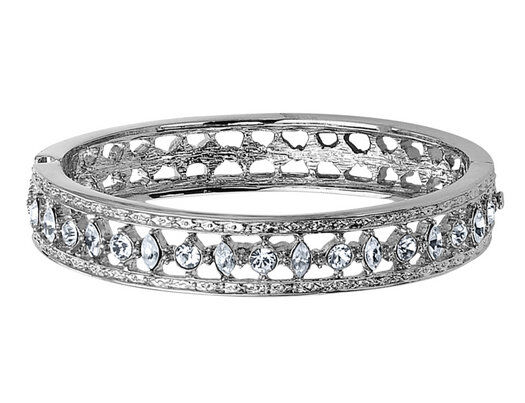 Platinum bangles are the perfect accessory for a formal event, or simply a casual night out on the town. As a precious metal, a valuable platinum bangle literally shines whenever the wearer moves her hand, drawing attention to the wrist and hand. They are an excellent way to show off a recent manicure or even bring out a touch of bohemian chic to anyway wardrobe.
Bangles come in many different styles, including different gemstone settings. Wearers can either wear a single bangle alone or don several for a bangle set. Many jewellery stores and online websites such as eBay offer platinum bangles for sale that are very tempting. Oftentimes, it is very difficult to pick the right platinum bangle out of all the different styles. When buying a platinum bangle, customers need to select between its size, gemstone adornments, and whether it is meant to be worn alone or in a pair.
Understanding Platinum
Platinum is a precious metal, and in many cases is more expensive than gold. Its colour resembles white gold, but while gold has to be mixed with alloys to obtain its white shade, platinum is completely natural. In fact, many platinum bangles are either pure platinum or 95 per cent pure. Customers can determine how much platinum is used by examining the mark, which is either PT, Plat, or 95 PT. It is a very bright and luminous metal, often adorned with diamonds. Combine its beauty with its durability, which is stronger than gold, and it is easy to see why platinum is so popular.
Caring for Platinum
Platinum bangles usually come with a brushed finish, not a polished one. The brushed finish gives the metal a subtle shine, and as the platinum ages it will develop a patina. This slightly aged look only makes the platinum bangle appear more interesting, but it does change its colour. Buyers who want their bangle to keep their original shade can periodically clean the bangle to erase the patina.
Platinum Bangles and Bracelets
A bangle is a type of stiff bracelet. Other types of bracelets, like a chain bracelet, are loose and designed to fit securely around the wrist. Bangles, on the other hand, slide up and down the arm due to their inflexible shape. When the wearer raises their hand, the bangle slides up the arm, and when the arm is lowered the bangle slides down to rest just below the wrist. Therefore, choosing the right bangle size is crucial.
Sizing a Bangle
To get the correct bangle size, measure both the wrist and the widest part of the hand. The bangle's diameters should not exceed the widest part of the hand; otherwise it will fall off when worn. For the most comfortable fit, the bangle should be several millimetres smaller than the widest part of the hand, giving it just enough extra room to slide up and down the forearm.
Bangle Clasps
Keep in mind that not all bangles have clasps. Sizing is particularly crucial for bangles without a clasp since they have to be large enough to slide over your hand, but small enough so that they will not fall off. Some older bangles use a hinge clasp, which works almost like a pair of handcuffs. The wearer puts the bangle on her wrist and then closes the hinge to clasp the bangle.
Spring Clasps
A spring clasp is commonly used on bangles. It works by using a small spring that opens when the wearer pushes back a small lever. However, this style is difficult for women who have trouble grasping small objects. The lobster clasp is similar to the spring clasp, but the lever is slightly bigger. This is a better choice for anyone who has trouble handling very small objects.
Box and Snap Clasps
The snap clasp is truly inconspicuous, though it isn't as strong as the spring clasp. One end of the bracelet snaps into place over the other. A box clasp is a more durable type of snap clasp that looks like a small metal box. One end of the bracelet is locked into the middle of the box for a secure fit, and this is then removed by pressing a tiny lever. Again, buyers who have trouble manipulating small objects may have trouble with the box clasp.
Style
The style of a platinum bangle largely depends on if the bracelet is meant to be worn alone or as part of a pair or set. Therefore, before the customer picks out a bangle, she needs to decide how she plans to wear the item. A stand-alone bangle can be slightly wider than those worn in a set and contain more gemstone adornments without appearing tacky.
Stand-Alone Bangles
Stand-alone bangles present many attractive options for wearers. Some of them feature bands of metal twined together to look like a braid, while others use spiral designs or wider band lengths. Because the wearer does not have to worry about other bracelets on the arm, stand-alone bangles can be as wide as the wearer wants. Thin bangles present a more elegant look, while chunky bangles are perfect for a chic casual style.
Gemstones
When gemstones are added to stand-alone platinum bangles, they usually come in large amounts. For example, it is common to find a platinum diamond bangle entirely covered with diamonds that sparkles from every direction. Other styles space the gemstones further apart. One option is to buy a thin platinum bracelet with gemstones to wear alone for formal occasions, and then combine it with a pair of plain platinum bangles for a more trendy look.
Bangle Sets
Bangles that come in sets are not as ornate as stand-alone bangles, but this does not mean they are boring. In fact, the trick to pulling off wearing multiple bangles is to have each one be unique and interesting. An unadorned platinum bangle presents a beautiful contrast to a braided platinum bangle, showing off all the natural beauty of platinum.
Gemstones
For bangles that come in a set, gemstones are usually few and far between. Some styles only use a few gemstones, while others add a little more for extra sparkle. Keep in mind, however, that only one gemstone bangle should be worn at a time. Otherwise, the different gemstones clash, creating a look that seems tacky instead of classy.
Bangle Width and Diameter
The width and diameter of a bangle is typically measured in millimetres. These are two different concepts, and customers should not get them confused with one another. Width measures the span of the metal band. Diameter, on the other hand, measures the entire length of the bangle. Pay attention to diameter when looking at bangle sizes, and focus on width when looking at bangle styles.
Buying Platinum Bangles on eBay
eBay has a massive selection of jewellery, including bangles. Customers can select the newest, trendy styles, or they can shop for authentic vintage jewellery all in one place. Furthermore, many sellers also offer gently used jewellery, allowing anyone to purchase a stunning platinum bangle at an affordable price. When it comes shopping smart, buyers have plenty of choices on eBay.
Searching for Platinum Bangles on eBay
Mastering eBay's search engine is crucial for finding the best auctions. If you are unsure what style of bracelet you prefer, you can search for 'platinum bracelets' to bring up the widest selection. If vintage jewellery is more your style, then search for 'vintage platinum bracelets' to find a surprising variety of bangles stretching across many different generations. You can further narrow down your search by looking for the exact style, such as 'diamond platinum bracelet' or 'sapphire platinum bracelet'.
Buying Used Platinum Bangles on eBay
The massive selection of used jewellery makes eBay a bargain hunter's paradise. Unlike many other products, jewellery usually holds its shape throughout the years, and in some cases its value only increases with time. When buying used platinum jewellery, keep in mind that aged platinum has a natural patina. This makes the product not as bright as brand new platinum might be, but some buyers appreciate this feature. If you do not like the aged look, a quick cleaning will restore the platinum back into brilliant condition. Be careful of buying any jewellery that is overly scratched, however. Platinum is more durable than gold, but it is still susceptible to scratching.
Conclusion
Platinum bangles are simply lovely to look at when worn on the wrist. Made from valuable platinum, these bangles glow with a quiet, white light that instantly attracts the eye. Some jewellery makers highlight the natural beauty of platinum by choosing to pair it with gemstones, like sapphires and diamonds, creating a truly luminous bangle.
When buying bangles, customers need to find the correct size and style that they want. Even the clasping mechanism is important when choosing bracelets. For example, a gemstone bangle looks exceptional when worn alone, or with other plain platinum bangles. However, it clashes when worn with other gemstone bracelets. There are plenty of different bangles for sale on eBay. Buyers can find brand new pieces or remarkable examples of used jewellery in vintage styles. With all the different price points offered by sellers, anyone can find a lovely platinum bangle at a price he or she can afford.