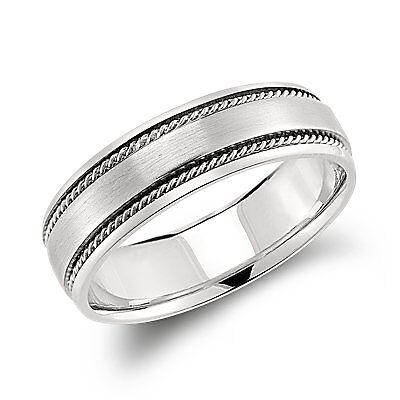 Wedding rings are meant to symbolise the union of two people at the altar, representing the solidarity of their marriage in the ceremony and for the rest of their lives. As such, buying wedding rings is a critical process that can affect the happiness and quality of life of two people well into the future. One of the best quality options to consider when shopping for wedding rings are those made of platinum. Platinum wedding rings are well-made, resistant to scratching and fading, and also quite rare.
When shopping for these crucial items, it is important that consumers understand what is involved in selecting a quality platinum band. Factors such as the hallmarks of a ring, the band design, and the size of a ring can all make or break the value of a purchase. Consumers in the market for platinum wedding rings would also do well to investigate some of the better retail options for buying platinum bands, including the wide catalogue of options available on the online auction site, eBay.
Hallmarks in a Platinum Wedding Ring
When purchasing a platinum wedding ring, it important to understand hallmarks and what they say about a ring. A hallmark is a small imprint which is placed on the inside of the ring and can give consumers crucial details about the quality of the ring. There are three required marks and various other marks that can also appear on a platinum wedding ring.
Assay Office Hallmarks
All precious metals sold in the UK are processed and assessed through four assay offices located around the country. The assay offices are also the entities which place the hallmarks on a ring, certifying its quality. The largest of these assay offices in Birmingham handles over 12 million items a year. Platinum rings have a small logo imprinted on them which indicates which assay office tested that piece to make sure that it was quality platinum.
The Birmingham assay office is represented by an anchor logo. The three other offices in the UK include the London assay office, the Sheffield assay office, and the Edinburgh assay office, and are represented by a lioness, a floral shield, and a tower respectively.
Sponsor Hallmarks
Every platinum ring must also have a mark from its manufacturer imprinted on it. This is called the ring's sponsor mark. Sponsor marks vary from manufacturer to manufacturer and are one of the three required marks a consumer wants to look for on a quality platinum wedding ring.
Fineness Hallmarks
The third hallmark which any quality platinum ring must be imprinted with is a fineness mark. This hallmark represents the purity of the platinum used in the ring. A fineness mark is a house-shaped mark with a three digit number printed inside. The following chart shows each of the most common fineness marks and their corresponding purity.
| Fineness Mark | 850 | 900 | 950 | 999 |
| --- | --- | --- | --- | --- |
| Platinum Purity | 85 per cent | 90 per cent | 95 per cent | 99.9 per cent |
The shape of the fineness mark must be shaped like the outline of a small house-- a triangle atop a rectangle. If a fineness mark is not in this shape, it is not an official fineness mark and may indicate a ring that is not genuine platinum or else is a much lower grade of platinum. When shopping for platinum wedding rings, it is important that consumers take a moment to confirm the existence of a proper fineness mark before moving forward with a purchase.
Miscellaneous Hallmarks
There are some other hallmarks which may appear on a ring but are not required by law. One is the Traditional Fineness hallmark, which looks like an orb and represents platinum of 95 per cent or higher. Another is the International Convention hallmark, which is the mark that represents the international body which governs platinum standards. This hallmark has a balance scale on it and typically the three digit number that represents the platinum's purity. Platinum wedding rings can also come with a date mark. Date marks use letters of the alphabet to indicate the year from 1975 onward in which a ring was made.
Band Styles in Platinum Wedding Rings
While wedding rings can seem quite simple, there actually is some variety in the design of their bands. Understanding these distinctions can help consumers make a more informed choice when purchasing a platinum wedding band.
D-Shaped Ring Bands
D-shaped or rounded ring bands have a curvilinear edge on both sides that round up towards the outside of the ring. The inner band is flat and fits flush against the finger. This is generally a more traditional look in a wedding band.
Flat Ring Bands
Flat ring bands have squared-off edges and flat surfaces on the inside and outside of the band. This creates a more modern look and often comes with bevelling, as well. A bevelled flat ring can have contrasting textures in the metal's finish, creating a more dynamic look than a plain band.
Channel Ring Bands
Channel ring bands are wedding rings that have a circular band of small diamonds inlaid into the centre of the band. These diamonds are quite small and typically are less than 0.125 carats. Channel ring bands are often used for the bride's version of a wedding ring set to make it more feminine than the groom's band.
Flush Fit Diamond Bands
Platinum rings can also have one or more diamonds in a flush setting, meaning that the top of the diamond is even with the surface of the band. These diamonds can be slightly larger than the ones in channel ring bands and can be evenly spaced across the entire circumference of the band.
Pave Diamond Bands
Pave diamond bands are inlaid with very small diamonds held in place by small beads. This creates an encrusted effect and typically covers the entire outer surface of the band.
Milgrain Edge Bands
Platinum rings with a milgrain edge have a small trim that resembles a straight row of small beads. This design element makes otherwise plain platinum rings look a bit more ornate.
Getting the Size Right When Purchasing Platinum Wedding Rings
No one wants a wedding ring to be a bad fit on the wedding day. Confirming that ring is the correct size before purchase is an essential part of buying a wedding ring. Ring sizes in the UK are organised using the letters A to Z, from smallest to largest. Consumers who are buying a ring online can purchase ring sizers to confirm the size of ring needed. These small measuring devices are like rings and slip onto the finger, where they can be adjusted to the appropriate size. Once a ring sizer is adjusted to the right size for a finger, a ticker indicates the corresponding alphabetic size.
The following chart lists the alphabetic sizes for rings and provides the ring diameter in millimetres for each size. Shoppers purchasing a ring online may encounter rings measured with U.S. standards on occasion, so the corresponding U.S. sizes are also included.
| Diameter | UK Size | US Size |
| --- | --- | --- |
| 11.5 mm | A | 0.5 |
| 12.3 mm | B | 1 |
| 12.7 mm | C | 1.5 |
| 13.1 mm | D | 2 |
| 13.5 mm | E | 2.5 |
| 13.9 mm | F | 3 |
| 14.3 mm | G | 3.25 |
| 14.7 mm | H | 3.75 |
| 15.1 mm | I | 4.25 |
| 15.5 mm | J | 4.75 |
| 15.9 mm | K | 5.25 |
| 16.3 mm | L | 5.75 |
| 16.7 mm | M | 6.25 |
| 17.1 mm | N | 6.75 |
| 17.5 mm | O | 7 |
| 17.9 mm | P | 7.5 |
| 18.3 mm | Q | 8 |
| 18.7 mm | R | 8.5 |
| 19.1 mm | S | 9 |
| 19.5 mm | T | 9.5 |
| 19.9 mm | U | 10 |
| 20.3 mm | V | 10.5 |
| 20.7 mm | W | 11 |
| 21.1 mm | X | 11.5 |
| 21.5 mm | Y | 12 |
| 21.9 mm | Z | 12.5 |
When sizing a ring, it is important to leave a bit of room so that the ring is not too tight on the finger. This leaves room enough for natural swelling and keeps a ring fitting comfortably. A ring should move slightly without slipping over the middle knuckle of the finder without a bit of force.
Buying Platinum Wedding Rings on eBay
The online auction site, eBay, is an aggregator site which collects multiple vendors in one place, providing consumers with a large catalogue of options when purchasing a platinum wedding ring. To facilitate the purchasing process, the site offers a Search bar, located at the top of every page on the site. Consumers who have a specific style in mind can run a search using a narrow search term, such as 'channel diamond platinum ring.' To get a wider range of options, run a search with a general term such as 'platinum wedding band.'
Evaluating Sellers on the Site
It is important, especially when purchasing fine jewellery, to make sure you get the best product for your needs. One way to ensure that this happens is to evaluate any seller offering a product in which you are interested. Visit the seller's page and look through the past auctions, as well as the feedback other customers have submitted. This gives you an idea of the range of products offered by that seller and whether they match up with what you are looking for.
Conclusion
A platinum wedding ring is one of the most enduring and quality ways to celebrate a union. This precious metal creates long-lasting, beautiful rings that can represent a marriage well into the future without fading with age. By reviewing some of the technical aspects of platinum wedding rings, including size, quality, and the various band types involved, including flat bands, D-shaped bands, and diamond inlay bands, any consumer can find and purchase a ring that ideally suits his or her needs.
The online auction site eBay is a great resource for those in the market for platinum wedding rings. The site brings together multiple vendors, offering a truly deep catalogue through which interested consumers can search. By running a search, reviewing listings, and getting to know the Sellers on the site, individuals in the market for quality, platinum wedding rings to represent a sacred union can quickly and easily find the perfect options.