Introduction


Playmobil is a high quality German toy that's been produced since 1974. Loved by children and adults the world over, many adults become playmobil collectors having played with it since childhood or through buying for their children and falling in love with it themselves.
If you find this guide useful, please remember to rate it, using the buttons at the bottom of the page.
If you click on the about me button, you will find links to fan sites and instructions
This guide is provided by Javelin562. I am a qualified teacher, a mother of four and a Playmobil collector. I sell Playmobil almost exclusively on eBay and enjoy putting the sets together, photographing them and sending them off to their new homes.
Playmobil is durable and well made. The vehicles, accessories and sets operate very much like their real world counterparts. Attention to detail - but at the same time, a consistent design style - makes Playmobil instantly appealing. Although made from plastic it does not feel brittle or tacky.
From an educational point of view, Playmobil encourages children to use their imagination and explore the world through role play. It encourages dexterity and small motor skills (developing the muscles in the hands and fingers). Playmobil isn't suitable for children until they can be relied upon not to put the toys in their mouths (age 4+). It encourages language skills, concentration and teamwork.
All accessories - clothing bags, hair, tools - are interchangeable so with a few quick moves, your Roman Gladiator can become a clown. All the figures fit in the vehicles, on the horses, on the furniture so the possibilities are endless.
There have been 3 broad generations of Playmobil but the vast majority of the accessories will fit and work with all the generations.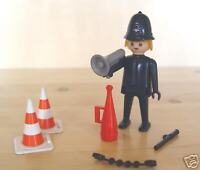 First generation - note the fixed hands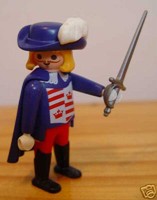 Second generation - note the moveable hands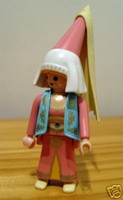 Third generation - moveable hands but the little blue jacket is fixed.
The hat, though, can be removed.
Buying Playmobil on eBay
A lot of playmobil is bought and sold on eBay. It's a durable toy and worth buying second hand. Generally most playmobil will survive several generations of children. Of course, one of the main attractions of buying Playmobil on eBay is that it is possible to find sets and characters that have been discontinued often for a long time. It's also possible to find sets that were never available in your country.
For example, the British Bobby (above) was only ever produced in the UK, by Marx toys under license.
There are endless themes available in the Playmobil world - knights, construction, city life, Victorian, wild west, fire men, hospitals, zoos, farms - it is a HUGE world with something for everyone!
What to look for when buying Playmobil
Damage

Playmobil, although durable, does get damaged. Small pieces such as clips, handles, towbars etc get snapped off. Although this kind of damage does not always detract from the play value, it does make it less attractive and for collectors, particularly it is very disappointing to receive something which is damaged. Reputable ebay sellers will always point out any damage they have noticed. Check particularly the following (this list is not exhaustive!) as they appear to be particularly vulnerable.
the dustbin lorry lifting action
horns on cows, ears on giraffes
flag holes and safety rails on boats (they get snapped off and the little plug stays in.)
flag poles and prows on the pirate ships
clips around the edge of covered carts and horse boxes
the clip which attaches the bumper to the oldest style cars.
Second hand Playmobil will undoubtedly have some scratching, marking or scuffing especially to vehicles which by their nature have been involved in heavy play action, such as cars, boats and construction toys.
White Playmobil will eventually start to yellow with age. This can often be unnoticeable until a sticker comes off and the original colour is revealed. The whitening is caused by a reaction with ultra-violet light from the sun. Store playmobil out of direct sunlight and avoid displaying it on window sills.
Teeth marks - the easiest way for a child to remove accessories from Playmobil characters is by using their teeth. Unfortunately, this can leave marks. Good quality photos reveal these marks and all other scuffs. Beware of poor photos and ask for more (or better ones) if these kind of marks concern you. Aerials, whips, spades and walkie-talkies seem to be irresistable to chewers!!!
Complete / incomplete sets
Every Playmobil set has a unique number and those sellers who are collectors generally try to reunite sets so that they are complete. Apart from anything else, it gives us collectors a great excuse to play with our Playmobil. However, by mixing up the sets, sellers can offer collections which might just be what you are looking for - a dozen different pirates from several different sets or a group of children to enhance a school or playground set.
Boxed or unboxed
Most parents discard the boxes of new Playmobil as soon as it is opened. If, however, you think you might want to sell your Playmobil at a later date - keep the boxes!!! Boxed sets are generally more valuable at resale than unboxed sets. You can open sealed Playmobil boxes using an iron to melt the glue that seals it. Put a tea towel or a cloth between the box and the iron though or you will burn the box!!! Expect to pay more for a boxed set but most good sellers package their Playmobil in resealable bags and pack it well for postage if they don't have the box.
Instructions
Instructions are often lost as well but again, if you buy new keep those as well. Apart from anything else, they have the part numbers on them so if you lose a vital bit, you can contact Playmobil who may have a replacement. There are online sources for instructions as well. Ask sellers for photos of the sets from different angles, especially if it is a large set. Remember though that half the fun of Playmobil is the fact that there are no rules and many of the buildings are designed to be constructed in a variety of ways.
Buildings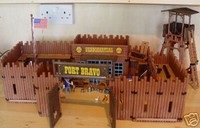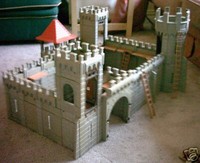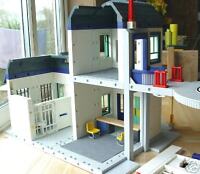 There are three main building systems for Playmobil and within each system, all the pieces are interchangeable. Newer sets fit together with little plugs - the older systems slot together. The brown fort fixes with clips. Note: three systems won't join together but there is no reason why an old castle can't be in the middle of a modern town (go to any large UK city if you don't believe me!!!)
And finally...
I warn you... you'll start buying Playmobil for your children and soon, when they have gone to bed... you be pretending to "put it away" but really... you'll be playing with it yourself.