Virtual Retail Ltd are Official Sony Partners...

This means is that we get monitored by Sony for accuracy to adverts, have authority to utilise their full copyright content and most importantly that we show due diligence at every point of sale by offering a full UK warranty with the level of customer service you would expect to receive from a Sony Partner.


We have witten this guide to assist with Playstation 3 pre-order queries and offer guidance on the illegal import of Sony Hardware.
In a nut shell Sony have confirmed that the release of Playstation 3 will now launch in the UK, March 2007. That said, if you have already confirmed a pre-order with a large mainstream company such as Game then it is more than likely that your pre-order will be fulfilled - just slightly later than anticipated. There are a lot of rumours that no-one knows exactly what their allocation will be, again this is true but for larger outlets they know 'roughly' what region of pre-orders to accept. There is only one (1) official distributor in the UK that Sony use, this distributor allocates consoles using a variety of means and will never be the same for all companies. For example they look at previous order history, general status, availability, returns and many more things. What this does is ensures a fair and equal proportion of distribution across the industry spectrum. We are Sony Partners but we know and accept we will get a lesser allocation than a store such as Game simply because they specialise in the gaming industry whereas we specialise in high end consumer electronics which simply include gaming consoles.
We have spent a few weeks studying various reviews and guides, from eBay sellers, where they are trying to manipulate the industry by offering advice and trying to poach business by offering such information that a buyer may feel pertinent and useful. We are different in that we are writing an official Guide with the assistance of Sony Computer Entertainment Europe (SCEE) whom own the distribution and manufacturing of the console.
As a result of Sony delaying the release to the UK Market until March 2007, you will find an influx of foreign consoles around November 17th, especially on sales mediums such as eBay. We recommend you DO NOT purchase one of these consoles as it is likely that your console will;

(a) Not work

(b) Be region Locked.

In plain English this means that you will only be able to play the games that are matched to that console, for example if you get an NTSC (USA) version you will only be able to play American games for ever! Unlike its predecessors, PS3 will not give you an unlocked (sometimes known as Region Free) console if you buy an American or Asian console. What this means is you will only be able to play the games from the same continent. Again, if you get a fault you will have to go to that country, register as a resident and then send it for repair in the home country. Warranties are Territory Locked meaning you can only utilise a warranty dependant upon the version you have. We therefore suggest you wait and buy an official UK (PAL) console when they are released in March 2007.

You risk losing a lot of money by purchasing a foreign console, on top of this Sony are monitoring eBay and will obtain court injunctions and compensation against any perpetrators of illegal sales. Be warned - this information is for your own benefit.
For ease and clarity the RRP for both consoles are as follows
Base Unit: £341

Official Pricing System Features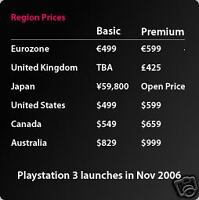 If you get offered a console for a cheaper price, prior to March 2007 then it is a scam, simple.
Remember - if something seems too good to be true, it generally is.
For full details of the Sony Press Release made in September 2006 by Ken Kutaragi, Head of Sony, please see the guide shown HERE.


Important note regarding illegal sales of consoles
Virtual Retail and its employees will, at regular intervals, check sales mediums such as eBay for people offering illegal consoles for a reduced premium in the wrong territory. If we notice a seller breaching Sony's Territorial Policies we will notify Sony immediately and request that they VERO the listing and have the seller suspended and/or prosecuted with a court injunction stopping such illegal sales. It is sellers like this that give, not only eBay a bad name but every other seller that utilises the services eBay have to offer. If you live in the United Kingdom, selling you a US or Asian console is like selling you a chocolate fireguard - they are absolutely useless and will not work so save your money, integrity and sanity!

Should you require additional information and/or help, from either us or Sony, please contact us and we will guide you in the right direction. Together we can help make eBay a decent marketplace for genuine Sony products at the right price with the right warranty.
Virtual Retail Ltd - Sony and the PS3 logo are copyrights of Sony Computer Entertainment Europe