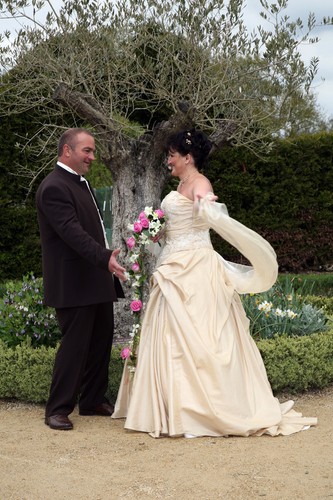 The majority of advertisements and other media regarding wedding dresses really do not put a lot of emphasis on plus-size weddings or wedding attire. Who said it was only slim women who dreamed of the perfect wedding dress? Despite the lack of exposure, there are many more options for plus-size wedding gowns than ever before. There are many options when acquiring the ideal wedding dress, no matter what size a woman may be.
It is possible to purchase a plus-size wedding dress from many sources, including wedding shops, custom dressmaking services, and even online merchant sites, like eBay. The needs of plus-size women have slowly been coming to the fore of wedding designers, and now all that a woman needs to do is know for what she is looking. Understanding the styles of wedding dresses, how to size a dress, as well as knowing the options that help acquire slimmer figures and better shaping for a dress, or how to take advantage of the curves that are already there, can be beneficial to any bride.
Options for Plus-Size Wedding Dresses
There are a thousand and one things a bride has to accomplish before her wedding day, not the least is finding a wedding dress. In addition, there are a number of things to look into when shopping for plus-size dresses.
Plus-Size Wedding Dress Material
Every bride dreams of wedding dress material, and the plus-size dress is not exempt. If worried about concealing heavier areas, the bride should choose fabric that is ruched. Creases, folds, and pleats help disguise and cover up imperfections. Try to avoid beads, appliques, and other such detail work as they more likely than not bring attention to flaws that one would rather hide.
Examples of good wedding dress fabrics are silk and taffeta. Taffeta is a heavy fabric that works well with plus-size designs. Aside from being technically superior, these fabrics are also breathable and allow air to circulate freely between the skin and fabric; perfect for long, drawn out weddings on sunny days.
Wedding Dress Straps
Strapless wedding dresses are always popular, as they flatter many, but for a bride looking to draw attention away from wide shoulders, strapless is not the answer. Ask a bridal shop attendant whether it is possible to add straps to a strapless gown if there are not already strapped dresses that catch the eye. Most bridal shops perform alterations to already existing dresses if the bride so desires.
Many plus-size women need support in the chest area, and many times strapless bras are near useless. Wide straps on a dress can hide the straps of a bra.
Wedding Dress Sleeves
Sleeves are a good fix to concealing fleshy upper arms, a problem that many women have, not just the plus-sized. Loose, short-capped, or flowy short sleeves help to hide heavy arms, though tight sleeves can also be used to shape them; it depends on the design of the wedding dress and the preferences of the wearer. Do not choose sleeves that are too tight or they can affect comfort and restrict movement. Sleeves that start out loose and end up fitted, similar to those on the dress of Disney's Snow White, make arms appear larger and ought to be avoided.
Hemlines
Most wedding gowns have floor-length hems, even trains. But the plus-size woman would be better served with a hem that is higher, such as knee-length or a bit lower. Flared hems are good for plus-size wedding dresses.
Accessories
Keep accessories simple and they enhance, rather than overwhelm. Jewellery, like necklaces and earrings, should not be ostentatious, unless of course, the wedding theme calls for it. Bracelets and anklets are generally kept at a minimum, though they can add elegance to any dress.
Many women worry about fleshy upper arms, and plus-size women in general do not like them to show. Short sleeves can take care of the problem, but for dresses that are not really compatible with sleeves, perhaps a thin bolero jacket made of silk or satin can help.
Necklines
Cowl necklines disguise a bit of a full bust that plus-size women generally possess, in addition to drawing attention to the face, which many brides want. A cowl neckline, like a V-neckline, also draws attention to the neck, which is a great opportunity to have everyone admire a beautiful necklace.
Styles for Plus-Size Dresses
A number of dress styles are said to flatter any body type, but basically stem from one: the A-line style. Its name derives from the fact that the dress resembles the triangular shape of the capitalised letter A, that is, tight at the top and wide at the bottom. The style is perfect for a plus-size dress because the gradually flaring skirt flows away from heavy hips and thighs.
Full Skirts
The full skirt was popularised in the 1950s and has been a part of women's classic fashion since. This particular skirt style is excellent for a plus-size dress because the bottom half is loose and flowing, and able to disguise a heavy lower body.
Empire Waists
Dresses that have empire waists have waistlines located just below the bust. There are many wedding dress styles that contain empire waists, but dresses with this particular feature are collectively called empire dresses. An A-line dress with an empire waist is attractive to the plus-size bride because the location of the waist means that the fabric loosens immediately after the bust, therefore concealing less-than-perfect abdomens, wide hips, heavy thighs, and more.
Flared Dresses
This dress is a variety of the A-line dress, but the lower part of the dress contains a tad more material and a little more flare. These can be short dresses or long dresses, but whether a bride chooses one or the other depends on whether a long or short dress has the ability to flatter her body more.
Calculating Dress Size
Some brides have their dresses custom made, and some just have dresses altered. A flattering bridal dress is also one that fits. Most people are not as proportionate as those depicted in classic art, or in fashion design, and that translates to problems when being fitted for a dress. For example, a woman may think she is a size 11, but in reality is a size 11 on the top, and a size 12 on the bottom. She would have problems getting her hips to fit into a size 11 dress. It is best to choose a larger size if a woman is on the cusp of two sizes, because altering a dress to make it smaller is a lot easier than letting out seams.
| Dress Size | Bust Measurement (cm) | Hip Measurement (cm) |
| --- | --- | --- |
| 14 | 90 to 94 | 95 to 99 |
| 16 | 95 to 99 | 100 to 104 |
| 18 | 100 to 104 | 105 to 109 |
| 20 | 105 to 109 | 110 to 114 |
| 22 | 110 to 114 | 115 to 119 |
| 24 | 115 to 119 | 120 to 124 |
| 26 | 120 to 124 | 125 to 129 |
| 28 | 125 to 129 | 130 to 134 |
| 30 | 130 to 134 | 135 to 139 |
| 32 | 135 to 139 | 140 to 144 |
These are the general sizes for plus-size bust, waist, and hip measurements used by a number of dressmakers. Again, if unsure which size corresponds with the measurements, choose the larger. Most dressmakers use their own measurement styles and sizing styles, and that is why a bride needs to know her own measurements when visiting bridal shops.
How to Buy a Plus-Size Wedding Dress on eBay
Plus-size wedding dresses can be a bit difficult to find, despite the many options now available for brides at bricks and mortar shops. It is also possible to acquire plus-size wedding dresses on the Internet, using eBay and a number of other similar merchant websites. For the bride who has a hundred things to do at once, the simplicity of an eBay search is appealing. Simple navigate to any page on eBay and type keywords into the search bar, like "plus-size wedding gown", "plus-size formal dress", or simply "plus-size dress". Press enter on your keyboard and hundreds of results are shown. For easier searching, it is possible to narrow down your results by using the site tools on the page. It is also possible to pare down results by entering more specific keywords, for instance, "cream knee-length plus-size dress" and so on.
A wedding dress is one of the most important purchases a woman makes in her lifetime, so evaluate the seller carefully before deciding to purchase a product. Check the return policies and the shipping courier the seller is planning to use. Some couriers are more reliable than others, and the seller may be amenable to switching to your courier of choice. Evaluate the product too, though this can be difficult to do online. Choose to do business with sellers who have good reputations in dealing with the dress that you want to buy.
Conclusion
Being heavy or large does not mean that a woman cannot look as fabulous in a wedding dress as other brides. Plus-size women have envious curves, and there are many dresses that allow a lady to make the most of those curves. There are many avenues that a bride can explore when creating an ideal plus-size dress, more so these days than in the past. With a little research and some digging, any woman can find the wedding dress that is just right for her needs.
Understanding how to size a dress helps not only in choosing and purchasing a wedding dress, but any dress for any occasion. Knowing the styles and options available for a plus size dress also make buying a wedding dress easier and more efficient. There are many options for offline purchases, but there are perhaps bigger selections and more variety of styles online. Sites, like eBay, are some of the more helpful merchant websites for any purchase, wedding dresses not the least.