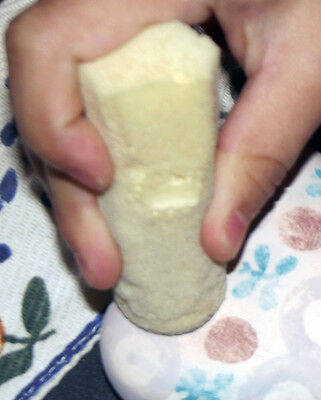 Interesting Facts about Polish Pottery.
The first mention of Polish pottery was in 1816, although, it can be traced back to the 12th Century when it was originally known as "brown-stone glaze-ware." It was used in all the households of the time, and also in the hotels, cafes and restaurants. Polish pottery was only a brown colour in those days and the tradition started to die out at one point. The people did not want to lose the tradition or the craftsmen to lose their skills, so they introduced cobalt blue. They brought out three different patterns, the first one being known as blues-spot or 70A, the second was blue-spot with garland, in the trade known as 70, (see photo of someone showing how to stamp). The last one which belongs to the three is known as the eye of peacock or 54. These three designs have been used throughout the history of Polish pottery and are still available today. They are the common theme that binds the Polish pottery studios together as all of the 14 to 16 various pottery studios use them.
Towards the end of the Middle Ages, Boleslawiec in Lower Silesia, had made a name for itself, it was and still is known as "The Town of Good Stoneware." Towards the end of the 19th century, they started to paint Polish pottery with sponges. By doing this, they developed this unmistakable art of decorating which became beloved very quickly. Polish pottery, is today, a term which is known worldwide, for good quality tableware in Country Style.
For the manufacture of Polish pottery, a high quality, white-fired clay is used. After the first firing at around 850 °C, all the pieces are then decorated, dipped in a glaze and finally, they are fired for a second time at 1,250 °C.
Polish pottery is a really robust product. It is suitable for the oven as well as the microwave and can be put in the dishwasher without any problem to clean.
The glaze is feldspar glaze, which does not contain any toxins such as lead or cadmium and is tested to the highest standards thereby allowing food to be eaten off it. It is tested every year by Trading Standards in Poland.
The Pottery Studio Manufaktura is a family run business and was founded in 1993. It is today, the third largest Polish Pottery company in Boleslawiec. At present there are 140 employees who work there, of which, 45 are painters.