Doggy fashions have certainly come into their own; not only are teacup pooches a must-have accessory for the stars, but so too is canine couture. Some people dress their dogs in jumpers for fashion, some for necessity... but whatever the reason it's a trend to take seriously. Check out which styles are making our tails wag...

Things to consider before you buy
Do not dress your dog in anything that restricts his movement or breathing, never leave him alone with a jumper on, and do not use anything with easily detachable pieces that a dog could bite off and choke on.
10. Waterproof wonder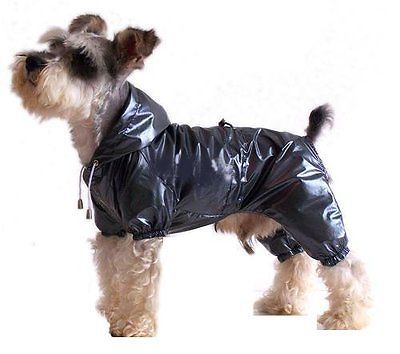 If you own a dog that hates going for a walk in the rain, then consider a waterproof jumper. Some are even made in neoprene to keep your pooch warm too.

There are various outdoorsy-looking styles, which wouldn't look out of place in a hiking shop, and something a man would be happy to dress his dog in. Other styles look good and mimic our own anoraks, just like this one.
---
9. Hoody hoodlum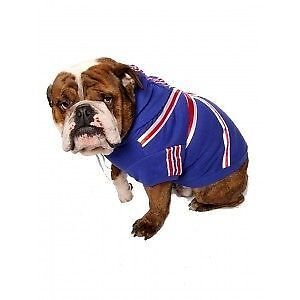 It's not just skater boys in parks who have the monopoly on hoodies; your dog can look like he's 'getting down with it' with his own hoody jumper. These are available in a 'puffa' design with the fur around the hood, or just a plain old hoody look.

The hood is not just for show either, many come with a drawstring and a hole for the lead to go through. This very patriotic British bulldog loves his hoody!
---
8. Fancy dress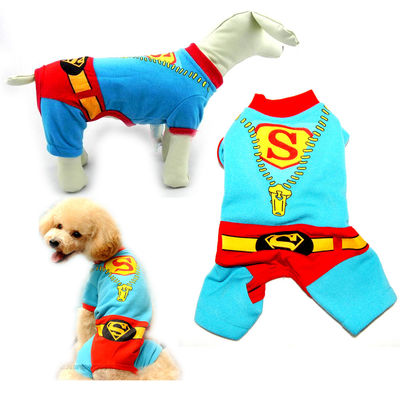 If you are after a bit of fun or you want to partner your pooch to a fancy dress party, then dress them in one of the many novelty dog jumpers. There are so many to choose from: Superman, Pokemon, Father Christmas or perhaps even your favourite football strip.

You must remember though, the priority is the safety and comfort of your dog, so do not compromise this just to make your furry friend look funny.
---
7. Shabby chic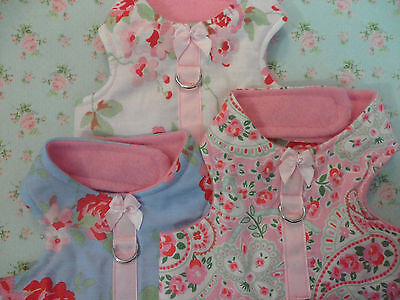 If you'd like your dog to look like something out of Country Living magazine, then dress them in a jumper made from some Cath Kidston fabric.

These pretty little jumpers would be perfect for summer walks. You will of course need buy yourself some Hunter wellies and a Barbour to complete the look!
---
6. City slicker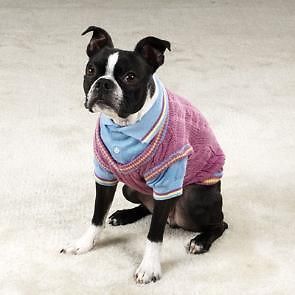 If your dog fancies a day in the office with you, he'll need an appropriate city slicker outfit to not let the side down. This hilarious shirt and jumper combo has got to be the cutest around!

All you need to get for your pooch now is an iPad and a swivel chair and he's all ready to go... oh and a a doggy bag for his lunch of course.
---
5. Super sporty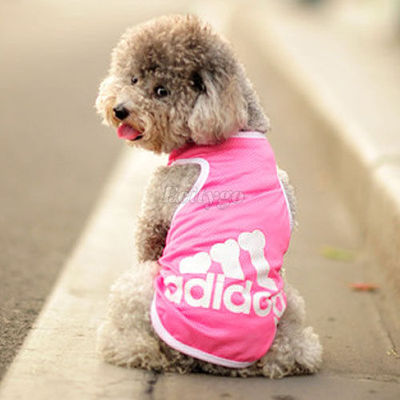 If you are a sporty owner who likes to take a jog with your dog, then a sporty number will be just up your street. This 'Addidog' outfit comes in four different colours and various sizes. The fabric is a sporty mesh and suitable for the warmer seasons.

All you need now is two pairs of mini-trainers and a sweatband, maybe some wrist bands, and of course don't forget an iPod with some suitable tracks. Nothing less than Who let the dogs out? will do.
---
4. Personalised pooch

If being individual is a prerequisite then why not buy your special four legged friend a personalised jumper? Many sellers will make to order and allow you a certain amount of letters within the price. You could even consider knitting one yourself for the perfect fit!

You know your dog's jumper will be one of a kind and it will certainly provide a talking point with your fellow dog walkers!
---
3. Machine knit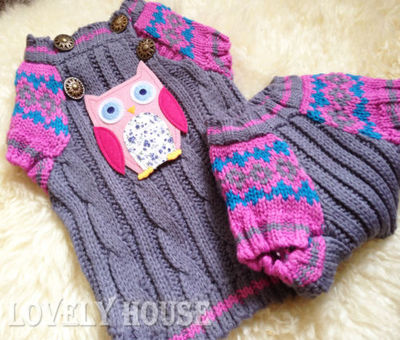 These machine knitted jumpers are very strong and durable. They are made with a 'double knit' which means its smooth and comfortable on the inside, well insulated and will not snag easily. The arm holes have elastic sewn in so there is less risk of the dog getting its leg stuck in the jumper.

They are available in many patterns, so you are sure to find one you like, these cute ones even have owls appliquéd on!
---
2. Tweedy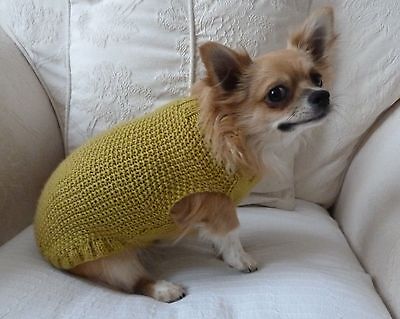 Country dogs really should be dressed in suitable attire: a country jumper of course. This fleece-lined tweed jumper has all the airs and graces of a country gent, or indeed lady.

Suitable for the winter months, it comes in four sizes ranging from extra small to large, so unfortunately not one for the giant breeds.
---
1. Handmade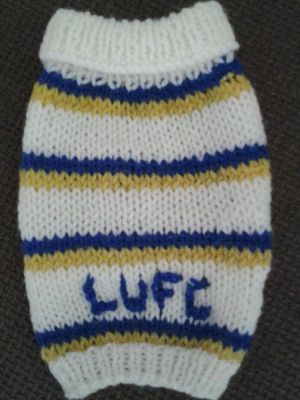 If you want a tailor-made jumper for your dog, contact a seller who is knitting jumpers to order. Or, indeed, set yourself the project of knitting it yourself. There are some beautiful styles out there, and they can be made specifically to fit your dog. This makes them perfect for thinner dogs like whippets or lurchers, who really do need something soft and gentle to keep them warm. What's more, if a hand knitted jumper is good enough for a baby, its got to be good enough for your pooch.

Tip: team it up with a waterproof coat when it's raining or during the winter months for added protection and a super-cool look.