911 (1963-1968)
This is one of many illustrated classic car guides I've created for the community. I hope you enjoy it. If you wish to find out more about the classic Porsche 911 car art featured in this guide please click here.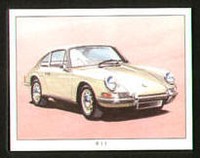 Introduced as a replacement for the 356 in 1963, the 911 followed a broadly similar layout to its predecessor, with the gearbox ahead of the rear wheels, the engine behind them, and springing by torsion bars. MacPherson struts were fitted to the front and the old swing axle rear suspension was replaced by a trailing arm system. Construction however was now fully integral. The new 130bhp 1,991cc flat-six engine was air-cooled, and drove through a five-speed transmission. Despite the fact it had only single overhead camshafts, the 911 was as quick as the quad-cam Carrera 2. Weber carburettors replaced Solexes in 1966, a Targa-top model came in 1967, and Sportomatic transmission in 1968. 911L (emission control) models were produced in 1967/8 for the US market.
If you would like to see more guides on Porsche 911 cars please click!
Thank you for reading my guide and I hope you found it interesting!