911 Carrera 2
This is one of many illustrated classic car guides I've created for the community. I hope you enjoy it. If you wish to find out more about the classic Porsche 911 sports car art featured in this guide please click here.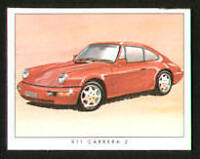 In 1989 a heavily revised 911 (codenamed 964) was launched as the Carrera 4, which had permanent four wheel drive (31/69% split) and a 3.6-litre version of the flat-six engine. Power increased to 247bhp, which meant a top speed of 156mph/251kmh (0-60mph in 5.2secs). A two wheel drive version, the Carrera 2 arrived late in 1989, which was a fraction quicker than the Carrera 4. Both two and four wheel drive ranges were offered in fixed head, cabriolet and targa-top versions. With the Carrera 4, Porsche managed to establish a new generation of cars with enhanced aerodynamics, handling and performance, while at the same time retaining the spirit of the 911.
If you would like to see more guides on Porsche 911 cars please click!
Thank you for reading my guide and I hope you found it interesting!