Porsche 911 Carrera 3.0 1975, 1976, 1977
This is one of many illustrated classic car guides I've created for the community. I hope you enjoy it. If you wish to find out more about the classic Porsche 911 car art featured in this guide please click here.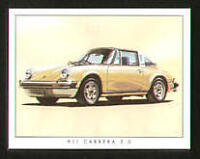 Under Porsche's policy of constant development and revision, August 1973 saw the 911 (150bhp), 911S (175bhp) and 911 Carrera (210bhp) replace previous T, E, S and RS models. There were ever wider wheels, and wheel arches, more controllable handling and new bumpers (from late 1973), which met US impact laws. A revival of the famous Carrera name the model used an aerofoil on the engine lid, which had been developed for the 911 Turbo, which was now in preparation. Three-litre engines began to be introduced in 1975, with the Carrera 3.0 and were standard in 1977. The American market received strangulated emission-controlled models.
If you would like to see more guides on Porsche 911 cars please click!
Thank you for reading my guide and I hope you found it interesting!