Porsche 911 ( Targa )
This is one of many illustrated classic car guides I've created for the community. I hope you enjoy it. If you wish to find out more about the classic Porsche sports car art featured in this guide please click here.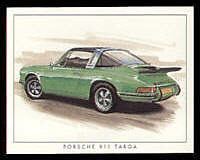 Targa was the name given to the convertible version of the 911 in honour of Porsche's many victories in the great Targa Florio road race in Sicily. Introduced in 1965 at the Frankfurt Auto Show, the Targa used a built in rollbar and removable fold up roof panel. Early models, 1967 and 1968, also had a removable soft rear window which was replaced by the permanent hard rear window in 1969.
If you would like to see more guides on classic Porsche cars please click!
Thank you for reading my guide and I hope you found it interesting!