Porsche 911 Turbo 1975, 1976, 1977
This is one of many illustrated classic car guides I've created for the community. I hope you enjoy it. If you wish to find out more about the classic Porsche 911 car art featured in this guide please click here.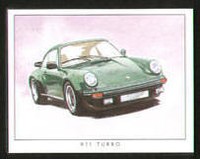 When Porsche introduced the now legendary 911 in 1963, it was capable of a respectable 130mph/209kmh top speed. This figure improved steadily over the years, but performance increased to new levels with the arrival of the 260bhp 911 Turbo in 1974 - now 153mph/246kmh and 0-60/0-96kmh in 6.1 sec was possible. Developed under the 930 destination, the Turbo was instantly recognisable by its wider wheels and accompanying flared arches, while there was a large tea-tray spoiler at the rear, which helped keep the wheels firmly on the road. For 1978 engine capacity rose to 3.3-litres, with revised Carrera 2 Turbo models arriving in 1990.
If you would like to see more guides on Porsche 911 cars please click!
Thank you for reading my guide and I hope you found it interesting!