Porsche 944
This is one of many illustrated classic car guides I've created for the community. I hope you enjoy it. If you wish to find out more about the classic Porsche sports car art featured in this guide please click here.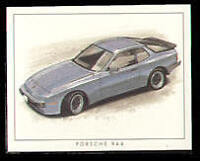 The 911, 924 and 928 were joined in 1982 by a new model, the 944. It followed the concept of the 924 by using a water-cooled, in-line four-cylinder engine with rear-mounted transmission but it was a very different car. The 2479cc engine had two balance shafts within each crankcase, belt driven in opposite directions to each other, at twice the engine speed. These generated opposing forces to those of the engine so that all balanced in the crankcase. The result was a very smooth car, faster than a 924 and also attractively priced. From 1986 there were S and Turbo versions and inevitably, a year or so later the 944 Turbo S, a superb machine with a top speed of over 160mph (256km/h).
If you would like to see more guides on classic Porsche cars please click!
Thank you for reading my guide and I hope you found it interesting!