Porsche 959 (1987-1988)
This is one of many illustrated classic car guides I've created for the community. I hope you enjoy it. If you wish to find out more about the classic Porsche 911 sports car art featured in this guide please click here.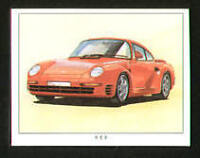 This is the ultimate 911. Beneath the familiar body lines are a mind-blowing array of equipment which made the 959, for a time, the world's fastest production road car with a top speed of 197mph/317kmh.In many ways, with the 959 Porsche were reaffirming the spirit of the 911, with its unorthodox rear-mounted, air-cooled, flat-six engine. The 911 had taken a back seat between 1972-1980, when Dr Ernst Fuhrmann was Porsche's chief executive and he decreed to switch to conventional front-engined cars such as the 928. However, with the arrival of his successor, Peter Schultz, the 911 once again moved centre stage and it has remained there ever since.
If you would like to see more guides on Porsche 911 cars please click!
Thank you for reading my guide and I hope you found it interesting!