Porsche 993 Turbo (1993-1997)
This is one of many illustrated classic car guides I've created for the community. I hope you enjoy it. If you wish to find out more about the classic Porsche 911 sports car art featured in this guide please click here.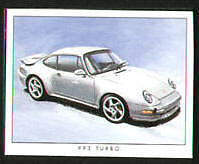 The 993-bodied car was introduced in December 1993 as the fourth generation of the 911, and it made striking improvements in three most important areas - looks, power and handling. Fitted with a 272bhp, 3.6-litre engine and multi-link rear suspension, top speed rose by 6mph over the 964 to 168mph/270kmh with 0-60mph/0-96kmh at 5.6secs. The styling of the 993 was stunning and for many observers this was the most beautiful of all 911s. With its flared wheel arches, large diameter 17-in (or larger) alloy road wheels and flush headlamp lenses, the Porsche design team had created a car that equalled, and surpassed, the most evocative designs from the Italian styling houses. The 400bhp 993 Turbo was the ultimate extension of the 911 design.
If you would like to see more guides on Porsche 911 cars please click!
Thank you for reading my guide and I hope you found it interesting!