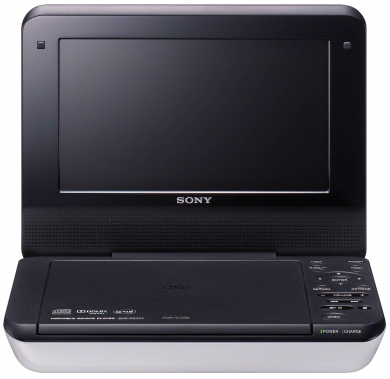 Many people enjoy watching movies on the go, but often rely on expensive devices that require Internet connection and long battery life to do so, like laptops, smartphones, tablets, or iPads. Portable DVD players are a great, inexpensive way to ensure that users do not get stuck in an airport or on a long car ride without entertainment.
With a portable DVD player, people get to choose the movie, and are not on a time restraint to watch it. Many people have extensive DVD collections at home, but end up paying for movies to download and watch on the go, and when the Internet connection drops, the viewer is out of luck. With a portable DVD player, these problems are solved. These inexpensive devices are very user friendly, lightweight, and can be enjoyed virtually anywhere. Before making a purchase, it is important to understand the different types of portable DVD players, and the different features each one offers in order to make an informed choice.
Types of Portable DVD Players
Before purchasing your portable DVD player, it is important to consider the two different types. The first is a fold-up model, and the second is a car DVD model. The fold-up model is typically better for people who intend to use their portable DVD player in many different environments, like airplanes, outdoors, or at home. The car DVD player model is better for a person who intends to primarily use their player in the car.
Fold-Up Portable DVD Players
Fold-up portable DVD players are the most common and most inexpensive type of DVD players. Most of these players have an LCD (liquid crystal display) or LED (light-emitting diode) screen attached to them. The standard size screen for a fold-up portable DVD player is 7 inches, but can come in larger sizes as well. Larger screens are recommended for optimal viewing experience. The actual screen itself can be either stationary or on a swivel base, in which case the screen can be turned and angled to the viewer's preference.
Car Portable DVD Players
Car DVD players are typically sold with two individual screens, which can be attached or installed into the car seats or headrests, with the base separate and often stored in the car's centre console. Similar to the fold-up portable DVD model, the car model comes in various sizes, and can either have LCD or LED displays. These DVD players can be moved, but are suggested to remain inside the car. This is a great option for families who often travel via car, or for families with young children who may need to be entertained during long car rides. Car portable DVD players can make simple trips, or longer rides like vacations, more enjoyable experiences for both the person driving and the passengers. It should be noted, however, that car DVD players are generally more expensive than fold-up portable DVD players.
Portable DVD Player Features
All types of portable DVD players come in a range of quality of features, so it is important to understand what features one would most benefit from. The main things to consider when shopping for a portable DVD player are audio and video quality, disk and card compatibility, inputs/outputs, and power type.
Portable DVD Audio
All portable DVD players come equipped with a headphone jack, and some may have a dual headphone jack. A jack is where headphones can be plugged in to enjoy sound without disrupting anyone else in the environment, so it is important to determine how one wishes to enjoy their audio experience. If the primary use of the portable DVD player is personal use, a headphone jack should suffice. However, if one plans on entertaining others, one should consider purchasing a player with built-in speakers. This is ideal for use in a car. There are also options for surround sound in some devices, which is ideal for in-home usage of the DVD player.
Portable DVD Disk and Card Compatibility
One of the many benefits of a portable DVD player is that it can play any DVD. However, there are versions of portable DVD players that offer other uses in addition to movie watching. For movies that are recorded or burned on blank DVDs from home devices, not purchased, it is important to buy a player that supports DVD-R/+R/RW. It is also important to pay attention to Blu-ray upgrades because not every player is compatible to both DVD and Blu-Ray disks. Nowadays, it is common for one to use a portable DVD player for things other than movie watching as most devices can play audio CDs as well. There are even portable DVD players that offer memory card slots, allowing one to share photos and other JPEG images. This is ideal for sharing memories with family members, friends, or even sharing work-related presentations with co-workers.
Portable DVD Inputs and Outputs
The inputs and outputs of a DVD player that is to be used inside a home or car. In order for a portable DVD player to be connected to a home entertainment system, the user should consider the types of input and output of the device. Players with S-video or component and digital audio outputs give the highest quality of movie playback and viewer experience. It is important to take note of the device's input/output method before the purchase of a portable DVD player for optimal usage.
Portable DVD Power
Most portable DVD players are sold by default with rechargeable battery options; however, there are other choices. Some players may include replacement batteries or a charging cord, which could increase the price of the portable DVD player. The standard duration of rechargeable batteries is eight hours; however, some DVD players could last up to ten or twelve hours without the need to recharge the batteries.
When deciding which player best suits one's needs, the buyer should consider the uses. A person who intends on using the device on long trips should make sure to purchase a player that already includes or has the option of being connected to a car adapter. If the buyer intends on using the device for shorter trips, it may not be necessary for one to spend more money purchasing a portable DVD player with the longest battery life.
Setting a Budget for Portable DVD Players
After determining which portable DVD player best meets a person's needs, it is crucial to set a budget before making a purchase. With the many different versions and upgrades, the very affordable portable DVD player can get a bit pricy, and fast. To avoid paying for something one might not use, determining a budget could be the perfect boundary to set.
If the main purpose of the portable DVD player is primarily for something to entertain kids on a road trip or flight, the best choice may be to go with a standard screen, fold-up player with a dual headphone jack. However, if the main intention is to use the device primarily in the car, no matter what the length of the trip, it could be worth it to spend a bit more and get the car system with the extra screens for each passenger. If setting a budget and deciding which model best fits one's needs is proving to be difficult, eBay can help. On eBay it is easily to compare the price of different portable DVD players and also order the products by price. This way, the buyers can choose to only browse a selection of DVD players within a specific budget, which can prevent them from spending more than they planned to.
Purchasing a Portable DVD Player on eBay
Once you have set your budget and have your desired features in mind, you can begin searching for your portable DVD player. eBay has a large selection of portable DVD players at affordable prices, and the search system if straightforward. If you have already decided which features you are looking for in your portable DVD player,, you can begin a search with keywords on the eBay home page. If you are looking for a portable DVD player with an LED screen, you can search "portable DVD player LED" and discover eBay's many options.
If you are concerned about staying on budget or do not wish to see any search results that are out of your price range, you can easily set your price minimum and maximum on eBay. This can help you stay on track and get you to the ideal product without wasting time. Another way to stay on budget is to consider making your purchase from local eBay sellers. They are often willing to arrange pick-up times for your product, which saves additional money on shipping costs. However, you should check with the sellers to ensure they offer this option. Even if they do not, local postage fees are likely to be much lower than international shipping costs, not to mention you do not have to pay customs tax, which is sometimes the case when purchasing from sellers outside European Union.
Conclusion
Though portable DVD players have only been around since 1998, they have come a long way since then. With clearer screens providing stunning quality picture, multi-function usage, and better sound systems, entertainment on the go has never been more accessible and more affordable. There are many options to consider when searching for a portable DVD player, providing different price points, and making it easy to find the perfect match for each person.
Whether it is providing enjoyment to children on a road trip, making airport delays more bearable, or serving as the main attraction on a camping trip, a portable DVD player is quickly becoming a staple for many families. Portable DVD players allow people to enjoy their favourite movies, CDs, and pictures anytime, anywhere. Due to eBay's straightforward search system and wide selections of electronics available, the search for the perfect portable DVD player that meets any buyer's needs can be a pleasant shopping experience.